Icebreaker Games Singapore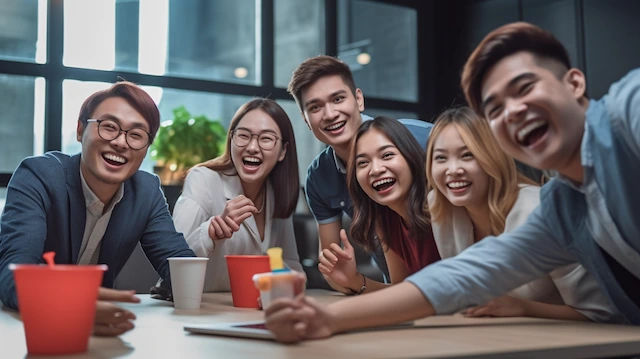 Icebreaker games are an essential part of any social gathering in Singapore, helping people connect, break down barriers, and foster meaningful interactions. Whether it's a corporate event, a social gathering, or an educational setting, icebreaker games play a crucial role in creating a positive and inclusive atmosphere. In this article, we will explore the best icebreaker games in Singapore for 2023, ensuring you have an array of engaging options to choose from.
Benefits of Icebreaker Games
Foster connections among participants, breaking down initial barriers and creating a sense of camaraderie.
Promote communication and active participation, encouraging individuals to share experiences, ideas, and perspectives.
Create a positive and inclusive atmosphere, making people feel comfortable, relaxed, and more open to social interactions.
Enhance teamwork and collaboration skills, particularly in corporate or group settings.
Stimulate creativity, critical thinking, and problem-solving abilities, making the learning or social experience more enjoyable.
Factors to Consider When Choosing Icebreaker Games
Audience: Take into account the age group, interests, and familiarity of the participants to ensure the games resonate with them.
Venue: Assess the size and layout of the space to determine suitable games that can be easily accommodated.
Duration: Select games that can be completed within the given timeframe to maintain a smooth flow of activities.
Objectives: Align the chosen icebreaker games with the specific goals of the event or gathering, whether it's team-building, networking, or creating a fun and relaxed atmosphere.
Adaptability: Consider the adaptability of the games to different settings, ensuring inclusivity and catering to participants with mobility or accessibility considerations.
Best Icebreaker Games Singapore
1. Individual Art Jamming Workshop
Experience the joy of self-expression through art in a serene and creative environment. The Individual Art Jamming Workshop allows you to unleash your artistic side as you paint on canvas at your own pace. Explore different colors, techniques, and themes while immersing yourself in a therapeutic and relaxing activity.
2. Neon Art Jamming Workshop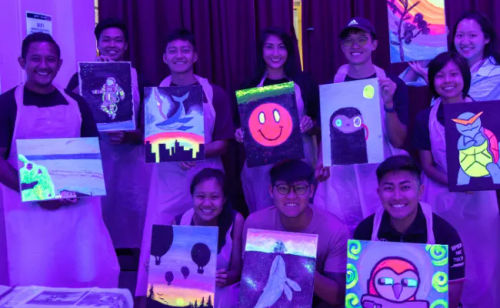 Step into a vibrant world of glowing colors with the Neon Art Jamming Workshop. Using UV-reactive paints, create dazzling masterpieces that come to life under blacklight. Let your imagination run wild as you experiment with neon hues and embrace the electrifying ambiance of this unique artistic experience.
3. Tote Bag Art Jamming Workshop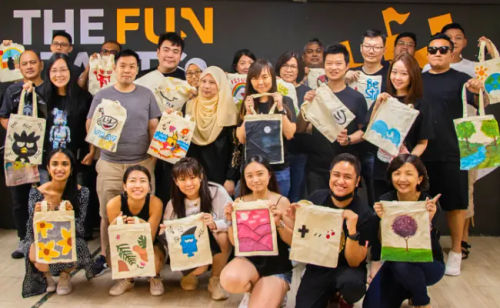 Combine creativity and functionality with the Tote Bag Art Jamming Workshop. Personalize your own tote bag using fabric paints and stencils, making it a fashionable accessory that reflects your unique style. Unleash your design skills and leave with a practical and customized tote bag that will turn heads wherever you go.
4. Group Art Jamming Workshop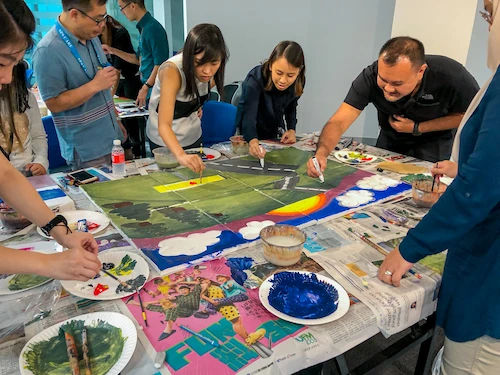 Engage in a collaborative and interactive art session with the Group Art Jamming Workshop. Bond with friends, colleagues, or fellow participants as you collectively create a large-scale artwork. Share ideas, techniques, and laughter while exploring your artistic abilities in a supportive and inspiring group setting.
5. Poolball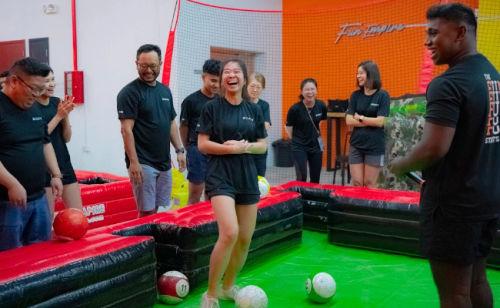 Combine the excitement of pool and soccer with the thrilling game of Poolball. Using your feet instead of cues, kick soccer balls into oversized pool table pockets. This fusion game tests your accuracy, strategy, and teamwork while providing a fun and dynamic experience for players of all skill levels.
6. Giant Board Games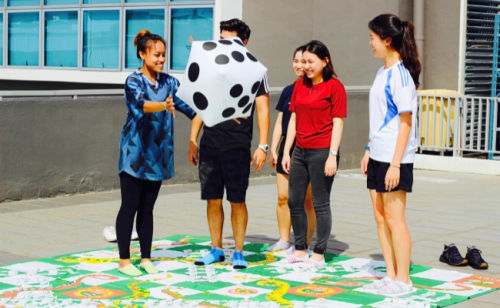 Get ready for oversized fun with Giant Board Games. Experience classic board games like Jenga, Snakes and Ladders, and Chess in a larger-than-life format. Challenge friends or colleagues in strategic battles and enjoy the physical and mental dexterity required to navigate these larger-than-life game boards.
7. Combat Archery Tag
Channel your inner warrior with Combat Archery Tag, a thrilling blend of archery and dodgeball. Armed with a bow and foam-tipped arrows, engage in heart-pumping battles with opponents. Strategize, aim, and dodge incoming arrows while experiencing the exhilaration of this action-packed game.
8. Neon Laser Tag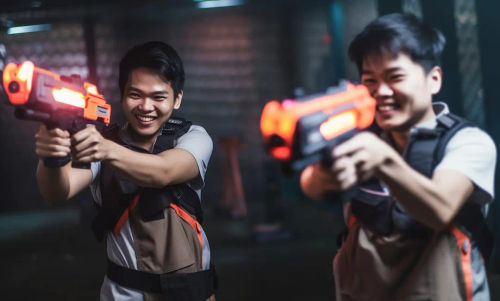 Step into a neon-lit battleground and immerse yourself in an exciting game of Laser Tag. Armed with laser guns, navigate through an otherworldly maze while tagging opponents and earning points. The vibrant visuals and futuristic atmosphere add an extra layer of excitement to this adrenaline-pumping activity.
9. Bubble Bump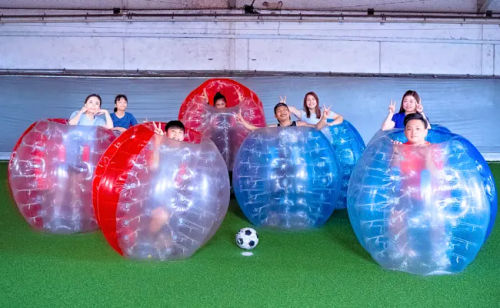 Experience hilarious and bouncy fun with Bubble Bump, a game that involves wearing inflatable bubbles. Bump, crash, and roll into your opponents as you compete in various challenges. Enjoy the laughter and lighthearted competition while being protected by the bubble's cushioning effect.
10. Giant Whack-a-Mole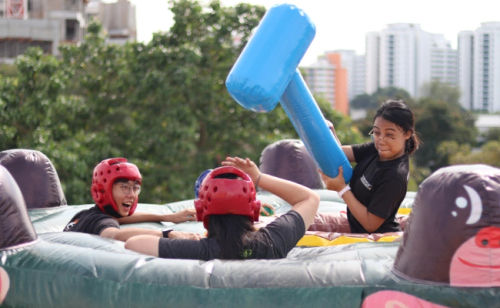 Step up to the larger-than-life version of the beloved carnival game, Whack-a-Mole. Armed with a soft foam mallet, players must react quickly as inflatable moles pop up from various holes. Test your reflexes and coordination in this entertaining game that guarantees laughter and friendly competition.
11. Ninja Tag
Unleash your inner ninja in an exciting game of Ninja Tag. Navigate through a custom-designed obstacle course, showcasing your agility, speed, and stealth. Dodge, leap, and climb your way to victory while evading opponents. This physically demanding game offers an exhilarating challenge for participants of all ages.
12. Saber Tag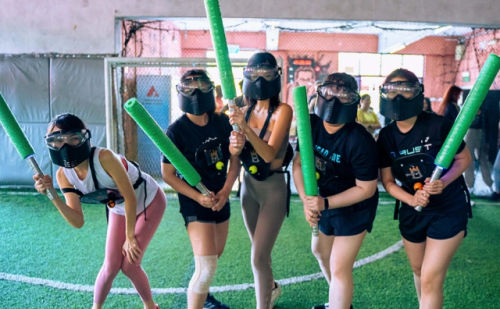 Enter the world of lightsaber battles with Saber Tag, an immersive and action-packed experience. Equipped with foam-padded lightsabers, engage in thrilling combat against opponents while performing epic duels. May the force be with you as you showcase your skills, reflexes, and Jedi or Sith prowess.
13. Escape Room Puzzles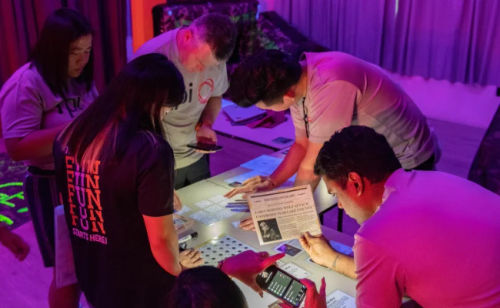 Put your problem-solving skills to the test in an Escape Room experience. Work together with your team to unravel mysteries, find hidden clues, and solve puzzles within a time limit. Engage in thrilling and immersive scenarios that challenge your logic, communication, and teamwork abilities.
14. Amazing Race
Embark on an adventurous journey with the Amazing Race, inspired by the popular reality TV show. Race against the clock and other teams as you navigate through various checkpoints and complete exciting challenges. This high-energy game promotes teamwork, strategic thinking, and friendly competition.
15. Bullet Ball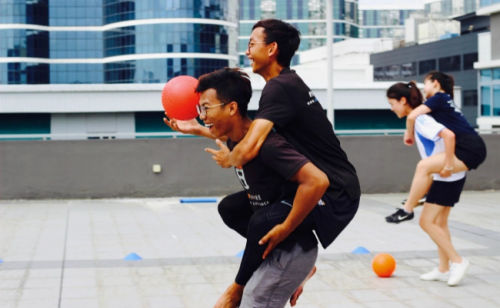 Experience the fast-paced action of Bullet Ball, a dynamic team sport that combines elements of soccer and handball. Score goals by shooting a ball into the opposing team's net while navigating the court's boundaries. Quick reflexes, accurate passing, and strategic positioning are key to success in this exhilarating game.
16. Neon Bowling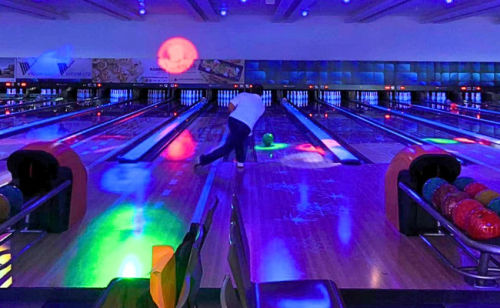 Immerse yourself in a vibrant and electrifying atmosphere with Neon Bowling. Enjoy a classic game of bowling with neon-lit lanes, glowing pins, and upbeat music. Compete with friends or colleagues in this visually stunning and entertaining activity suitable for bowlers of all skill levels.
17. Bullet Strike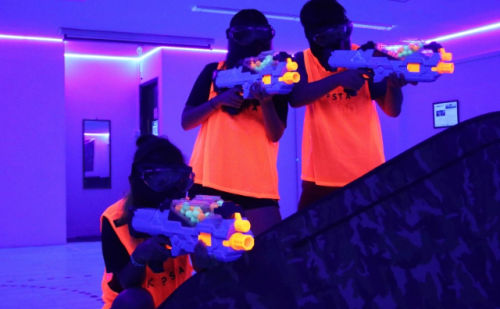 Step into an immersive and adrenaline-fueled experience with Bullet Strike, a realistic augmented reality shooting game. Equipped with state-of-the-art AR guns, engage in thrilling battles against virtual enemies in real-world environments. Test your accuracy, reflexes, and tactical skills in this action-packed gaming adventure.
These icebreaker games offer a variety of engaging and exciting activities suitable for different group sizes and preferences. Choose the ones that align with your event's goals and participants' interests for an unforgettable experience.
Icebreaker Games Singapore
Singapore has a wide range of exciting and engaging icebreaker games for all kinds of groups. From group art jamming workshops to neon laser tag, there are plenty of activities that can help break the ice and bring people together in a fun and interactive way. Whether you're hosting an event or just looking for something new to do with friends, these games offer unique experiences that will create lasting memories. So gather your crew, pick out an activity from this list, and get ready for some unforgettable bonding moments!
Looking for more articles? Check out our recommendations below:
Frequently Asked Questions (FAQ)
If you have any questions about icebreaker games in Singapore, you can refer to the frequently asked questions (FAQ) about the best Icebreaker Games In Singapore below:
Can icebreaker games be used in various settings?
Yes, icebreaker games can be used in a wide range of settings, including corporate events, social gatherings, classrooms, workshops, and team-building activities.
Are icebreaker games only for large groups?
Icebreaker games can be adapted for both small and large groups. Many games are flexible and can be modified to accommodate different group sizes.
How can icebreaker games benefit team building?
Icebreaker games promote teamwork by fostering communication, collaboration, and problem-solving skills. They help build trust, enhance relationships, and improve overall team dynamics.
Can icebreaker games be used in virtual settings?
Absolutely! Icebreaker games can be adapted for virtual settings, such as video conferences or online platforms. There are numerous virtual icebreaker games designed specifically for remote interactions.
What if participants are not comfortable participating in icebreaker games?
It's important to create a safe and inclusive environment. Provide alternative options for those who may not be comfortable participating, while still encouraging their engagement in other ways.
How do icebreaker games promote inclusivity?
Icebreaker games promote inclusivity by breaking down barriers, creating a sense of belonging, and encouraging interaction among participants. They can be designed to accommodate different abilities, preferences, and cultural backgrounds.
Are there icebreaker games suitable for different age groups?
Yes, icebreaker games can be tailored to suit different age groups. Consider the abilities, interests, and attention spans of the participants when selecting appropriate games.
Can icebreaker games be used in educational settings?
Absolutely! Icebreaker games can be highly beneficial in educational settings. They promote engagement, active learning, and positive classroom dynamics by fostering connections among students.
How can I ensure icebreaker games are time-efficient?
Choose icebreaker games that can be completed within a reasonable timeframe for the event or gathering. It's important to strike a balance between engagement and managing the overall schedule.
Are icebreaker games suitable for introverted participants?
Yes, icebreaker games can be adapted to suit introverted participants. Consider games that allow individuals to participate at their own pace or in smaller groups, providing opportunities for more comfortable interaction.