Best Art Jamming Workshops in Singapore
Art Jamming Singapore

Enjoy the best Art Jamming experience in Singapore:
All Materials Provided
5,000+ 5-Star Reviews
Convenient Studio Locations
10+ Years of Experience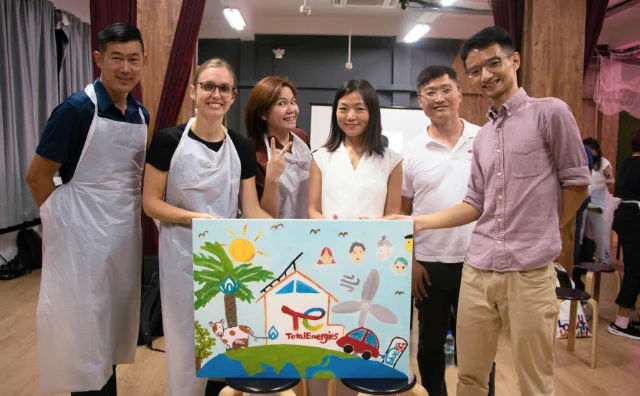 Received
5,000+
5-Star Reviews
Served
1 Million+
Happy Clients
Organized
50,000+
Successful Events
Awarded
200+
Media Features
1 Million+
Happy Clients
30,000+
Successful Events
5,000+
5-Stars Reviews
200+
Media Features
As Seen On
Art Jamming Singapore
Unleash Your Creativity
Unleash your inner artist at our Art Jamming Workshops in Singapore, where you'll explore the enchanting world of creativity.

With expert guidance from our experienced facilitators, craft your own unique masterpiece on canvas or tote bags and let your imagination run wild.

No prior experience is required, as these workshops are open to all ages. Immerse yourself in a vibrant atmosphere, connect with fellow art enthusiasts, and make new friends.

Conveniently located and offering flexible timings, book your spot now and unlock the boundless potential of your artistic expression!
Art Jamming Packages
We have everything you need for the best Art Jamming Experience, all in one place.
Special Art Jamming Workshop Rates
Exhilarating Art Jamming Workshop Packages For All Types Of Occasions
Trusted And Loved By Over 1 Million Clients
We provide our clients the highest quality service. We deliver the best event experience custom-tailored to each and every one of our clients — big or small.
Join 1,000,000+ other Consumers, Businesses, Schools & Government Agencies
Over 1 Million+ Clients Had The Best Event Experience With Art Jamming Singapore. Make The Right Choice. What Are You Waiting For?
Simple And Fuss-Free Booking Process
We are a one-stop events company. Our friendly event experts can help you plan the most FUN and EPIC EVENT ever.​​
We pride ourselves in delivering the best event experiences. Our award-winning activities & workshops help many of our clients bond with their colleagues, family and friends in the best possible way.
Our client relationships do not end after the event — you will continue to receive the quality service that you deserve for all your future events. ​
Are you ready for an exciting event?
We'd love to help you!
Get Your Free Art Jamming Quote
We are always ready to help you! Our friendly Art Jamming Singapore Events Experts will get back to you within 24 hours (or even faster!). We pride ourselves on our short response lead time that is almost immediately without compromising the quality of service. We reply every email. If you did not receive a response, please check your spam filter or junk mail folder!

hello@funempire.com
60 Tannery Lane, Singapore 347803
+65 6016 7147
+65 9792 9179
Frequently Asked Questions
What is Art Jamming?
Art Jamming is a social painting activity where participants gather to express their creativity and create artwork in a relaxed and supportive environment.
Do I need any prior painting experience to join an Art Jamming Workshop?
No, prior painting experience is not required. Our Art Jamming Workshops are suitable for beginners and experienced artists alike.
What materials are provided during the Art Jamming Workshop?
We will provide all relevant materials for the Art Jamming Workshop, such as canvas, paints, brushes, and other necessary art supplies that are required. The specific materials may vary depending on the workshop package chosen.
How long does your Art Jamming Workshop usually last?
The duration of our Art Jamming Workshop usually lasts between 1.5 to 2 hours.
Can I bring my own reference image to paint during the workshop?
Yes, we definitely encourage you to paint freely and express your own creativity. Feel free to bring along any reference images you would like!
Can I take my artwork home after the workshop?
Yes, the artwork / tote bag you create during the workshop is yours to keep and take home as a memorable keepsake.
Are Art Jamming Workshops suitable for children?
Yes, our Art Jamming Workshops are family-friendly and suitable for children.
Can I book an Art Jamming Workshop for a private event or team building activity?
Yes, we have various Art Jamming Workshop packages available for team building, birthdays and other private occasions.
Is it necessary to make a reservation in advance?
We would require a lead time of at least 3-5 working days before the event. This is to ensure that we have adequate resources and manpower allocated to ensure that you have the best Art Jamming Workshop possible.
Can I host a private Art Jamming Workshop at my own location?
We would highly recommend you to hold your Art Jamming event in our Art Studios in Singapore, as our spaces can comfortably hold up to 125 pax. However, we are also able to bring the Art Jamming Workshop experience to your desired location! Simply let our friendly events executives know and we will check if your desired location is suitable for our Art Jamming Workshops.
Is there a dress code for Art Jamming Workshops?
It's best to wear comfortable clothing that you don't mind getting paint on.
Can I attend an Art Jamming Workshop alone?
Absolutely! Our self-guided Public Art Jamming Workshops are a great way to meet new people and make friends, even if you attend alone. It's a social and inclusive activity.
How do I make a booking?
Simply fill in the contact form above and our friendly events executives will reach out to you within 24 hours! Alternatively, you may contact us at hello@funempire.com or call us at +65 6016 7147!