Art Jamming Ideas for Kids Singapore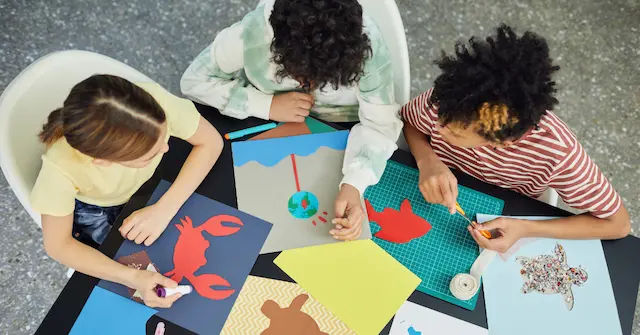 Art jamming for kids in Singapore is an exciting and engaging way to nurture their creativity and artistic skills. It involves providing children with a platform to explore their imagination and express themselves through various art forms. Engaging kids in art jamming activities not only helps them develop their artistic abilities but also encourages critical thinking, problem-solving, and self-expression.
In Singapore, there are numerous art jamming ideas specifically designed for kids to unleash their creativity and have fun. Let's explore the ten best art jamming ideas for kids in Singapore.
Benefits of Art Jamming for Kids
Art jamming activities have many benefits for children in Singapore. It encourages creative thinking, builds problem-solving skills, and can even help to foster positive relationships with others. Art jamming workshops in Singapore can also be a great way to encourage kids to express their emotions and explore their own interests through art.
Here are more reasons why you should enroll your kids in such activities:
Allows kids to express themselves creatively and develop self-confidence in the process.
It also helps them learn about cooperation, as it encourages collaboration with others who have similar interests and goals.
Promotes problem-solving skills as participants must be resourceful in order to complete their projects.
Helps kids appreciate the arts more deeply, as they get to observe and explore different techniques and materials used in art-making.
Provides a safe environment for children to express themselves without fear of judgment or criticism.
Increases their knowledge about art history and appreciation for different forms of creativity.
Best Art Jamming Ideas For Kids in Singapore
1) Tote Bag Art Jamming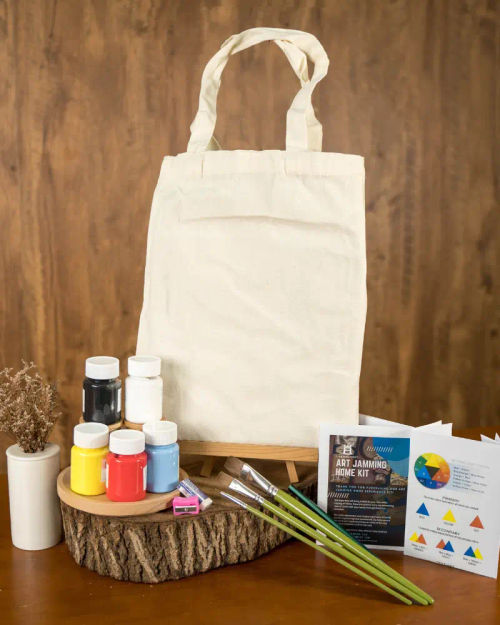 Tote bag art jamming is a trendy and eco-friendly art activity for kids in Singapore. Instead of traditional canvas or paper, children can unleash their creativity on tote bags. Provide fabric markers, stencils, and plain tote bags for them to decorate. Kids can draw their favorite characters, write inspiring quotes, or create colorful patterns on the bags. Tote bag art jamming not only allows children to express their artistic talents but also promotes environmental consciousness as they can use the customized bags for shopping or carrying their belongings. It's a practical and enjoyable art jamming idea that combines creativity with functionality.
2) Group Canvas Art Jamming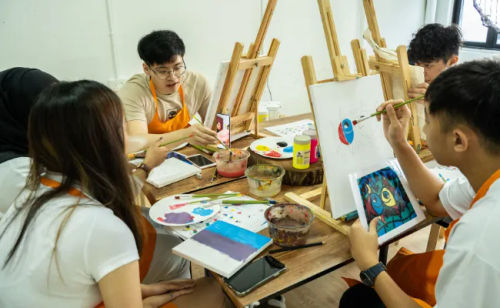 Group canvas art jamming is a wonderful way to encourage collaboration and teamwork among kids. Instead of individual canvases, provide a large communal canvas where children can work together to create a masterpiece. Assign different sections of the canvas to each child and let them contribute their artistic skills to complete the artwork. This art jamming idea promotes communication, coordination, and cooperation. Kids can share ideas, learn from each other, and witness the beauty that emerges when their individual efforts come together. Group canvas art jamming is a memorable and enriching art jamming experience that fosters social skills and a sense of belonging.
3) Canvas Art Jamming
Canvas art jamming remains a classic and versatile art activity for kids in Singapore. Set up individual canvases for each child, along with a variety of paint colors, brushes, and art tools. Kids can let their imagination run wild as they create their unique artworks on the canvas. From abstract compositions to realistic portraits, the possibilities are endless. Canvas art jamming allows children to explore different painting techniques, experiment with colors, and develop their artistic style. It also helps in improving hand-eye coordination, fine motor skills, and concentration. Displaying their finished canvas artworks can fill them with a sense of pride and accomplishment.
4) Neon Art Jamming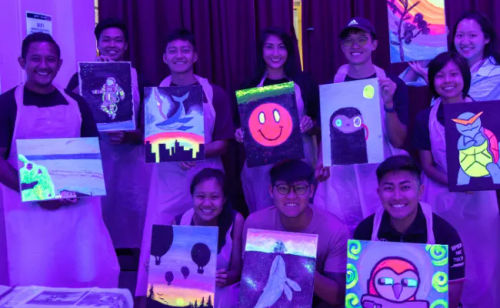 Neon art jamming is a captivating and exciting art activity that adds an extra element of vibrancy and visual appeal. Provide fluorescent paints, neon markers, and blacklight to create a glowing effect. Kids can use these vibrant colors to create art that come to life under blacklight. Neon art jamming sparks creativity and imagination as children experiment with different color combinations and create eye-catching designs. The glowing effect adds a unique and mesmerizing touch to their artwork, making it an unforgettable experience. Neon art jamming is not only visually stimulating but also allows kids to explore the interplay of light and color in their creations.
5) Sand Art Jamming
Sand art jamming is a delightful sensory activity that allows kids to create beautiful artworks using colored sand. Provide various colors of sand and empty bottles or jars. Children can layer the sand to create intricate patterns, landscapes, or even their favorite animals. Sand art jamming stimulates their tactile senses and encourages creativity as they experiment with different color combinations and textures. It's a mesmerizing and hands-on art jamming idea that sparks their imagination and provides a unique artistic experience.
6) Origami Art Jamming
Origami art jamming introduces kids to the ancient Japanese art of paper folding. Provide a variety of colorful origami paper and instructions for different origami models. Children can create animals, flowers, or geometric shapes using the folding techniques. Origami art jamming enhances their fine motor skills, spatial awareness, and concentration. It also encourages problem-solving and patience as they follow the step-by-step instructions to complete their origami creations. Origami art jamming offers a blend of art and mathematics while fostering a sense of accomplishment.
7) Printmaking Workshop
Organize a printmaking workshop where kids can learn and explore the fascinating world of printmaking. Provide materials like foam sheets, brayers, and water-based printing inks. Kids can carve or draw their designs on the foam sheets and then transfer them onto paper or fabric. Printmaking allows children to experiment with different textures, patterns, and colors. It encourages creativity, fine motor skills, and attention to detail. They can create multiple prints of their designs, which can be used for greeting cards, bookmarks, or wall art.
8) Mixed Media Collage
Mixed media collage art jamming combines various art materials and techniques to create visually stunning artworks. Provide a range of materials such as colored papers, fabric scraps, buttons, beads, magazine cutouts, and glue. Kids can create collages by layering and arranging these materials to form a cohesive artwork. This art jamming idea encourages children to think outside the box, experiment with different textures, and explore the endless possibilities of combining various elements. Mixed media collage art jamming fosters creativity, self-expression, and the ability to repurpose everyday materials into extraordinary creations.
9) Ceramic Painting
Ceramic painting is an engaging art jamming idea that allows kids to unleash their creativity on ceramic objects. Provide ceramic mugs, plates, or figurines along with ceramic paints and brushes. Children can paint and decorate these objects with their favorite designs, patterns, or characters. Ceramic painting offers a unique opportunity for kids to create functional artworks that can be used or displayed. It enhances their fine motor skills, attention to detail, and patience. The joy of seeing their painted ceramics come to life after firing is an added bonus.
10) Digital Art Jamming
Introduce kids to the world of digital art through digital art jamming sessions. Set up tablets or computers with digital art software or apps. Children can use digital brushes, colors, and various tools to create digital artworks. Digital art jamming opens up a whole new realm of creativity and possibilities. Kids can explore digital drawing, painting, and graphic design techniques. It also introduces them to the digital tools and technologies used in contemporary art. Digital art jamming combines traditional artistic skills with technology, offering a modern and innovative approach to art creation.
Art Jamming Ideas for Kids Singapore
Art jamming is a great way to help kids express their creativity and explore different art techniques. From canvas painting, neon art jamming, sand art, origami folding, printmaking workshop to ceramic painting and digital art jamming – there are endless possibilities for them to discover!
Art jamming activities not only foster self-expression but also enhance fine motor skills, spatial awareness and concentration in children. So if you're looking for creative ways to engage your little ones this summer or any other time of the year – why not try out some of these amazing art jamming ideas?
We guarantee they will have an unforgettable experience while learning valuable life lessons along the way!
Looking for more articles? Check out our recommendations below:
Frequently Asked Questions (FAQs)
If you have any questions about the best art jamming ideas for kids in Singapore, you can refer to the frequently asked questions (FAQs) about the best art jamming ideas for kids in Singapore below:
What are the best art jamming studios in Singapore?
Can art jamming activities be done at home?
Yes, many art jamming activities can be done at home with proper materials and setup. Canvas painting, clay sculpting, collage making, and even digital art can be organized at home. It provides a convenient and comfortable environment for kids to engage in creative activities.
How can I organize an art jamming session for a group of kids?
To organize an art jamming session for a group of kids, ensure you have the necessary art supplies and materials for the chosen activity. Set up a designated space with tables, chairs, and protective coverings. Provide clear instructions and demonstrations, and encourage children to explore their creativity while providing guidance and support when needed.
Are there any safety considerations for art jamming activities?
Yes, safety is important during art jamming activities. Use non-toxic art supplies and materials suitable for children. Provide aprons or old clothes to protect clothing from stains or spills. Ensure the art jamming studio is well-ventilated, and supervise young children when using tools or materials that may pose potential risks.
Can parents participate in art jamming activities with their children?
Absolutely! Art jamming activities can be a great opportunity for parents and children to bond and create together. Parents can actively participate, guide, and encourage their children during the art jamming sessions, fostering a positive and supportive environment for creativity to flourish inside the jamming studios in Singapore.