Art Studio Singapore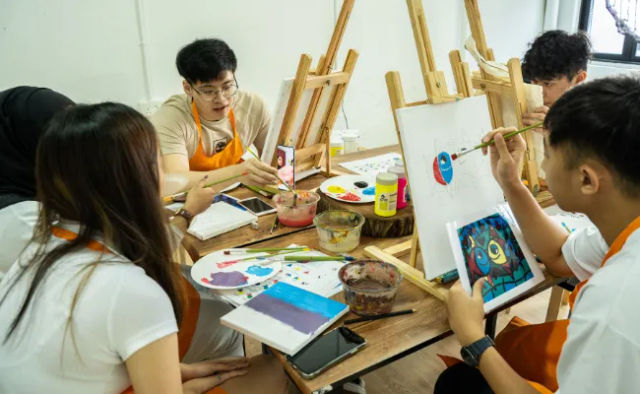 The art scene in Singapore has been flourishing in recent years, with a vibrant community of talented artists and a growing interest in the local art scene. Art studios play a crucial role in nurturing creativity and providing artists with dedicated spaces to pursue their craft. In this article, we present the best art studios in Singapore for the year 2023.
Whether you're a painter, sculptor, or mixed-media artist, these studios offer exceptional facilities and an inspiring environment to fuel your artistic endeavors.
Understanding the Singapore Art Scene
Singapore's art scene has witnessed remarkable growth and development, establishing itself as a prominent hub for artistic expression in Southeast Asia. With world-class museums, galleries, and art festivals, the city-state has attracted both established and emerging artists from various disciplines. The art studios in Singapore serve as vital creative spaces where artists can explore their ideas, collaborate with fellow creators, and showcase their works to a wider audience.
Key Consideration Factors for Art Studios
Studio Facilities: Consider the quality of the studio's facilities, such as the size of the workspace, lighting conditions, ventilation, and availability of necessary equipment and materials.
Available Resources: Assess the availability of resources, including art supplies, reference materials, specialized tools, and any additional amenities that enhance the artistic process.
Reputation: Look into the reputation and track record of the art studio. Consider factors such as the studio's history, past exhibitions or events, and feedback from artists who have worked there.
Artist Community: Evaluate the artist community within the studio. A supportive and collaborative community can provide valuable networking opportunities, creative inspiration, and the chance for fruitful collaborations.
Accessibility: Take into account the studio's location and accessibility. Consider factors such as proximity to transportation hubs, parking availability, and the convenience of reaching the studio.
These key factors play a vital role in selecting the right art studio that aligns with an artist's needs, preferences, and artistic goals.
Best Art Studio Singapore
1. Art Jamming Singapore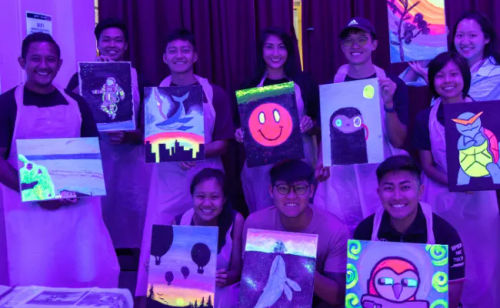 Art Jamming Singapore provides guided art sessions for individuals and groups. Their workshops cater to various skill levels, allowing participants to experiment with different techniques and mediums. It's a perfect choice for those seeking a guided art experience in a friendly and supportive setting.
2. FunEmpire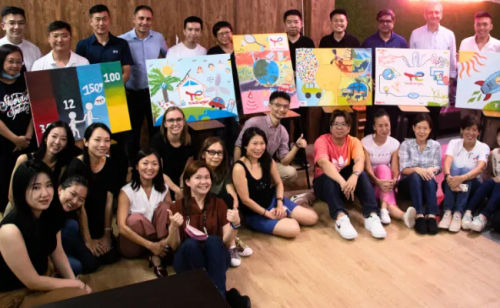 FunEmpire offers a unique blend of art and team building activities. With their art workshops and art jamming sessions, they provide a creative space for individuals and groups to unleash their artistic talents. Whether it's a corporate team-building event or a fun gathering with friends, FunEmpire offers engaging and enjoyable art experiences.
3. Team Building Singapore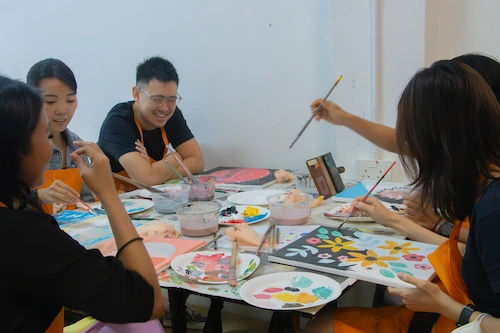 Team Building Singapore specializes in creating customized art-based team-building activities. Their art studio provides a conducive environment for teams to bond, collaborate, and explore their creativity together. Through art-related challenges and workshops, they help foster teamwork, communication, and innovation.
4. Birthday Party Singapore
Birthday Party Singapore combines art and celebration to create memorable experiences for birthdays. Their art studios offer a wide range of interactive and entertaining art activities for kids and adults alike. From painting parties to craft workshops, they ensure a fun-filled and creative birthday celebration.
5. Art Jamming Workshop Singapore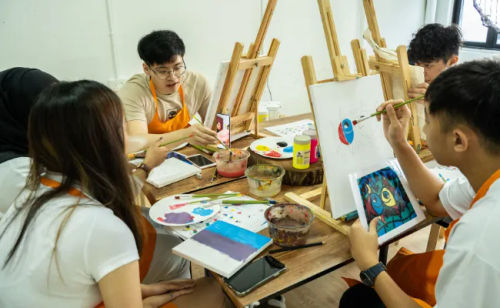 Art Jamming Workshop Singapore is a popular destination for art enthusiasts looking for a relaxed and casual art experience. With their open art sessions and guidance from experienced artists, participants can enjoy the freedom of self-expression and create their masterpieces in a supportive environment.
6. Fun Workshops Singapore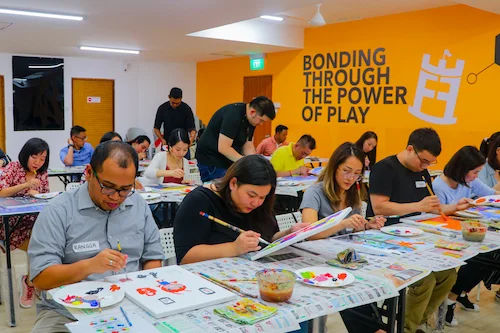 Fun Workshops Singapore offers a diverse range of art workshops designed to inspire creativity and foster personal growth. From painting and pottery to calligraphy and photography, their studios provide a platform for individuals to explore different art forms and develop new skills.
7. Team Building Games Singapore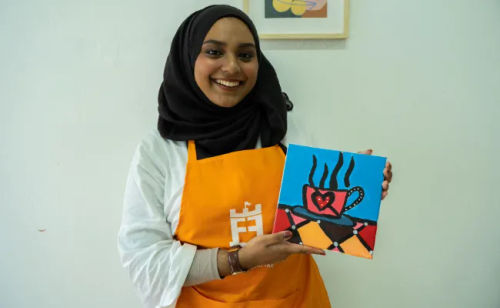 Team Building Games Singapore combines art and team-building activities to create engaging experiences for organizations. Their art-focused games and challenges promote collaboration, communication, and problem-solving skills while encouraging participants to tap into their artistic abilities.
8. Team Building Activities Singapore
Team Building Activities Singapore offers a wide array of art-based team-building exercises and workshops. With their carefully designed activities, teams can strengthen their relationships, boost creativity, and improve problem-solving abilities, all while enjoying the artistic process.
9. Artefakts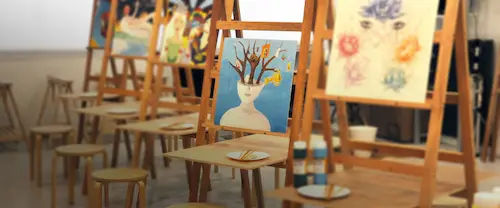 Artefakts is a contemporary art studio that offers an immersive and innovative art experience. From exhibitions and workshops to artist residencies, they create a platform for artists to showcase their works and engage with the art community. Artefakts is a must-visit destination for art enthusiasts seeking cutting-edge contemporary art.
10. Studio An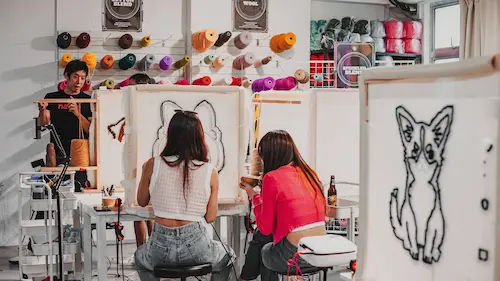 Studio An provides a welcoming and inclusive environment for artists of all backgrounds and skill levels. With their diverse range of art classes and workshops, they aim to nurture creativity and artistic expression in a supportive community. Studio An is an excellent choice for individuals seeking guidance and inspiration on their artistic journey.
11. Splat Paint House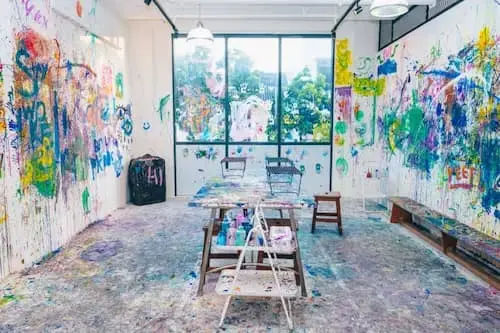 Splat Paint House offers a unique and energetic art experience through their splatter painting sessions. Participants can unleash their creativity by throwing, dripping, and splattering paint onto canvases, creating vibrant and abstract artworks. It's a fun and unconventional way to explore artistic expression.
12. Artify Studio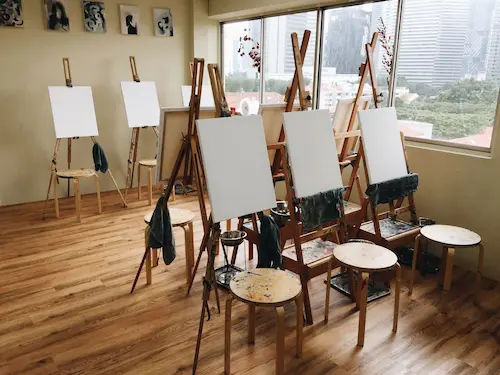 Artify Studio is a community-focused art studio that offers a wide range of art classes, workshops, and events. They believe in making art accessible to everyone, regardless of age or skill level. With their supportive instructors and inclusive atmosphere, Artify Studio encourages creativity and fosters a sense of belonging.
13. Motion Art Space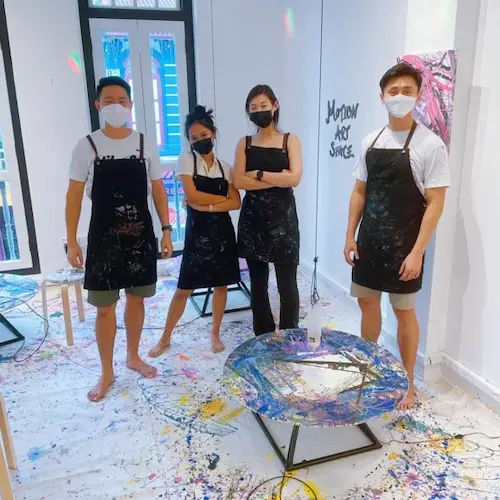 Motion Art Space is a dynamic art studio that combines art, dance, and movement. They offer workshops and classes that integrate various artistic disciplines, allowing participants to explore the connection between art and motion. It's an ideal place for individuals looking to express themselves through a fusion of different art forms.
14. Arthaus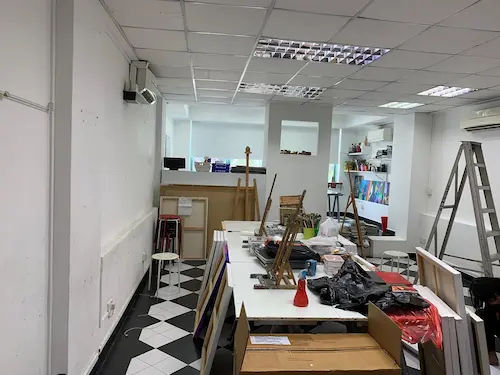 Arthaus is a contemporary art studio that showcases the works of local and international artists. With its modern and minimalist setting, Arthaus provides a platform for artists to exhibit their creations and engage with the art community. It's a space that fosters artistic dialogue and appreciation for contemporary art.
15. My Art Space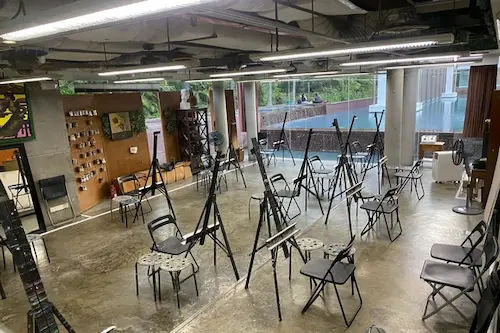 My Art Space offers spacious and well-equipped art studios for artists to work on their projects. With their emphasis on supporting artists' growth and development, My Art Space provides resources, workshops, and artist-in-residence programs. It's a nurturing environment for artists to explore their creativity and expand their artistic horizons.
16. Tuft Club
Tuft Club specializes in textile art and offers workshops and classes in various textile techniques such as embroidery, weaving, and fabric dyeing. Their studio provides a cozy and inspiring space for textile enthusiasts to learn, create, and connect with fellow artists passionate about this medium.
17. Arteastiq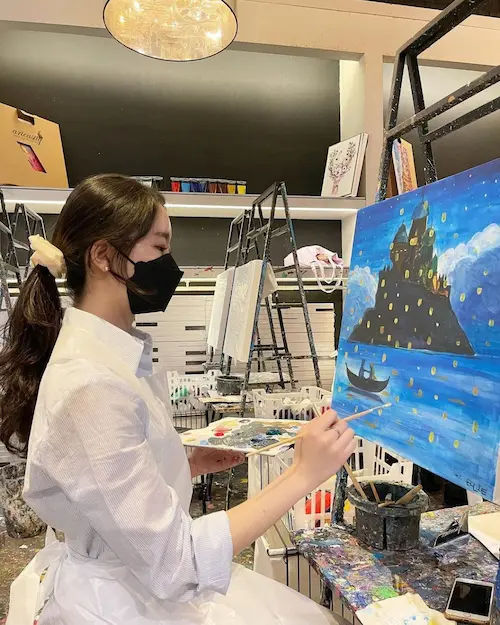 Arteastiq is an art studio and tea lounge that combines art and relaxation. It offers art jamming sessions where participants can enjoy painting while sipping on gourmet teas and indulging in delectable treats. It's a unique concept that provides a calming and enjoyable art experience.
18. The Noteway Art Studio
The Noteway Art Studio offers a wide range of art classes and workshops for both children and adults. From drawing and painting to ceramics and crafts, their diverse programs cater to various interests and skill levels. The studio provides a nurturing environment for individuals to explore their artistic potential.
19. Heartroom Gallery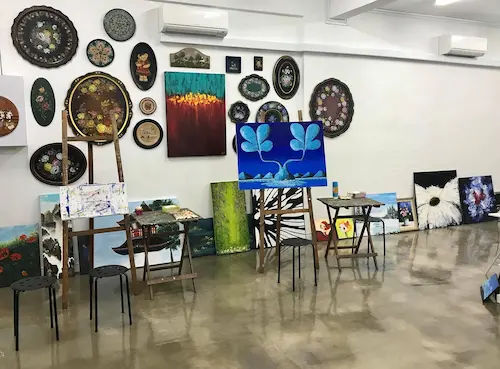 Heartroom Gallery is a contemporary art studio and gallery that showcases the works of emerging and established artists. With its commitment to promoting creativity and supporting local talents, Heartroom Gallery offers a platform for artists to exhibit their works and engage with art enthusiasts in Singapore.
20. Artist Tique Co Art Studio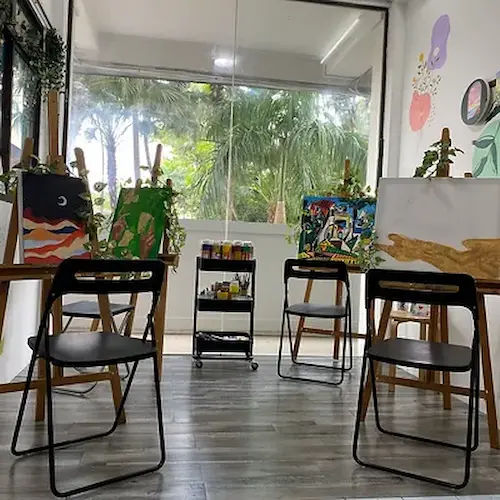 Artist Tique Co Art Studio is a collaborative art space that brings artists and art lovers together. It hosts exhibitions, workshops, and art events, fostering a sense of community and inspiring artistic exploration. Artist Tique Co Art Studio is a creative hub where artists can connect and showcase their talent.
Art Studio Singapore
Singapore is home to a wide variety of art studios that offer creative experiences for individuals and groups. From workshops, exhibitions, classes and events – there's something here for everyone! Whether you are looking to explore your artistic potential or just wanting to unwind with some painting therapy, the art studios in Singapore have it all. With its diverse range of activities and programs available, these art spaces provide an inspiring environment where creativity can flourish. So why not take a step into one of Singapore's many amazing art studios today?
Looking for more articles? Check out our recommendations below:
Frequently Asked Questions (FAQ)
If you have any questions about art studios in Singapore, you can refer to the frequently asked questions (FAQ) about the best Art Studios In Singapore below:
What are the benefits of joining an art studio in Singapore?
Joining an art studio in Singapore offers several benefits, such as access to dedicated workspace, resources, and equipment. It provides opportunities for collaboration, networking with other artists, and receiving guidance from experienced mentors. Additionally, being part of an art studio fosters a sense of community, inspiration, and growth in one's artistic journey.
How can I choose the right art studio in Singapore?
Choosing the right art studio in Singapore involves considering factors such as studio facilities, available resources, reputation, artist community, and accessibility. Assess your specific needs, preferences, and artistic goals to find a studio that aligns with them. Visiting studios, speaking with artists, and researching online can help you make an informed decision.
What types of art activities can I expect in these art studios?
These art studios in Singapore offer a wide range of activities, including art jamming, painting workshops, team-building exercises, craft sessions, exhibitions, and more. Each studio may have its unique offerings, so it's best to explore their websites or contact them directly for specific details.
Are these art studios suitable for beginners?
Yes, many of these art studios in Singapore welcome artists of all skill levels, including beginners. They often provide classes, workshops, and guidance tailored to different experience levels. Whether you're a novice or an experienced artist, you can find studios that offer suitable programs to enhance your skills and knowledge.
Can I rent a studio space for personal use in these art studios?
Some of these art studios may offer rental options for personal use. However, availability, terms, and pricing may vary. It's recommended to contact the studios directly to inquire about their rental policies and any prerequisites for renting a space.
How much do art classes or workshops at these studios typically cost?
The cost of art classes or workshops at these studios can vary depending on factors such as the duration of the session, the type of activity, materials provided, and the expertise of the instructors. It's best to visit the websites or contact the studios for specific pricing details.
Can I exhibit my artwork in these art studios?
Some of these art studios may offer opportunities for artists to exhibit their artwork. They may have specific exhibition programs, galleries, or events where artists can showcase their creations. Contacting the studios directly or checking their websites for exhibition opportunities is recommended.
Can children participate in art activities at these studios?
Yes, many of these art studios offer art activities and workshops suitable for children. They may have dedicated programs or sessions designed specifically for young artists to explore their creativity in a supportive and engaging environment.
Are these art studios open to the public for visits?
Some of these art studios may be open to the public for visits. However, it's advisable to check their operating hours and any specific visitation policies beforehand, as some studios may require appointments or have limited public access.
How can I stay updated with the events and activities happening at these art studios?
To stay updated with the events and activities happening at these art studios, you can subscribe to their newsletters, follow their social media accounts, or regularly check their websites for the latest updates. This way, you won't miss out on any exciting opportunities or upcoming exhibitions.