Painting Studio Singapore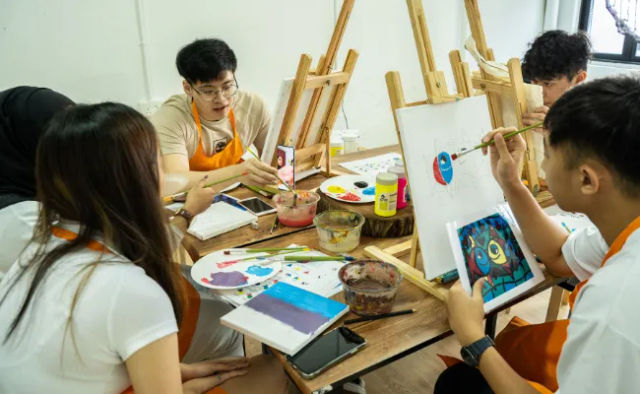 Painting has emerged as a popular form of self-expression and creative outlet, capturing the imagination of individuals from all walks of life. For aspiring artists in Singapore, finding the right painting studio is crucial to foster their artistic growth and unlock their creative potential. In this article, we present the best painting studios in Singapore for the year 2023. Whether you are a beginner seeking to explore your artistic side or an experienced artist looking for a supportive and inspiring environment, these studios offer a range of programs and resources to meet your needs.
Understanding the Importance of a Painting Studio
Choosing the right painting studio plays a pivotal role in an artist's journey. Beyond the basic provision of art supplies and studio space, painting studios provide an environment that nurtures creativity, encourages experimentation, and offers professional guidance. Within these artistic havens, artists can connect with like-minded individuals, engage in artistic dialogue, and gain valuable insights from experienced instructors. Additionally, painting studios often organize workshops, exhibitions, and events, providing artists with opportunities to showcase their work and gain recognition within the artistic community.
Criteria for Selecting the Best Painting Studios
When evaluating painting studios in Singapore, consider the following criteria to help you make an informed decision:
Expertise of Instructors: Look for studios with experienced instructors who possess a diverse artistic background and a passion for teaching. Their expertise and guidance will play a crucial role in your artistic development.
Variety of Art Programs: Opt for studios that offer a range of art programs catering to different skill levels and artistic styles. This ensures that you have the opportunity to explore various techniques and find the right fit for your artistic journey.
Studio Facilities: Assess the quality of the studio facilities, including the availability of well-equipped spaces, lighting, and ventilation. A comfortable and conducive environment can enhance your painting experience.
Art Materials: Check if the studio provides high-quality art materials or if you need to bring your own. Painting with good materials can significantly impact the outcome of your artwork.
Studio Ambiance: Consider the overall ambiance of the studio. A welcoming and inspiring atmosphere can foster creativity and make your painting sessions more enjoyable.
Class Sizes: Determine the class sizes offered by the studio. Smaller class sizes often allow for more personalized attention from instructors, enabling focused learning and individual feedback.
Student Reviews and Testimonials: Look for feedback from previous students. Positive reviews and testimonials can provide insights into the studio's teaching methods, instructor-student interactions, and overall satisfaction.
Accessibility and Location: Consider the studio's location and accessibility. Choose a studio that is conveniently located and easily reachable, ensuring that attending classes fits well into your schedule.
Price and Value: Assess the pricing structure of the studio's programs and classes. Consider the value you will receive in terms of instruction, resources, and the overall artistic experience.
Studio Reputation: Research the studio's reputation within the artistic community. Look for recognition, awards, or affiliations that showcase the studio's standing and credibility.
By evaluating these criteria, you can select a painting studio in Singapore that aligns with your artistic goals, provides a supportive learning environment, and enhances your overall painting experience.
Best Painting Studio Singapore
1. FunEmpire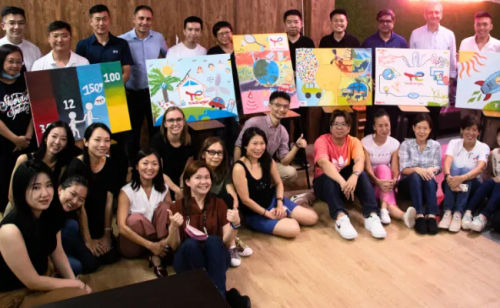 FunEmpire offers a wide range of engaging and interactive art jamming experiences for individuals and groups. With their skilled facilitators and well-equipped studios, participants can unleash their creativity while enjoying a fun-filled painting session. Whether you're organizing a team-building event, a birthday party, or simply looking for a unique creative outlet, FunEmpire provides an enjoyable and memorable painting experience.
2. Team Building Singapore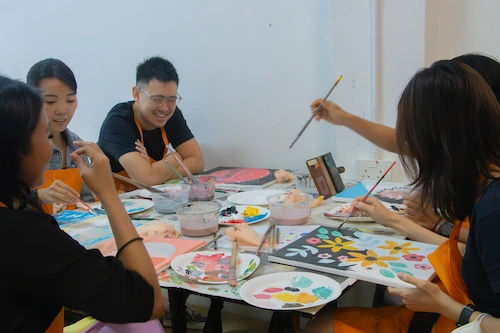 Team Building Singapore incorporates painting as a team-building activity, promoting collaboration and creativity among participants. Their painting workshops foster a positive and supportive environment, encouraging teamwork and artistic expression. Whether it's through group painting projects or individual artwork, Team Building Singapore helps teams bond, communicate, and develop a deeper appreciation for each other's creativity.
3. Fun Workshops Singapore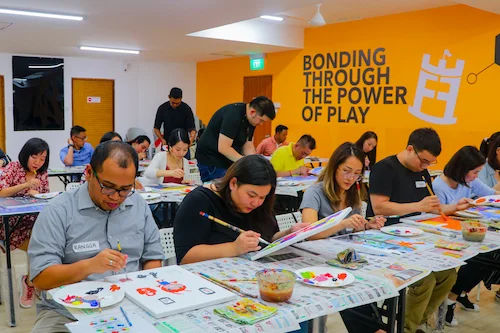 Fun Workshops Singapore provides a diverse array of painting workshops suitable for beginners and experienced artists alike. Their skilled instructors guide participants through various techniques, ensuring an enjoyable and educational painting experience. With a focus on fostering creativity and providing a relaxed atmosphere, Fun Workshops Singapore offers a wide range of painting themes and styles to cater to different interests and skill levels.
4. Team Building Activities Singapore
Team Building Activities Singapore offers art-based team-building programs, including collaborative painting projects. Through these activities, participants can enhance their communication skills, teamwork, and creative problem-solving abilities. By engaging in shared artistic endeavors, teams learn to appreciate each other's perspectives, foster trust, and develop a stronger sense of camaraderie.
5. Art Jamming Singapore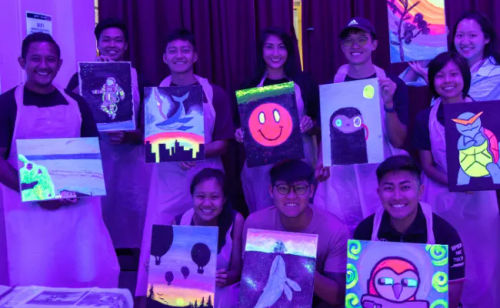 Art Jamming Singapore provides a relaxed and inspiring environment for individuals to freely express their creativity through painting. With no specific guidelines or restrictions, participants can enjoy the therapeutic benefits of art while exploring their artistic style. Whether you're a seasoned artist or a beginner, Art Jamming Singapore offers an inclusive space where you can unleash your imagination, relax, and create beautiful artwork.
6. Birthday Party Singapore
Birthday Party Singapore offers painting-themed birthday party packages, providing a fun and artistic celebration for children and adults. Their experienced instructors organize engaging painting activities that make birthdays memorable and creative. With a focus on creating a vibrant and enjoyable experience, Birthday Party Singapore ensures that everyone has a fantastic time celebrating and creating lasting memories.
7. Art Jamming Workshop Singapore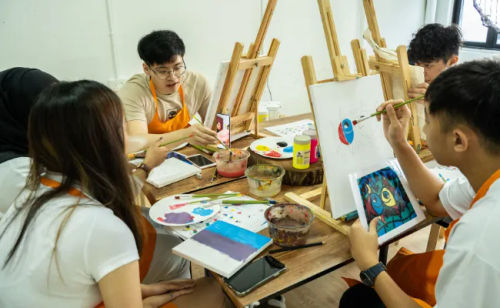 Art Jamming Workshop Singapore conducts interactive and hands-on art jamming sessions. Participants can immerse themselves in a supportive environment, surrounded by like-minded individuals, and create unique artworks under expert guidance. Whether you're looking for a solo art therapy session or a social painting event with friends, Art Jamming Workshop Singapore offers a creative space where you can relax, have fun, and let your artistic talents flourish.
8. Team Building Games Singapore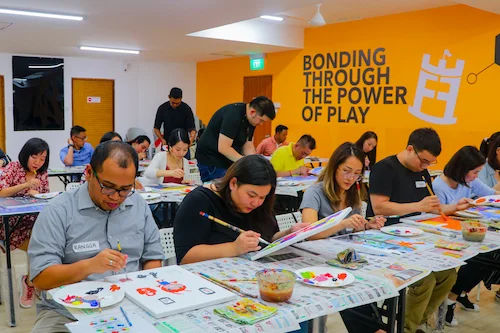 Team Building Games Singapore incorporates painting activities into their team-building games, encouraging participants to collaborate, communicate, and think creatively. These engaging experiences foster teamwork and foster a sense of accomplishment. By combining the excitement of games with the creativity of painting, Team Building Games Singapore provides a unique and effective approach to team building.
9. Splat Paint House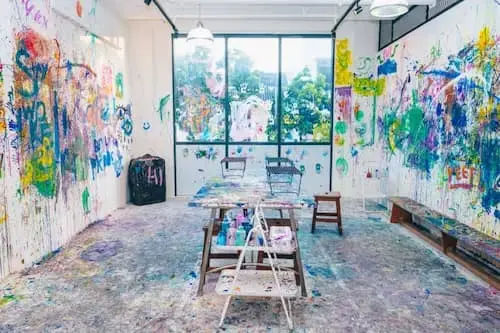 Splat Paint House offers a vibrant and dynamic painting experience with their splatter painting technique. Participants can unleash their creativity by throwing, flicking, and splattering paint, resulting in energetic and unique artworks. With a focus on experimentation and self-expression, Splat Paint House provides a lively and colorful environment where artists of all ages can let loose and create striking masterpieces.
10. Artify Studio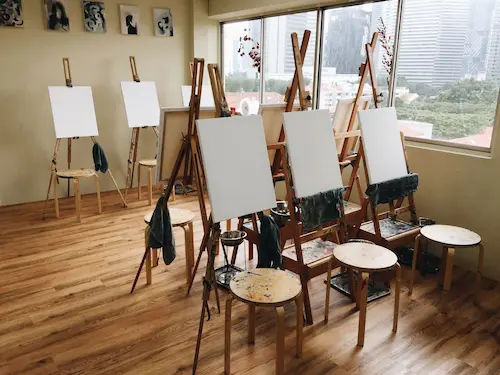 Artify Studio provides a range of art classes and workshops, including painting, drawing, and mixed media. Their dedicated instructors offer personalized guidance, allowing participants to develop their artistic skills at their own pace. With a focus on nurturing creativity and self-expression, Artify Studio aims to inspire artists of all levels to explore their artistic passions and expand their artistic horizons.
11. Artefakts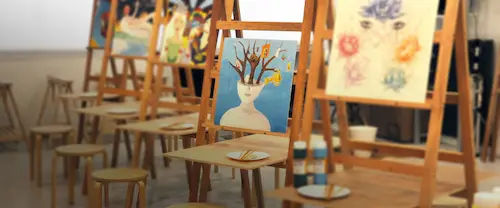 Artefakts is a contemporary art studio that offers innovative painting workshops and art programs. Participants can explore experimental techniques and unconventional approaches to painting, expanding their creative boundaries. With a commitment to pushing artistic boundaries and fostering artistic growth, Artefakts provides a dynamic and inspiring environment for artists to unleash their creativity and create meaningful works of art.
12. Heartroom Gallery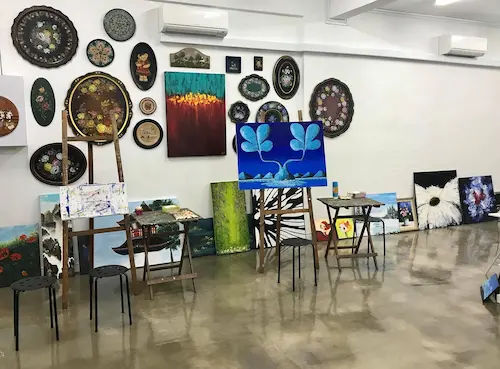 Heartroom Gallery provides a nurturing environment for artists to express themselves through painting. With their focus on self-expression and emotional exploration, participants can create meaningful artworks that resonate with their personal experiences. Heartroom Gallery encourages artists to delve into their emotions, channel their creativity, and use painting as a powerful medium for self-discovery and storytelling.
13. Artist Tique Co Art Studio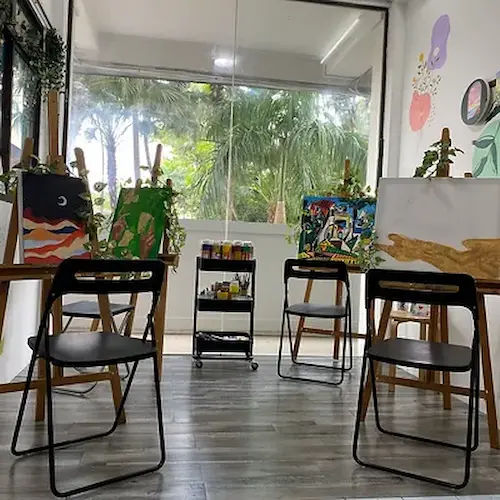 Artist Tique Co Art Studio offers a variety of art classes, including painting, drawing, and illustration. Their experienced instructors guide participants through fundamental techniques and provide valuable insights into the artistic process. Whether you're a beginner looking to learn the basics or an experienced artist seeking to refine your skills, Artist Tique Co Art Studio offers a supportive and educational environment to foster your artistic growth.
14. Tuft Club
Tuft Club combines painting with socializing by hosting paint and sip sessions. Participants can unwind, enjoy a glass of wine, and create their own masterpiece under the guidance of talented instructors. With a relaxed and social atmosphere, Tuft Club provides a fun and creative space for individuals to explore their artistic talents while connecting with others who share a passion for art.
15. Arteastiq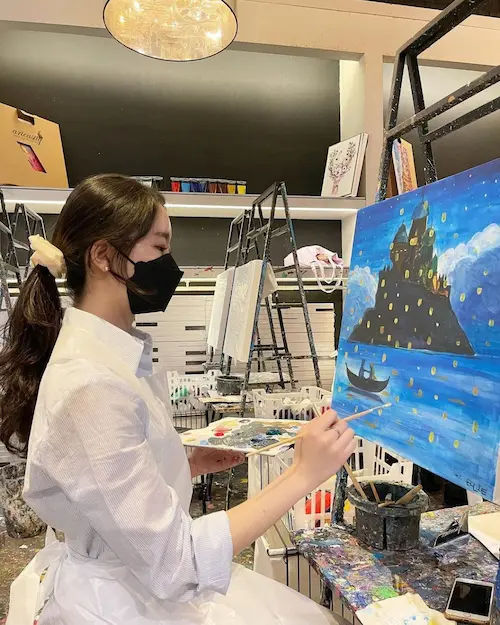 Arteastiq is an art studio and tea house that provides a unique blend of painting and dining experiences. Participants can indulge in delicious food and beverages while exploring their creativity through painting. With their focus on combining art and gastronomy, Arteastiq offers a multi-sensory experience where participants can relax, rejuvenate, and enjoy the process of creating art.
16. Motion Art Space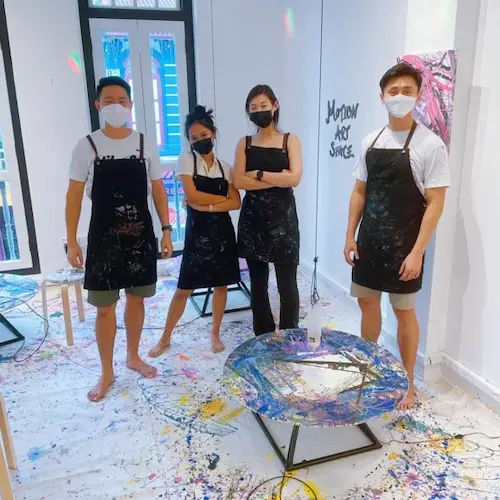 Motion Art Space offers painting classes that incorporate movement and mindfulness. Participants can engage in expressive and therapeutic painting sessions that combine artistic expression with physical and emotional well-being. With a focus on the mind-body connection, Motion Art Space provides a unique approach to painting that encourages participants to explore their creativity while cultivating mindfulness and self-awareness.
17. Studio An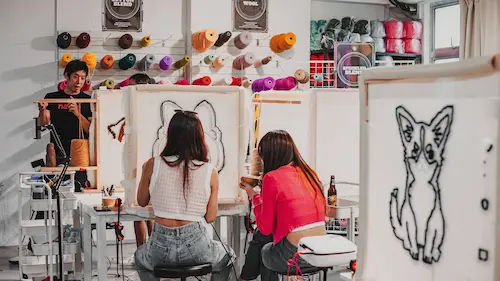 Studio An specializes in acrylic pouring workshops, allowing participants to create mesmerizing abstract artworks. Their experienced instructors guide participants through the mesmerizing process of fluid art, resulting in stunning and vibrant compositions. Studio An offers a space where artists can explore the mesmerizing world of acrylic pouring, experiment with colors and techniques, and create captivating pieces of art.
18. Cafe de Paris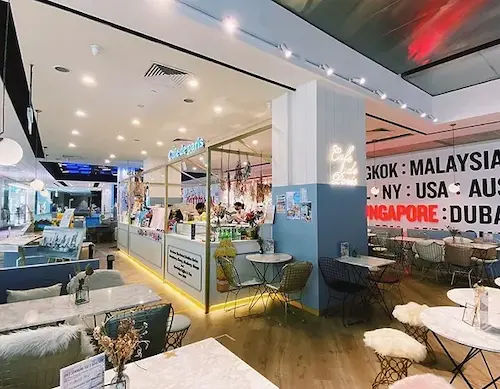 Cafe de Paris offers painting sessions in a cozy café setting. Participants can relax, enjoy a cup of coffee or tea, and let their creativity flow onto the canvas under the guidance of skilled instructors. With a focus on providing a tranquil and inspiring environment, Cafe de Paris offers a peaceful retreat where artists can immerse themselves in their painting practice while enjoying a warm and welcoming atmosphere.
19. My Art Space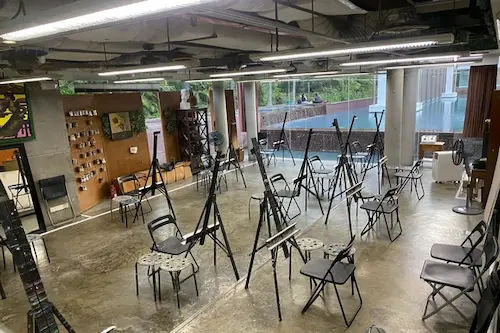 My Art Space provides art classes and workshops for individuals of all skill levels. Their supportive and inclusive environment fosters creativity and encourages participants to explore different painting techniques and styles. Whether you're a beginner seeking to learn the basics or an experienced artist looking to expand your artistic repertoire, My Art Space offers a range of classes and workshops to suit your needs.
20. Paintblush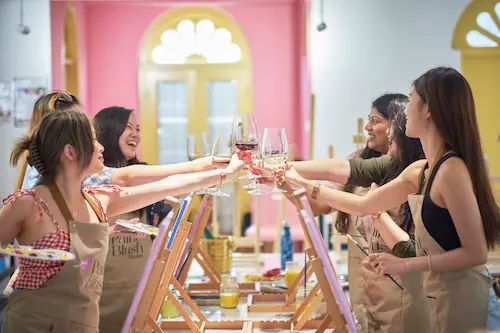 Paintblush offers a range of painting workshops for both adults and children. Participants can learn various painting techniques, create their own masterpieces, and experience the joy of self-expression through art. With their friendly and encouraging instructors, Paintblush provides a nurturing environment where artists of all ages can explore their creativity and develop their artistic skills.
Emerging Trends and Innovations in Painting Studios
As the artistic landscape evolves, painting studios in Singapore are embracing emerging trends and innovative approaches to enhance the artistic experience. Many studios are incorporating technology into their classes, utilizing digital tools and software to explore new possibilities in painting. Additionally, some studios are adopting interdisciplinary approaches, integrating elements of performance art, installations, or even virtual reality into traditional painting practices. These advancements allow artists to push the boundaries of their creativity and explore unique artistic expressions.
Painting Studio Singapore
Choosing the right painting studio in Singapore is an essential step for artists looking to develop their skills and unleash their creative potential. The best painting studios in Singapore [2023], as highlighted in this article, offer a range of programs, experienced instructors, and inspiring environments. Whether you are a beginner or an experienced artist, these studios provide the necessary guidance, resources, and artistic community to support your artistic journey. Explore these studios, immerse yourself in the world of painting, and watch your creativity flourish.
Frequently Asked Questions (FAQ)
If you have any questions about painting studios in Singapore, you can refer to the frequently asked questions (FAQ) about the best Painting Studios In Singapore below:
Are these painting studios suitable for beginners?
Yes, many of these painting studios cater to beginners and offer classes specifically designed for those with little to no prior experience.
How much do painting classes at these studios typically cost?
The cost of painting classes varies depending on the studio, duration of the class, and the type of program. It is best to check the respective studio's website or contact them directly for specific pricing details.
Can children participate in these painting classes?
Yes, several painting studios offer classes and workshops specifically tailored for children. Parents can find age-appropriate programs suitable for their little artists.
Do I need to bring my own painting materials?
The majority of these painting studios provide the necessary art materials, such as paint, brushes, and canvases. However, it's always a good idea to check with the studio beforehand to confirm if any additional materials are required.
How long are the painting classes or workshops?
The duration of painting classes or workshops can vary. Some studios offer short sessions of a few hours, while others provide more extensive programs that span multiple sessions. The specific duration will depend on the studio and the type of class or workshop you choose.
Can I book a trial class before committing to a full program?
Yes, many painting studios offer trial or introductory classes, allowing participants to get a feel for the studio, instructor, and teaching style before enrolling in a full program.
Are private painting lessons available?
Some painting studios may offer private or one-on-one lessons for individuals who prefer personalized instruction. It's best to check with the specific studio for availability and pricing of private lessons.
Is there an age limit for participating in painting classes?
The age limits for painting classes can vary depending on the studio and the program. Some studios may have classes specifically for adults, while others provide classes for all age groups. It's advisable to check with the studio regarding age restrictions for their classes.
Do these painting studios organize exhibitions or showcases?
Yes, some painting studios may organize exhibitions or showcases to provide artists with opportunities to display their artworks. This allows participants to share their creations with the public and gain exposure within the artistic community.
What safety measures do these studios have in place, especially considering the current COVID-19 situation?
Painting studios prioritize the safety of their participants and instructors. Many have implemented various safety measures, including increased cleaning and sanitization, social distancing protocols, and limited class sizes. It's recommended to contact the studio directly or visit their website to learn more about the specific safety measures they have in place.