Painting Workshop Singapore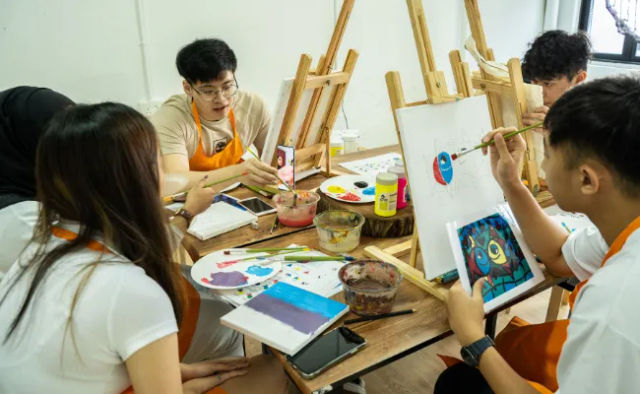 Welcome to the vibrant world of painting workshops in Singapore, where art enthusiasts and beginners alike can immerse themselves in a creative journey. In recent years, the popularity of painting workshops has soared as more people recognize the therapeutic and expressive nature of art. Whether you are looking to refine your skills, discover a new hobby, or simply unleash your creativity, attending a painting workshop can be a transformative experience. In this article, we will explore the best painting workshops in Singapore for 2023, ensuring you find the perfect opportunity to embark on your artistic adventure.
Importance of Choosing the Right Painting Workshop
Choosing the right painting workshop is crucial to ensure a fulfilling and rewarding experience. A reputable and high-quality workshop can provide expert guidance, foster artistic growth, and create a supportive learning environment. By immersing yourself in a well-structured workshop led by experienced instructors, you can develop your skills, gain valuable insights, and discover new techniques. Moreover, the right workshop can ignite your passion for art and connect you with like-minded individuals who share your love for creativity.
Factors to Consider When Choosing a Painting Workshop
Instructor Expertise: Evaluate the qualifications and expertise of the workshop instructors, ensuring they have a strong background in the specific genre or technique you wish to learn.
Workshop Duration: Consider the length of the workshop, as longer programs may provide more in-depth learning opportunities and allow for a deeper exploration of the subject matter.
Class Size: Take into account the size of the class. Smaller groups often provide a more personalized learning experience, allowing for individual attention and feedback from the instructor.
Location: Consider the workshop's location and its accessibility to you. Choose a workshop that is conveniently located, reducing travel time and making it easier for you to attend regularly.
Pricing: Determine the cost of the workshop and ensure it fits within your budget. Keep in mind that the price may vary depending on the duration, materials provided, and the expertise of the instructors.
Available Materials: Check what materials will be provided during the workshop. Some workshops may include art supplies such as paints, brushes, canvases, and easels, while others may require you to bring your own. Ensure you have a clear understanding of the materials needed to fully participate in the workshop.
Best Painting Workshop Singapore
1. Fun Self-Guided Art Jamming
Unleash your creativity in this self-guided art jamming session where you have the freedom to explore various art mediums and techniques. Express yourself on canvas, experiment with colors, and create your own masterpiece at your own pace. With all art materials provided, this workshop offers a fun and relaxing environment for individuals of all skill levels to indulge in a therapeutic art experience.
2. Neon Painting Workshop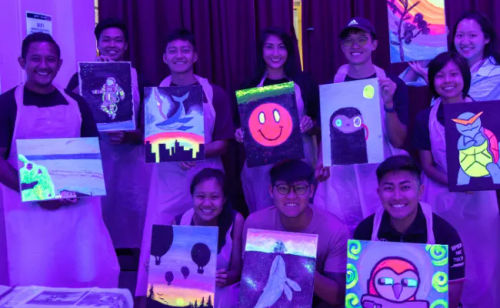 Experience the vibrant world of neon art with this exciting workshop. Learn how to use neon paints and create striking artworks that glow under blacklight. Guided by an experienced instructor, you'll discover techniques for creating mesmerizing neon effects and bring your creations to life. Get ready to immerse yourself in a captivating and luminous painting experience.
3. Group Canvas Art Jamming Workshop
Join a dynamic and collaborative group canvas art jamming workshop that fosters creativity and connection. Engage with fellow participants as you work together on a large canvas, exchanging ideas, and inspiring each other. With the guidance of an experienced instructor, explore various painting techniques and styles while creating a collective masterpiece in a supportive and interactive setting.
4. Individual Canvas Art Jamming Experience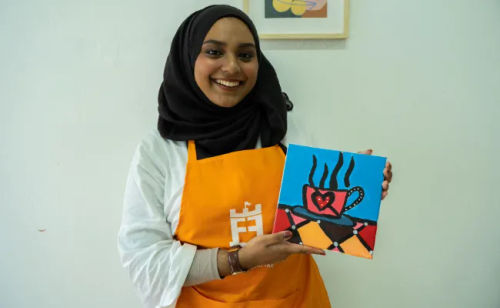 Enjoy a personalized and focused art jamming experience with this individual canvas workshop. Receive one-on-one guidance from a skilled artist who will help you explore different painting techniques, develop your skills, and unleash your artistic potential. Immerse yourself in the process, let your creativity flow, and create a canvas that reflects your unique artistic expression.
5. Open Art Jamming Workshop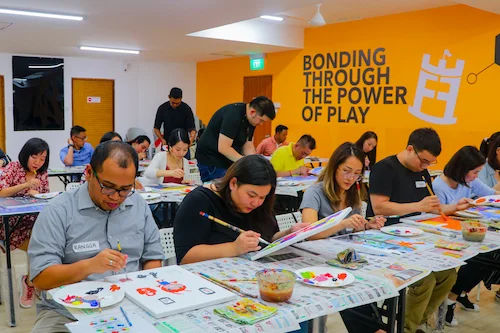 Experience the freedom of open art jamming, where you can choose your preferred art medium and create without boundaries. This workshop provides a wide range of art materials and a supportive environment for self-expression. Whether you prefer acrylics, watercolors, or mixed media, this open art jamming session allows you to explore and experiment with different techniques at your own pace.
6. Creative Virtual Art Jamming Workshop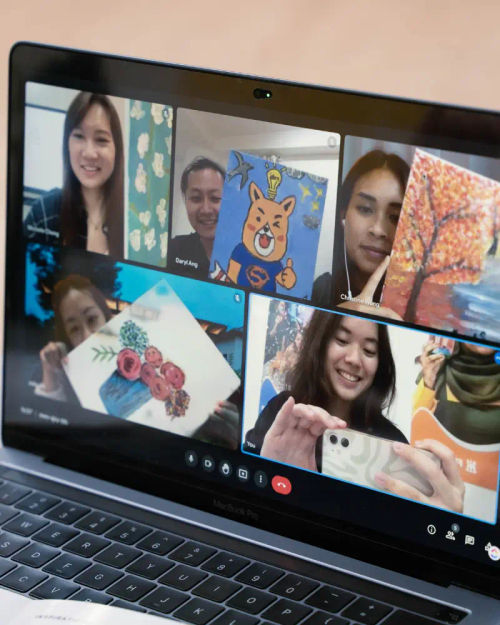 Embrace the convenience of virtual art jamming with this interactive workshop. Connect with fellow artists and a skilled instructor through a virtual platform as you explore various art techniques. Engage in real-time demonstrations, receive personalized feedback, and create your artwork from the comfort of your own home. This workshop combines creativity and technology to provide an immersive and engaging virtual art experience.
7. Unique Individual Tote Bag Art Jamming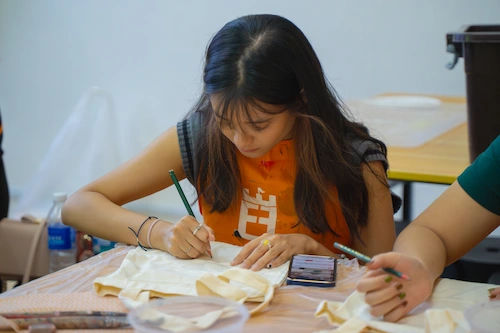 Express your creativity on a practical canvas with this unique tote bag art jamming workshop. Design and personalize your own tote bag using fabric paints, markers, and stencils. Let your imagination run wild as you create a functional and stylish accessory that showcases your artistic flair. Perfect for individuals who love both art and fashion.
8. Team Art Jamming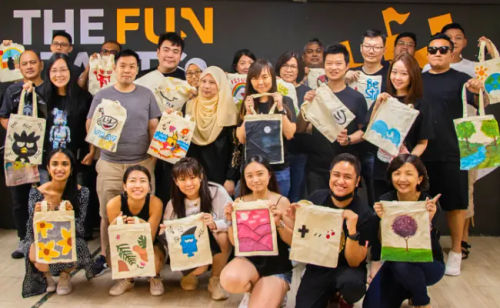 Bond with your team through the power of art in this team art jamming session. Collaborate, communicate, and unleash creativity as you work together on a collective artwork. Guided by an experienced facilitator, this workshop encourages teamwork, problem-solving, and artistic expression, fostering a sense of unity and creativity within your group.
9. 1.5-Hour Guided Individual Canvas Art Jamming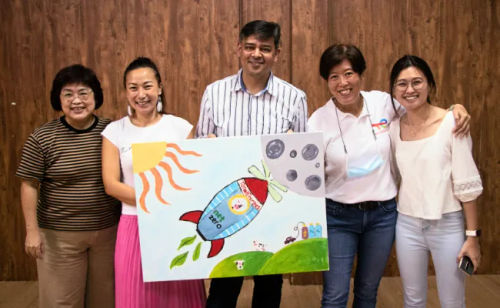 Embark on a guided individual canvas art jamming session designed to inspire and guide your artistic journey. Receive step-by-step instructions from a skilled instructor as you explore different techniques and create your own masterpiece. With a focused and structured approach, this workshop is perfect for beginners and those looking to enhance their painting skills.
10. Glow-in-the-Dark Art Jamming Experience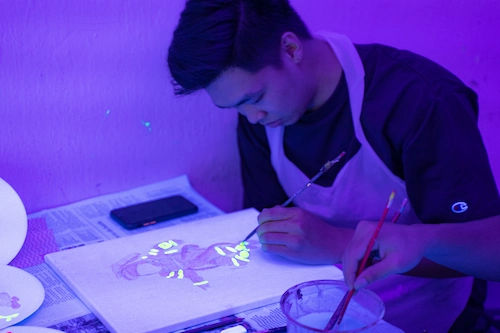 Step into a magical world of glowing art with this unique glow-in-the-dark art jamming experience. Use specialized fluorescent paints that come alive under UV light and create stunning artworks that emit an ethereal glow. Let your imagination take flight as you explore this captivating and mesmerizing art form.
11. Canvas Art Jamming Session
Unleash your creativity in this canvas art jamming session that provides a relaxing and supportive environment for artistic expression. Experiment with different painting techniques, colors, and textures on canvas while receiving guidance from a skilled instructor. Whether you are a beginner or an experienced artist, this workshop offers a space for exploration and creativity.
12. Individual Art Jamming Experience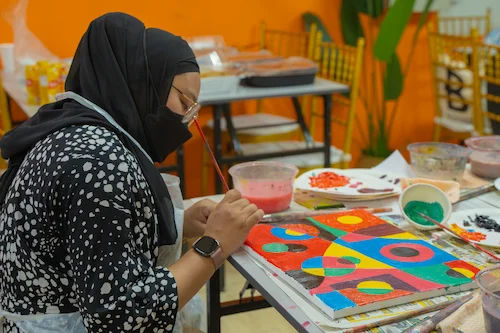 Indulge in a personalized canvas art jamming experience that focuses on your individual artistic journey. Receive dedicated attention from an experienced artist who will guide you in exploring various techniques, developing your skills, and creating a unique artwork. This one-on-one session allows you to dive deep into the world of painting and receive tailored feedback and guidance.
13. Group Art Jamming Session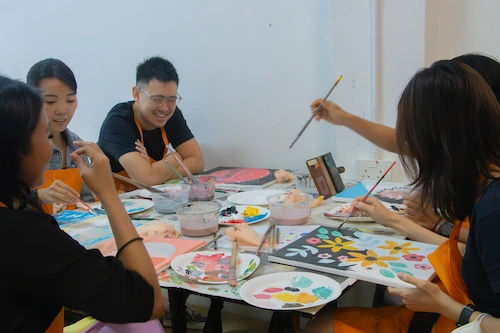 Join a dynamic group art jamming session where you can collaborate and create alongside fellow art enthusiasts. Engage in artistic conversations, exchange ideas, and draw inspiration from each other's work. With a wide range of art materials at your disposal, this workshop fosters creativity, camaraderie, and a sense of community among participants.
14. Artistic Group Jamming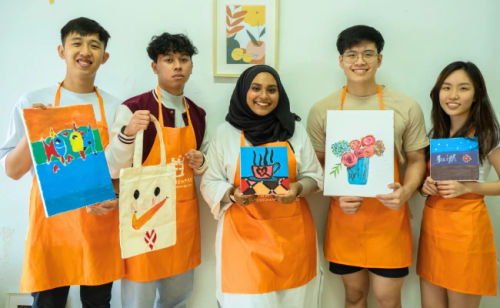 Experience the joy of artistic group jamming where participants come together to explore their creative potential. Guided by an experienced facilitator, this workshop encourages collaboration, experimentation, and artistic exploration. Through engaging activities and art exercises, you will tap into your creativity, enhance your artistic skills, and develop a deeper appreciation for the arts.
15. Trending Neon Art Jamming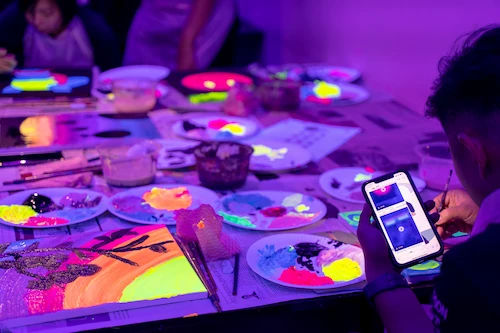 Immerse yourself in the vibrant world of trending neon art jamming. Learn to create stunning neon-inspired artworks using specialized neon paints and techniques. With the guidance of a skilled instructor, you will discover how to combine bright colors and dynamic compositions to create eye-catching and contemporary pieces that are sure to make a statement.
16. One-of-a-kind Remote Art Jamming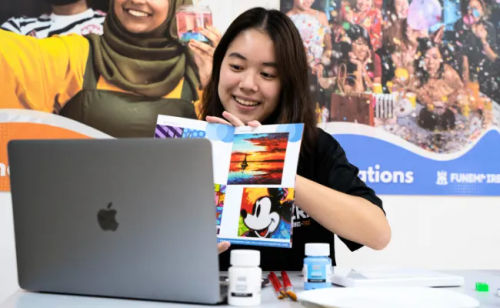 Explore the possibilities of remote art jamming, where you can connect with fellow artists and an experienced instructor from the comfort of your own space. Through video conferencing and real-time demonstrations, you will receive guidance, feedback, and inspiration to fuel your creative process. This workshop brings the artistic community together virtually, fostering creativity and connection across distances.
17. DIY Art Jamming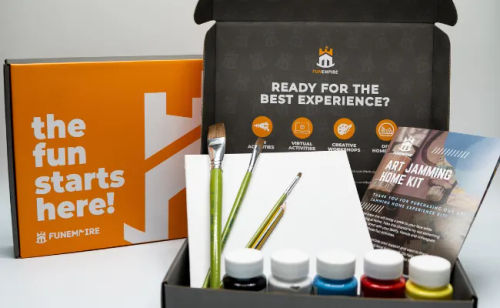 Embrace the freedom of DIY art jamming, where you have complete control over your artistic journey. Select your preferred art medium, gather your materials, and let your creativity flow. This self-guided workshop allows you to set your own pace, experiment with different techniques, and create art that is entirely unique and reflective of your personal style.
18. Online Art Jamming Session
Engage in a lively and interactive online art jamming session that brings together art enthusiasts from various locations. Led by a talented artist, this virtual workshop provides step-by-step instructions, demonstrations, and personalized feedback as you create your artwork. Share your progress with fellow participants, exchange ideas, and foster a sense of artistic community in the online space.
19. Fun 1.5-Hour Individual Canvas Painting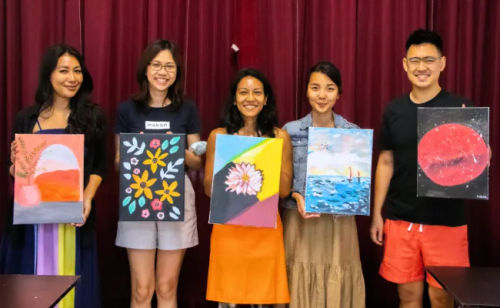 Join a fun and engaging 1.5-hour individual canvas painting session that caters to artists of all levels. Under the guidance of an experienced instructor, you will explore different painting techniques and unleash your creativity on canvas. This workshop offers a focused and structured experience, allowing you to create a finished artwork within the session.
20. 90-Minute Step-By-Step Tote Bag Art Jamming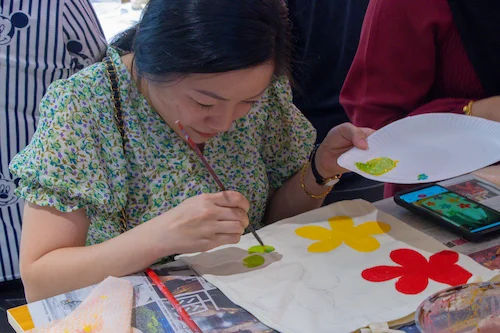 Discover the joy of designing your own tote bag in this 90-minute step-by-step art jamming session. From sketching your design to applying fabric paints, you will receive guidance and support throughout the process. Express your style, showcase your creativity, and walk away with a personalized tote bag that is both functional and artistic.
21. Unique Individual Tote Bag Art Jamming Session
Unleash your creativity on a tote bag in this unique individual art jamming session. With a wide range of materials and techniques at your disposal, you can design and personalize a tote bag that reflects your artistic style. From painting to stenciling and embellishing, this workshop offers a fun and practical way to express your creativity.
22. Design Your Own Tote Bags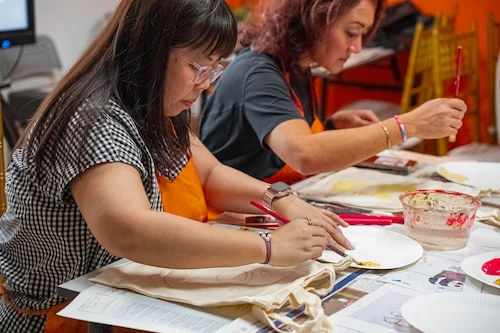 Let your imagination soar as you design your own tote bags in this interactive workshop. From selecting the fabric to choosing colors and patterns, you will have full creative control. Guided by an experienced instructor, you will learn techniques to transfer your designs onto the tote bags, creating personalized and functional works of art.
23. Public Art Jamming Workshop Experience
Immerse yourself in the vibrant atmosphere of a public art jamming workshop experience. Connect with a diverse community of artists, share ideas, and collaborate on creative projects. Whether you are a seasoned artist or a beginner, this workshop offers a stimulating environment to explore new techniques, gain inspiration, and foster artistic growth.
24. Individual Tote Bag Art Jamming Experience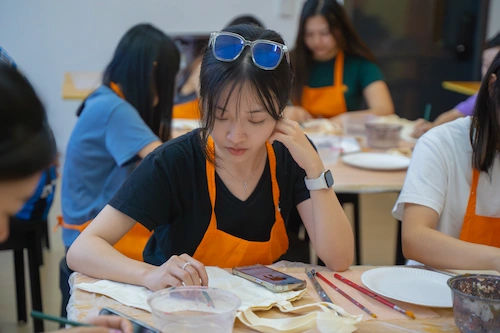 Indulge in a personalized tote bag art jamming experience tailored to your artistic preferences. Receive dedicated guidance from a skilled instructor as you explore various design elements and techniques. From hand-painting to block printing and embellishing, this workshop allows you to create a unique tote bag that showcases your artistic flair.
Tips for Making the Most of a Painting Workshop
Approach with an Open Mind: Come to the workshop with a willingness to explore new techniques, experiment, and embrace different perspectives. Be open to learning from the instructor and fellow participants.
Engage and Collaborate: Actively engage with the instructor and other workshop attendees. Ask questions, seek feedback, and participate in group discussions. Collaborating and sharing ideas can enhance the learning experience.
Practice Outside of the Workshop: Dedicate time outside of the workshop to practice and apply the skills and techniques learned. Regular practice helps reinforce learning and allows you to further develop your artistic abilities.
Embrace Mistakes and Experimentation: Don't be afraid to make mistakes. Painting workshops are a safe space to experiment and try new approaches. Learn from failures and use them as opportunities for growth and improvement.
Take Breaks and Reflect: Pace yourself during the workshop. Take short breaks to rest, reflect on your progress, and appreciate the artwork you have created. Reflection can provide valuable insights and inspire new ideas.
Network and Connect: Build connections with fellow participants and the instructor. Networking within the artistic community can lead to new opportunities, collaborations, and continued growth in your artistic journey.
Painting Workshop Singapore
Painting workshops in Singapore offer a unique opportunity to explore the creative process and express yourself through art. Whether you are an experienced artist or just starting out, these workshops provide guidance, feedback, and support as you develop your artistic skills. Embrace experimentation and mistakes, take breaks for reflection, network with other participants – all of this will help make the most of your painting workshop experience in Singapore. With so many different types of painting workshops available from DIY Art Jamming to Public Art Jamming Experiences – there's something here for everyone! So why not give it a try?
Frequently Asked Questions (FAQ)
If you have any questions about painting workshops in Singapore, you can refer to the frequently asked questions (FAQ) about the best Painting Workshops In Singapore below: