Simple Art Jamming Ideas Singapore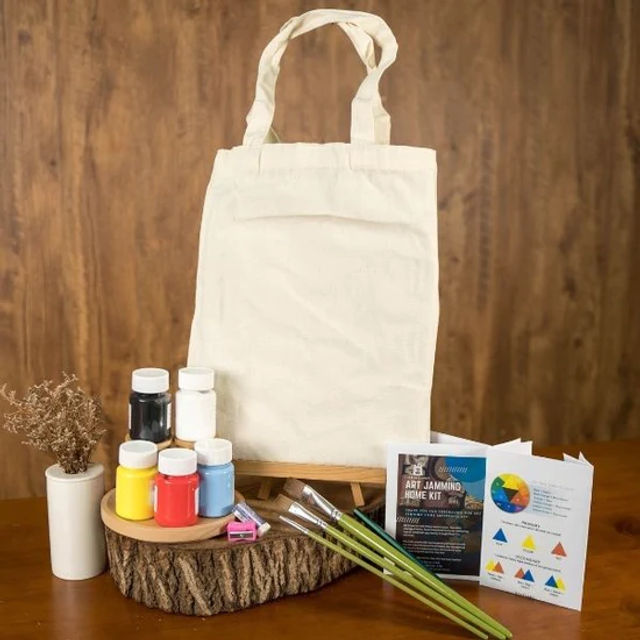 Art jamming has become increasingly popular in Singapore, offering a unique and creative way for individuals to express themselves through art. Whether you're an art enthusiast or a complete beginner, art jamming workshops provide an opportunity to unleash your inner artist while enjoying a fun and relaxing experience.
In this article, we will explore 10 simple art jamming ideas in Singapore. These ideas are perfect for individuals looking to explore their creativity and have an enjoyable art jamming session.
What is Art Jamming?
Art jamming is a creative and social activity that involves individuals coming together to freely express their artistic abilities and create artworks in a relaxed and collaborative environment. It originated in the early 2000s in Asia and has gained popularity worldwide, including in Singapore.
During an art jamming session, participants are provided with art materials such as canvases, acrylic paint, brushes, and other supplies. They are encouraged to explore their creativity, experiment with different techniques, and create artworks based on their personal interests and inspirations. The focus is on the process of creating art rather than the end result, emphasizing self-expression and enjoyment.
Art jamming sessions can be organized in various settings, including dedicated art jamming studio, workshops, or even outdoor spaces. They can be facilitated by professional artists or instructors who provide guidance and support, or they can be informal gatherings where participants freely create without specific instructions.
Best Simple Art Jamming Ideas Singapore
1) Individual Canvas Art Jamming Workshop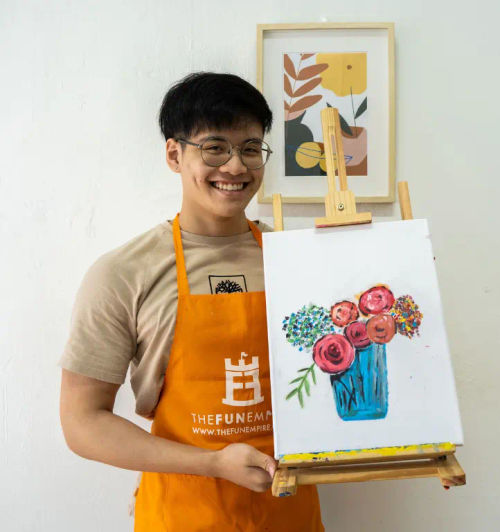 Individual canvas art jamming workshops offer a personalized and introspective art experience. Unlike group sessions, individual canvas art jamming allows you to fully immerse yourself in the creative process without any distractions. You can choose your preferred canvas size, gather your favorite art supplies, and let your imagination run wild.
2) Virtual Art Jamming Workshop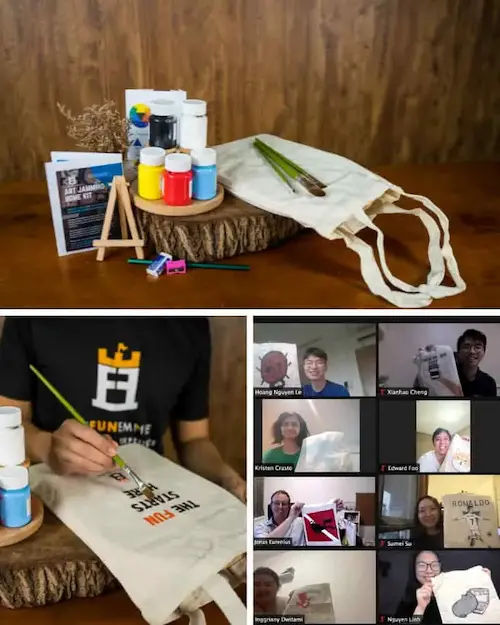 With the rise of digital platforms and online connectivity, virtual art jamming workshops have gained immense popularity. These workshops offer the convenience of participating from the comfort of your own home while connecting with fellow art enthusiasts virtually. Virtual art jamming allows you to explore various themes and techniques, all while interacting with other participants through video conferencing.
3) Individual Tote Bag Art Jamming Workshop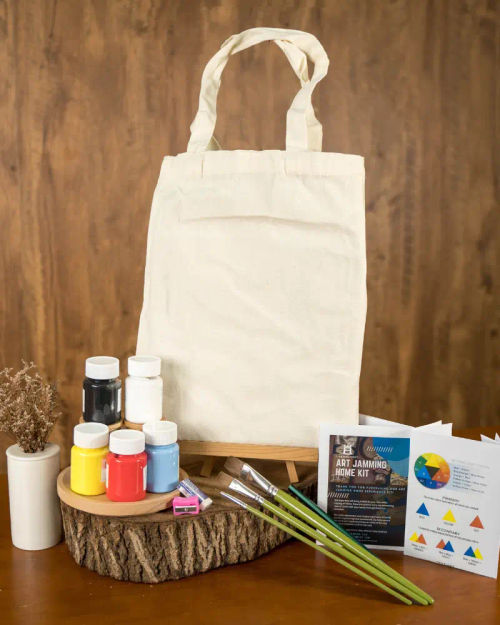 If you're looking for a practical and artistic experience, an individual tote bag art jamming workshop is an excellent choice. Tote bags are not only useful but also serve as a canvas for your creativity. Whether you want to design a personalized tote bag for everyday use or as a thoughtful gift, this workshop allows you to unleash your artistic skills.
4) Individual Ceramic Painting Workshop
Unleash your creativity and express yourself through ceramic painting. Attend an individual ceramic painting workshop where you can choose from a variety of ceramic pieces like mugs, plates, or figurines. Select your preferred colors, brushes, and design inspiration, and bring your ceramic piece to life. This art jamming idea allows you to create personalized and functional art pieces that you can proudly display or use in your daily life.
5) Watercolor Botanical Illustration
Dive into the world of watercolor painting with a focus on botanical illustrations. Singapore's lush greenery and diverse flora provide endless inspiration for this art jamming idea. Choose a variety of botanical subjects such as flowers, leaves, or plants, and explore different watercolor techniques to capture their delicate details and vibrant colors. This idea allows you to connect with nature and create beautiful watercolor artworks that celebrate Singapore's unique flora.
6) Mandala Dot Painting Workshop
Find tranquility and mindfulness through a mandala dot painting workshop. Mandala art, known for its repetitive patterns and symmetrical designs, is a popular form of art therapy. Attend a workshop where you'll learn different dot painting techniques and create your own intricate mandala designs. This art jamming idea is not only a creative outlet but also a calming and meditative experience that allows you to focus on each dot and create harmonious compositions.
7) Abstract Acrylic Pouring
Let your creativity flow with abstract acrylic pouring. This art jamming idea involves pouring and manipulating acrylic paints onto a canvas to create mesmerizing and unpredictable patterns. Explore different pouring techniques such as the dirty pour, flip cup, or swipe method. Watch as the colors blend and interact with each other, resulting in unique and vibrant abstract artworks. Abstract acrylic pouring is a fun and experimental art form that allows you to embrace spontaneity and embrace the beauty of chance.
8) Collage Art Jamming
Dive into the world of collages and mixed media with a collage art jamming session. Collect a variety of materials such as magazines, newspapers, fabric, and textured papers. Cut and arrange these materials to create visually compelling and textured collages. Experiment with different themes, styles, and compositions to express your artistic vision. Collage art jamming allows you to repurpose materials, unleash your imagination, and create layered artworks that tell a story or convey emotions.
9) Ink and Wash Illustration
Discover the beauty of ink and wash illustration, a traditional art form that combines ink lines with delicate watercolor washes. Attend a workshop where you'll learn various ink techniques such as cross-hatching, stippling, or contouring. Combine these techniques with subtle watercolor washes to create stunning illustrations. Capture Singapore's iconic landmarks, nature scenes, or everyday life moments in this elegant and expressive art style.
10) Charcoal Portrait Drawing
Sharpen your drawing skills and delve into the art of portrait drawing with charcoal. Attend a workshop where you'll learn techniques for capturing the likeness, shading, and capturing the unique features of a person's face. Charcoal, with its rich and smudgable qualities, adds depth and drama to your portraits. Whether you're a beginner or an experienced artist, charcoal portrait drawing allows you to practice observation, proportions, and rendering techniques while creating captivating and emotive artworks.
Simple Art Jamming Ideas Singapore
Art jamming is a fun and creative way to express yourself, explore different art forms, and connect with fellow artists. Whether you're looking for an individual canvas art workshop or want to delve into the world of charcoal portrait drawing, these 10 simple art jamming ideas in Singapore will help you unleash your creativity. With so many options available, there's bound to be something that sparks your interest! So why not grab some supplies and get started on your next masterpiece?
Looking for more articles? Check out our recommendations below:
Frequently Asked Questions (FAQs)
If you have any questions about simple art jamming ideas in Singapore, you can refer to the frequently asked questions (FAQs) about the simple art jamming ideas in Singapore below:
How can I find art jamming sessions in Singapore?
You can find art jamming sessions in Singapore by searching online for art studios, workshops, or community events that offer such activities. Check out the best art jamming studios in Singapore like FunEmpire, Art Jamming Singapore, Art Jamming Workshop Singapore, Motion art Space, Liberty Art Jam, Splat Paint House, Avant Garde Art Space, and Spin paint House for art jamming sessions! Social media platforms and local event listings can also be great sources for finding art jamming opportunities in the area.
What is the purpose of art jamming?
Art jamming provides individuals with a creative outlet to express themselves, explore their artistic abilities, and enjoy the process of creating art. It promotes relaxation, self-expression, and fosters a sense of community among participants.
Do I need to have any prior artistic experience to participate in art jamming?
No, art jamming is suitable for individuals of all skill levels. Whether you're a beginner or an experienced artist, art jamming welcomes everyone to explore their creativity and have fun with art.
What materials are typically provided in an art jamming session?
Art jamming sessions usually provide participants with art materials such as canvases, paints, brushes, easels, and other supplies necessary for creating artworks. The specific materials may vary depending on the type of art jamming activity.
Can I bring my own art supplies to an art jamming session?
It depends on the specific art jamming session or workshop. Some sessions may encourage participants to bring their own art supplies if they have specific preferences, while others may provide all the necessary materials.
Is there a specific theme or subject matter for art jamming sessions?
The theme or subject matter for art jamming sessions can vary. Some sessions may have a specific theme or prompt to guide participants, while others may be open-ended, allowing individuals to choose their own subjects and styles.
Can children participate in art jamming sessions?
Yes, art jamming sessions can be enjoyed by individuals of all ages, including children. Some sessions may have age restrictions, so it's advisable to check beforehand if the session is suitable for children.
Is art jamming a solo or group activity?
Art jamming can be both a solo and group activity. Some individuals prefer to work on their own, while others enjoy the social interaction and collaborative aspect of art jamming with friends, family, or fellow participants.
Can I take my artwork home after an art jamming session?
Yes, the artworks created during an art jamming session are typically meant for participants to take home. It's a great way to showcase and cherish your creations.
Can I sell the artworks I create during an art jamming session?
It depends on the specific terms and conditions set by the organizer or art studio. Some sessions may allow participants to sell their artworks if they wish to do so, while others may have restrictions on commercial use.