Art Jamming Places Singapore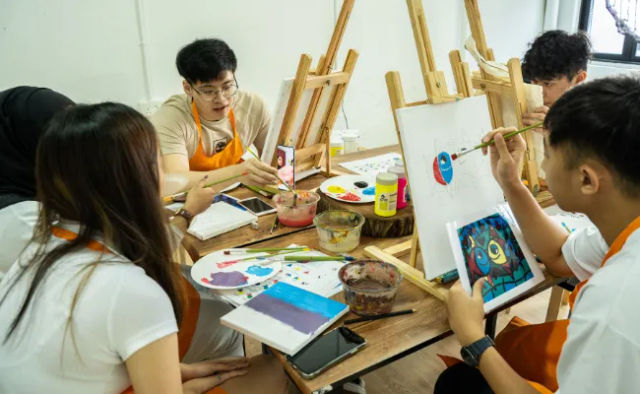 Art jamming has become a popular creative activity in Singapore, allowing individuals to unleash their artistic expression in a fun and relaxed environment. Whether you're a seasoned artist or a beginner looking to explore your creative side, art jamming sessions offer a unique opportunity to immerse yourself in the world of art. In this article, we have curated a list of the best art jamming places in Singapore for the year 2023. Whether you're seeking a tranquil space, professional guidance, or a vibrant atmosphere, these venues are sure to provide an unforgettable art jamming experience.
What is Art Jamming?
Art jamming is an interactive art experience that brings together individuals to create art in a casual and social setting. Unlike traditional art classes, art jamming sessions focus on the process of creation rather than the end result. Participants are encouraged to let their imagination run wild, experiment with various art techniques, and enjoy the therapeutic benefits of painting. It is a great way to relieve stress, boost creativity, and engage in a collaborative art-making process. Whether you prefer acrylics, watercolors, or mixed media, art jamming offers a diverse range of mediums and themes to explore.
Importance of Choosing the Right Art Jamming Place
Selecting the right art jamming place is essential to ensure a fulfilling and enjoyable experience. The ambiance and facilities provided by the venue play a crucial role in setting the mood for creativity. Look for art jamming places that offer spacious and well-lit studios, comfortable seating, and a relaxed atmosphere that fosters artistic inspiration. Additionally, consider the expertise of the instructors or facilitators available at the venue. Experienced instructors can guide participants, provide tips and techniques, and offer assistance when needed, enhancing the overall art jamming session.
Key Consideration Factors for Choosing the Right Art Jamming Place
When selecting an art jamming place, there are a few key factors to consider in order to ensure an enjoyable and fulfilling experience.
Location: Look for art jamming venues that are conveniently located close to public transportation or with easy access to parking. This will make your journey to the venue much easier and ensure that you arrive on time for your art jamming session.
Ambiance: Choose an art jamming place that offers a tranquil atmosphere with plenty of natural light, comfortable seating, and great acoustics. Good ambiance helps to create a conducive environment where participants can focus and be inspired by their surroundings.
Facilities: Ensure that the art jamming place is equipped with the necessary tools and materials, such as easels, paints, canvases, brushes, etc. Quality materials and tools will add to the overall art jamming experience.
Instructors/Facilitators: Look for venues that offer experienced instructors or facilitators who can provide guidance and advice during the session. Professional instructors will also be able to help participants unleash their creativity and make the most of the art jamming experience.
Best Art Jamming Places Singapore
1. Art Jamming Singapore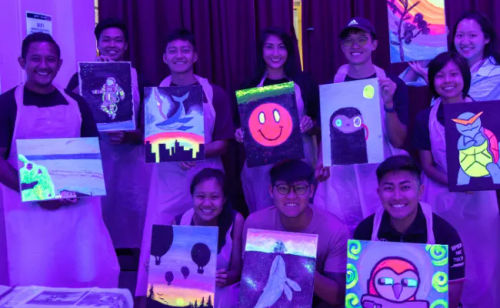 Art Jamming Singapore provides a diverse range of art jamming options for individuals, groups, and events. Their spacious studios, vibrant atmosphere, and expert facilitators create an inspiring environment for participants to explore their artistic side. Whether you're a beginner or an experienced artist, Art Jamming Singapore offers a fun and inclusive platform to unleash your creativity.
2. FunEmpire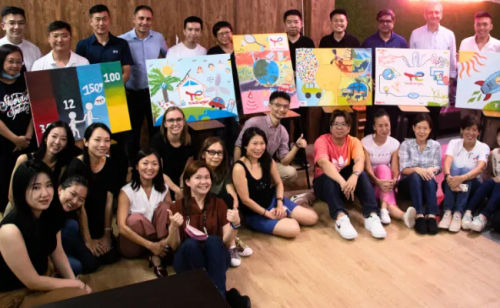 FunEmpire offers a dynamic and immersive art jamming experience in Singapore. With a wide range of art materials and creative themes, participants can unleash their artistic talents while enjoying a fun and interactive session. The friendly instructors provide guidance and inspiration, making it a perfect choice for team building activities, birthday parties, or simply a creative outing with friends.
3. Birthday Party Singapore
Birthday Party Singapore specializes in hosting memorable art jamming sessions for birthday celebrations. Their dedicated team ensures a fun and engaging experience for participants of all ages. From personalized art themes to professional art materials, they create a vibrant environment where guests can indulge in their artistic flair and create lasting memories.
4. Team Building Activities Singapore
Team Building Activities Singapore offers art jamming sessions designed specifically for team-building purposes. With their focus on fostering teamwork, communication, and creativity, participants can collaborate on art projects while building strong bonds and enhancing workplace relationships. These sessions provide a unique and enjoyable way for teams to unwind and strengthen their connections.
5. Fun Workshops Singapore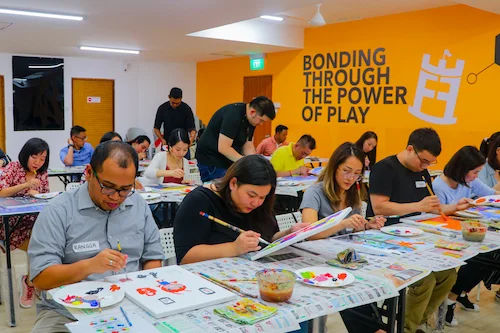 Fun Workshops Singapore offers engaging art jamming workshops that cater to various interests and skill levels. From acrylic pouring to watercolor techniques, their experienced instructors guide participants through the process, encouraging creativity and self-expression. With a focus on creating a relaxed and enjoyable environment, Fun Workshops Singapore is a great choice for art enthusiasts looking to learn new skills.
6. Team Building Games Singapore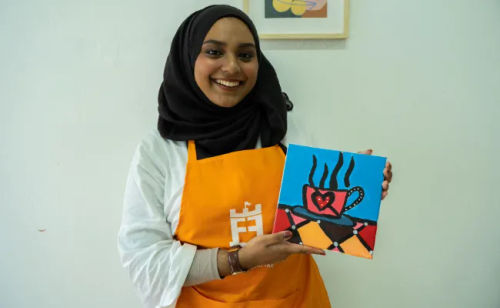 Team Building Games Singapore offers interactive art jamming sessions that combine creativity and teamwork. Participants engage in collaborative art projects, fostering communication and cooperation while unleashing their artistic abilities. With their unique approach to team building, Team Building Games Singapore provides a memorable and impactful art jamming experience.
7. Art Jamming Workshop Singapore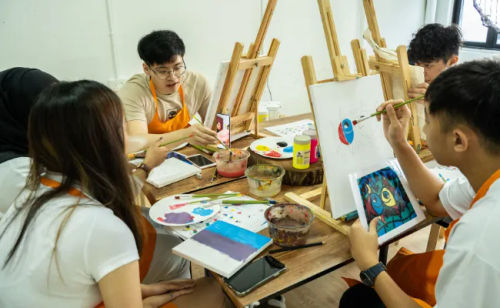 Art Jamming Workshop Singapore provides a variety of themed art jamming workshops led by experienced artists. From landscape painting to abstract art, participants can explore different techniques and styles in a supportive and inspiring environment. With their emphasis on hands-on learning and individual expression, Art Jamming Workshop Singapore is an ideal choice for both beginners and experienced artists.
8. Team Building Singapore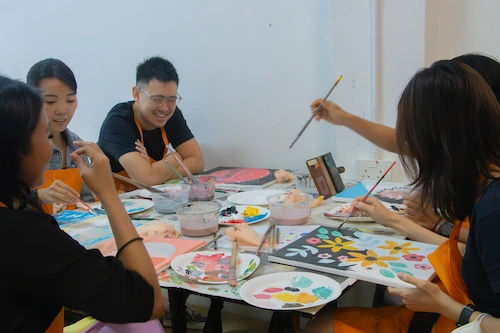 Team Building Singapore offers customized art jamming experiences tailored to the specific needs of corporate teams. Through collaborative art projects, participants strengthen communication, boost creativity, and foster a sense of unity. With their professional facilitators and engaging activities, Team Building Singapore provides an effective and enjoyable way to enhance teamwork and camaraderie.
9. Artist Tique Co Art Studio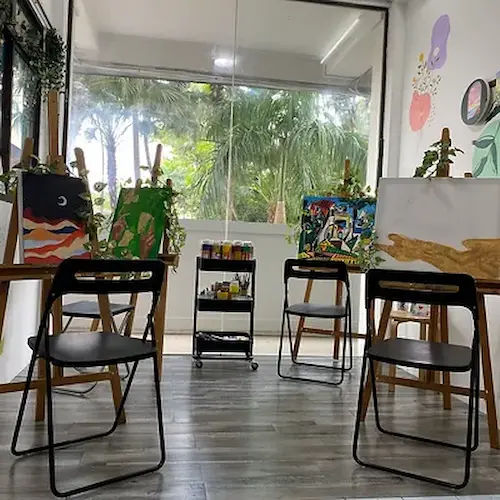 Artist Tique Co Art Studio is a vibrant and welcoming art jamming space that caters to individuals of all ages. With their well-equipped studios and knowledgeable instructors, participants can explore various art techniques and mediums. Whether you're looking to relax, learn something new, or nurture your artistic skills, Artist Tique Co Art Studio offers a nurturing environment for creative expression.
10. Splat Paint House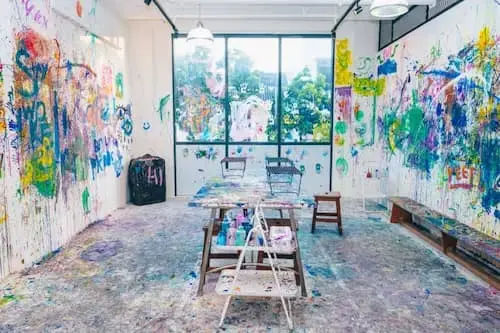 Splat Paint House offers an energetic and immersive art jamming experience where participants can freely splatter paint and create unique masterpieces. With a range of colorful paints and unconventional techniques, Splat Paint House encourages creativity, experimentation, and a fun-filled atmosphere. It's an ideal place for those seeking a lively and unconventional art jamming adventure.
11. Heartroom Gallery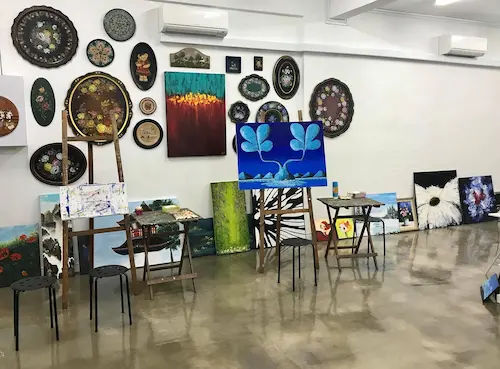 Heartroom Gallery offers art jamming sessions in a charming gallery setting. With a focus on providing a cozy and intimate environment, participants can immerse themselves in their creative process. Heartroom Gallery also showcases local artworks, creating a space that celebrates artistic expression and community engagement.
12. Paintblush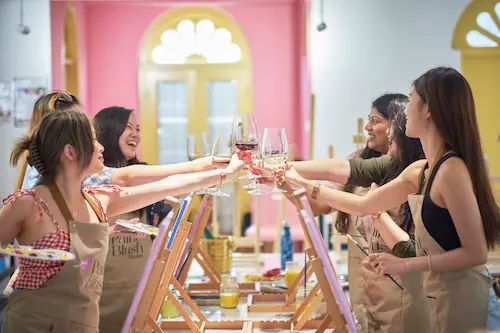 Paintblush provides a unique art jamming experience that combines art and entertainment. Participants can enjoy painting while indulging in food and drinks from their onsite café. With a relaxed and social atmosphere, Paintblush offers a perfect setting for art enthusiasts to connect, unwind, and explore their creativity.
13. Tuft Club
Tuft Club offers art jamming sessions that emphasize self-expression and personal growth. Their experienced facilitators guide participants through various art techniques, encouraging them to tap into their emotions and create meaningful artwork. With their focus on the therapeutic benefits of art, Tuft Club provides a nurturing space for individuals to unleash their creativity and find inner inspiration.
14. Studio An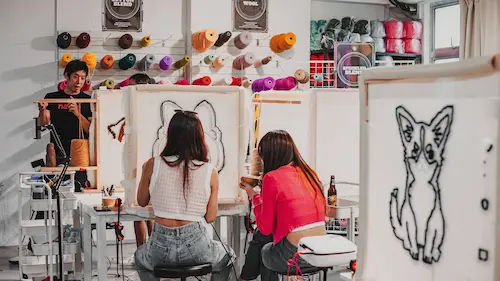 Studio An is a contemporary art studio that offers art jamming sessions and workshops. Their spacious and well-equipped studios provide a conducive environment for artistic exploration. With a diverse range of art themes and mediums to choose from, Studio An caters to individuals with different interests and artistic preferences.
15. My Art Space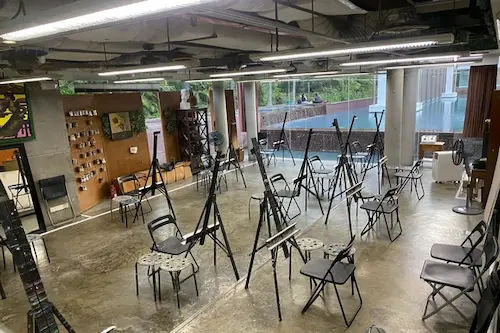 My Art Space is a renowned art institution that also offers art jamming sessions. Their professional studios and expert instructors provide a conducive environment for participants to engage in creative expression. With their commitment to promoting art appreciation and education, My Art Space offers an enriching art jamming experience for individuals of all skill levels.
16. Artefakts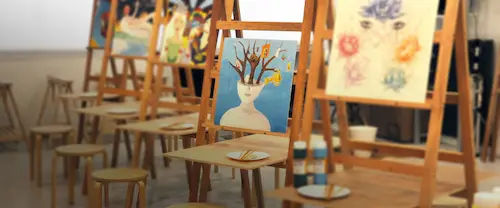 Artefakts is a creative art jamming studio that offers a range of art experiences for individuals and groups. With their emphasis on fostering creativity and self-expression, participants can enjoy a relaxed and supportive environment to explore various art mediums. Artefakts also hosts workshops and events that celebrate art and community engagement.
17. Artify Studio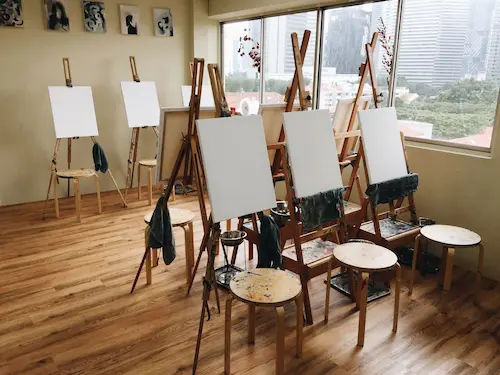 Artify Studio provides a vibrant and inclusive space for art jamming sessions. With their team of professional artists and instructors, participants can unleash their creativity and learn new techniques. Artify Studio offers a diverse range of art themes and workshops suitable for individuals, families, and corporate teams looking to engage in a fun and artistic experience.
18. Cafe de Paris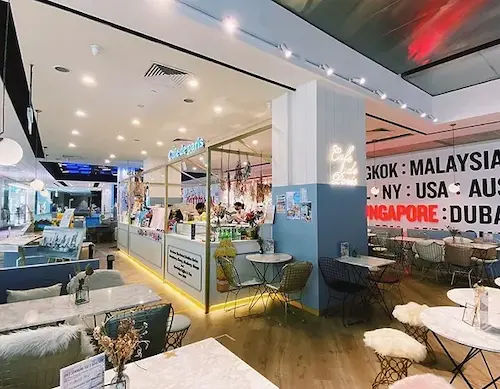 Cafe de Paris offers a unique combination of art jamming and café experience. Participants can indulge in delicious food and beverages while engaging in art activities. The cozy atmosphere and friendly staff create a welcoming environment for art enthusiasts of all ages. Cafe de Paris is an ideal place to relax, socialize, and explore your artistic side.
19. Motion Art Space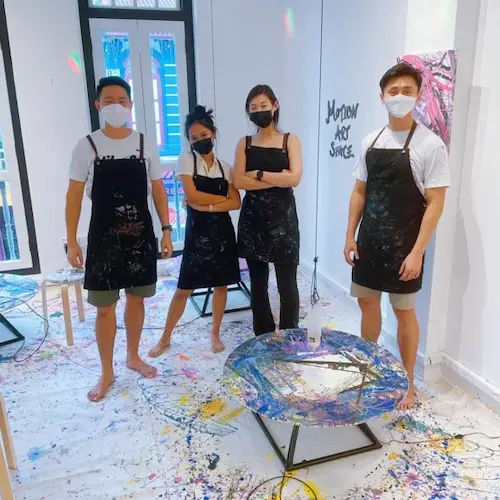 Motion Art Space provides an immersive and interactive art jamming experience. With their innovative use of technology and art techniques, participants can create mesmerizing digital art pieces. Motion Art Space offers a modern and cutting-edge approach to art jamming, making it a captivating destination for those seeking a unique artistic adventure.
20. Arteastiq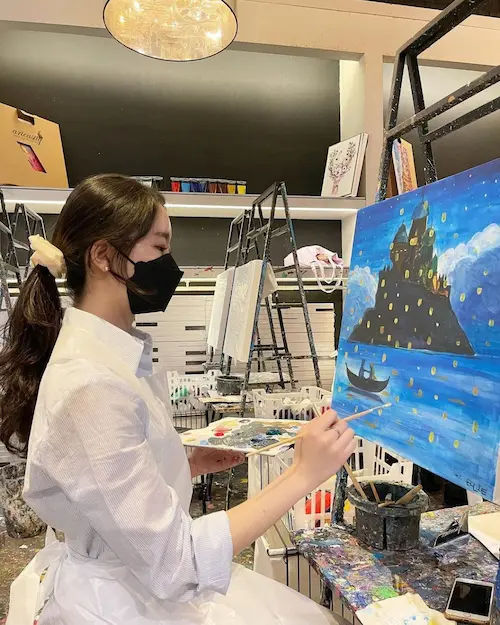 Arteastiq offers a sophisticated and stylish art jamming experience. Their elegant studios and upscale ambiance create a refined atmosphere for participants to express their creativity. With their emphasis on quality materials and professional guidance, Arteastiq provides a premium art jamming experience for individuals who appreciate art and aesthetics.
Additional Tips for a Successful Art Jamming Session
Choose the right art materials: Consider the type of art materials provided by the venue and select those that best suit your preferences and style.
Prepare your mindset: Approach the art jamming session with an open mind and embrace the process of exploration and experimentation.
Dress comfortably: Opt for clothing that you don't mind getting a little messy, as art jamming can involve paint splatters and creative freedom.
Foster creativity: Don't be afraid to step out of your comfort zone, try new techniques, and let your imagination guide your brushstrokes.
Take breaks: If you feel stuck or overwhelmed, take short breaks to relax and recharge. Use this time to appreciate the artwork of others and gain fresh perspectives.
Art Jamming Places Singapore
Embarking on an art jamming session in Singapore is an exciting way to explore your artistic side, unwind, and connect with fellow art enthusiasts. By choosing one of the best art jamming places in Singapore for 2023, you can indulge in a memorable and enriching experience. Remember, art jamming is not just about the final artwork; it's about the joy of creating, the freedom to express yourself, and the therapeutic benefits of immersing yourself in the world of art. So grab a brush, unleash your creativity, and embark on a colorful journey through the art jamming venues that Singapore has to offer.
Looking for more articles? Check out our recommendations below:
Frequently Asked Questions (FAQ)
If you have any questions about art jamming places in Singapore, you can refer to the frequently asked questions (FAQ) about the best Art Jamming Places In Singapore below:
How long does an art jamming session usually last?
Art jamming sessions typically range from 2 to 3 hours, allowing participants ample time to immerse themselves in the creative process.
Do art jamming places provide art materials, or do I need to bring my own?
Most art jamming places provide basic art materials such as canvas, paints, brushes, and aprons. However, it's always a good idea to check with the specific venue beforehand to confirm what is provided.
Are art jamming sessions suitable for beginners with no prior artistic experience?
Absolutely! Art jamming sessions are designed to be inclusive and cater to individuals of all skill levels, including beginners. The focus is on the joy of creation and self-expression, rather than prior experience or skill.
Can children participate in art jamming sessions?
Yes, many art jamming places offer sessions specifically tailored for children. These sessions provide a safe and fun environment for children to explore their creativity under the guidance of instructors or facilitators.
Do I need to make a reservation for an art jamming session?
It is recommended to make a reservation, especially during peak times, to secure your spot. Contact the art jamming place of your choice to inquire about their reservation policies and availability.
What is the cost of an art jamming session?
The cost of an art jamming session varies depending on factors such as the venue, session duration, and any additional services or materials provided. It's best to check the specific art jamming place's website or contact them directly for pricing information.
Are food and beverages available at art jamming venues?
Some art jamming places have onsite cafes or provide food and beverage options. However, this can vary depending on the venue. It's advisable to inquire about food and beverage availability beforehand or consider bringing your own refreshments if allowed.
Can art jamming places accommodate private events or parties?
Yes, many art jamming places offer private event packages for birthdays, corporate events, or team-building activities. These packages may include dedicated instructors, customized themes, and additional amenities. Contact the venue for more information on private event options.
Is there an age restriction for art jamming sessions?
Art jamming sessions are typically open to participants of all ages. Some venues may have specific sessions or workshops tailored for different age groups, so it's worth checking with the art jamming place for any age restrictions or recommendations.
Can I bring my own art supplies to art jamming venues?
In most cases, you will not need to bring your own art supplies as basic materials are usually provided by the art jamming venues. However, if you have specific preferences or specialized art supplies you prefer to use, it's best to check with the venue if they allow participants to bring their own materials.