Art Jamming Types Singapore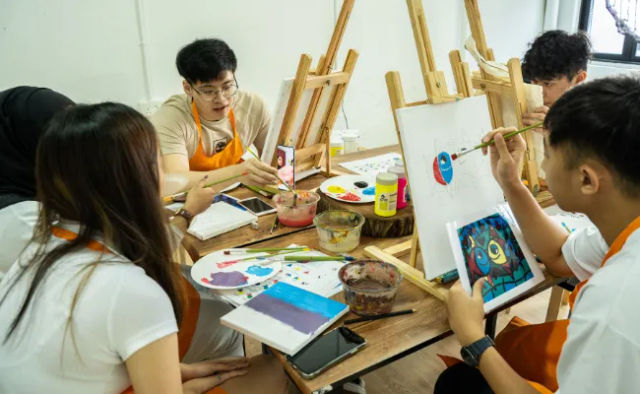 Art jamming has become a popular activity in Singapore, attracting individuals of all ages and backgrounds who want to unleash their creativity and explore the world of art. As we enter 2023, the art jamming scene in Singapore continues to evolve, offering a wide range of experiences to suit different preferences and interests.
In this article, we will delve into the fascinating world of art jamming and explore ten types of art jamming experiences that you can enjoy in Singapore this year.
Best Art Jamming Types Singapore
1) Group Art Jamming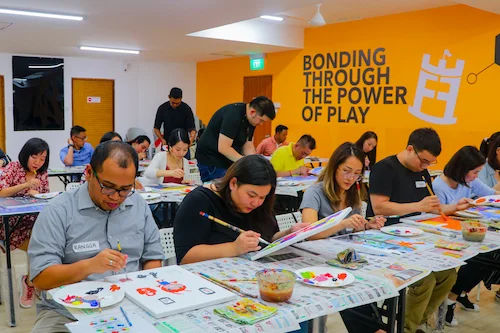 Group art jamming is a type of art jamming experience that emphasizes teamwork and encourages participants to create art together. It is a fantastic way to foster creativity, communication, and collaboration among individuals.
In group art jamming sessions, participants work on a single artwork collectively, combining their unique styles and ideas to create something truly remarkable. From large canvases to mural projects, collaborative art jamming allows participants to witness the magic of art coming to life through collective effort.
Various art studios and venues in Singapore offer group art jamming experiences, providing the perfect setting for friends, families, and teams to bond and create lasting memories.
2) Tote Bag Art Jamming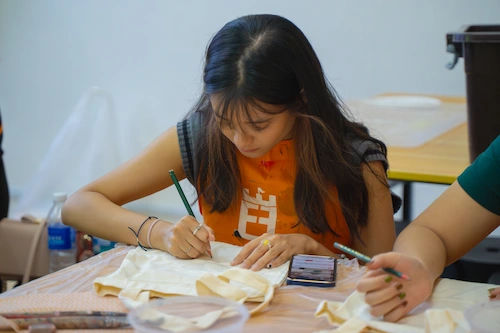 Tote bag art jamming is a unique way to create personalized bags that reflect one's individual style. In this type of art jamming experience, participants customize plain canvas tote bags using fabric paints and other materials.
From creating inspiring words and messages to designing intricate patterns, the possibilities are endless! This type of art jamming is perfect for those who want to express their creativity in a fun and practical way.
Tote bag art jamming sessions are widely available at art studios in Singapore, offering an enjoyable experience for individuals of all ages!
3) Neon Art Jamming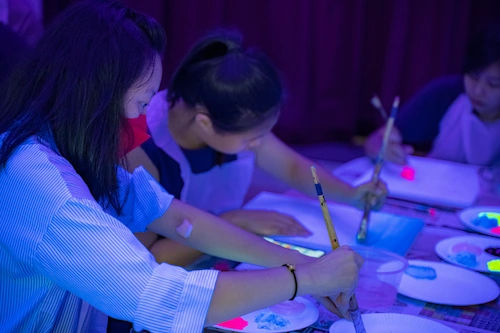 Neon art jamming is a thrilling form of art jamming that uses vibrant neon paints and glow-in-the-dark tools to create stunning pieces of artwork. This type of art jamming is an immersive experience, as the glowing colors bring the artwork to life in ways never seen before.
From wall murals to canvas paintings, neon art jamming offers a unique way to express one's creativity. You can find various neon art jamming sessions at art studios in Singapore, giving you the opportunity to explore this exciting form of art!
4) Virtual Art Jamming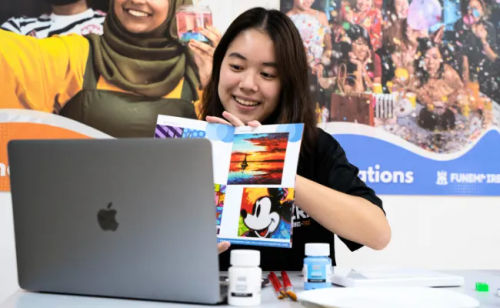 The COVID-19 pandemic has accelerated the rise of virtual art jamming experiences. Virtual art jamming allows participants to engage in art creation from the comfort of their own homes while connecting with others online. Through video conferencing platforms and virtual collaboration tools, participants can interact with fellow artists, receive guidance from instructors, and showcase their artwork in real-time.
Virtual art jamming has not only made art accessible during times of social distancing but has also opened doors to a global community of artists. Whether you're located in Singapore or anywhere else in the world, virtual art jamming offers an innovative way to explore art, connect with like-minded individuals, and create meaningful artwork.
5) Individual Canvas Art Jamming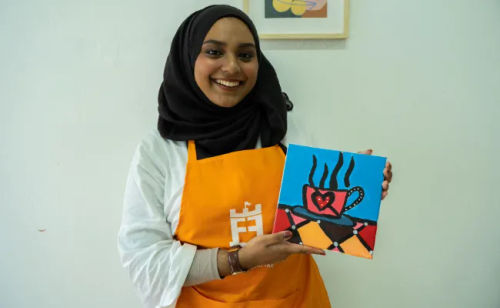 In individual canvas art jamming, each artist works on their own canvas and the session runs for at least two hours. Artists can come with their preferred painting tools such as acrylics, watercolors and oil paints. This option is ideal for individuals looking to work independently or in a smaller group setting.
6) Art Jamming Home Kit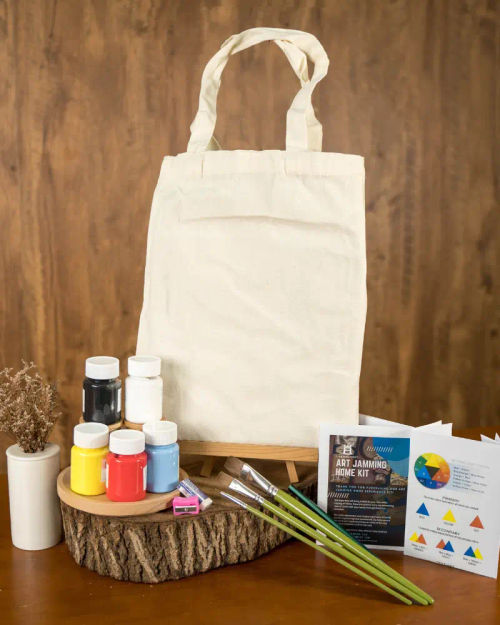 Another innovative form of art jamming is the "Art Jamming Home Kit". This is perfect for anyone who prefers to take their time and work on their masterpiece at home. The kit comes with its own set of tools, as well as some unique materials such as special paints, canvases and brushes. It also includes instructions so that novice painters can get started in the comfort of their own home. Experienced artists may also find this an attractive choice, as it allows them to express themselves in a more personal way.
7) Therapeutic Art Jamming
Art has the power to heal, and therapeutic art jamming sessions harness this power to provide individuals with a therapeutic and relaxing experience. Therapeutic art jamming allows participants to express themselves freely through art, providing a form of self-expression and emotional release.
These sessions focus on the process of creating art rather than the end result, offering a non-judgmental space where participants can explore their emotions, reduce stress, and find solace in the act of creation. Various organizations and studios in Singapore offer therapeutic art jamming sessions facilitated by trained professionals, ensuring that participants can experience the healing benefits of art in a supportive environment.
8) Charity Art Jamming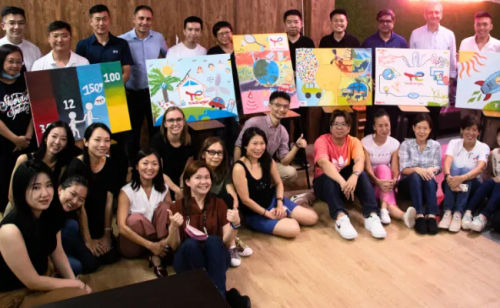 Art jamming can also be a means to contribute to a greater cause. Charity art jamming events bring together art enthusiasts and philanthropic individuals to support charitable organizations. These events provide participants with an opportunity to create art while making a positive impact on society.
Proceeds from these sessions often go towards funding charitable projects, supporting underprivileged communities, or promoting art education. Singapore hosts numerous charity art jamming events throughout the year, where participants can indulge in their creative passion while actively giving back to the community.
9) Art Jamming for Beginners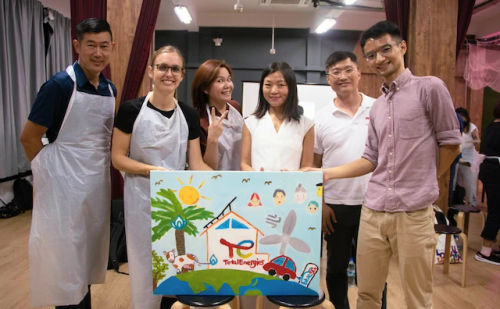 Art jamming experiences tailored for beginners offer an ideal starting point for individuals who are new to art or seeking to explore their artistic side. These art jamming ideas for beginners provide guidance and support for those who may feel unsure about their artistic abilities. Beginner-friendly art jamming experiences often include step-by-step instructions, techniques, and tips from experienced instructors to help participants feel confident and achieve satisfying results.
Art studios and workshops in Singapore offer introductory art jamming classes and workshops that cater specifically to beginners, ensuring a comfortable and enjoyable experience for those embarking on their artistic journey.
10) Advanced Art Jamming
For seasoned artists or individuals seeking a more challenging art jamming experience, advanced art jamming sessions offer an opportunity to push creative boundaries and refine artistic skills. These sessions are designed to cater to individuals who are already familiar with art techniques and want to explore more advanced concepts. Participants can engage in specialized workshops or attend events that focus on specific artistic styles, mediums, or techniques. Advanced art jamming experiences provide a platform for artists to refine their craft, experiment with new approaches, and connect with fellow advanced artists to exchange ideas and inspiration.
Art Jamming Types Singapore
The world of art jamming in Singapore is dynamic and diverse, offering a myriad of experiences to suit every artistic inclination. From collaborative sessions that foster teamwork to themed art jamming that sparks inspiration, from outdoor art jamming that connects with nature to virtual sessions that bridge distances, the options are endless.
Whether you're a beginner, a seasoned artist, a family, or a corporate team, there is an art jamming experience tailored just for you. So, unleash your creativity, explore the art jamming scene in Singapore, and embark on a journey of self-expression, inspiration, and artistic discovery.
Looking for more articles? Check out our recommendations below:
Frequently Asked Questions (FAQs)
If you have any questions about the art jamming types in Singapore, you can refer to the frequently asked questions (FAQs) about the art jamming types in Singapore below:
How can I find upcoming art jamming events in Singapore?
There are several ways to find upcoming art jamming events in Singapore. You can search online for art studios, event listings, or social media groups dedicated to art and creative activities. Additionally, you can check with local community centers, art galleries, or creative hubs that often host or promote art jamming events. Check out the best art jamming studios in Singapore like FunEmpire, Art Jamming Singapore, Art Jamming Workshop Singapore, Motion Art Space, Splat Paint House, Liberty Art Jam, and Avant Garde Art Space.
What is art jamming?
Art jamming is a recreational activity that involves individuals creating art in a relaxed and social environment. It allows participants to explore their creativity and express themselves through various art mediums.
How long does an art jamming session usually last?
The duration of an art jamming session can vary depending on the organizer or venue. Sessions can range from a couple of hours to half a day or longer, depending on the type of art jamming experience and the complexity of the artwork.
Do I need to have prior artistic experience to participate in art jamming?
No, prior artistic experience is not necessary to participate in art jamming. Art jamming is suitable for individuals of all skill levels, including beginners. Many sessions provide guidance, step-by-step instructions, and support to help participants create their artwork.
Are art supplies provided during art jamming sessions?
Yes, most art jamming sessions provide all the necessary art supplies, including canvases, unlimited acrylic paint, paints, brushes, and other materials. However, it's always a good idea to check with the organizer or venue beforehand to confirm what supplies are included.
Can children participate in art jamming sessions?
Yes, art jamming sessions are often family-friendly and suitable for children. Some sessions are specifically designed for families, offering a creative and bonding experience for both children and adults. It's best to check the age requirements and any specific guidelines with the organizer or venue.
Can I bring my own art supplies to an art jamming session?
In most cases, it is not necessary to bring your own art supplies for art jams, as they are typically provided. However, if you have specific preferences or favorite art materials, it's advisable to check with the organizer beforehand to see if they allow participants to bring their own supplies.
Can I book a private art jamming session for a special occasion or event?
Yes, many art studios and organizers offer the option to book a private art jam session for special occasions such as birthdays, team-building events, or corporate gatherings. Private sessions allow for a more personalized experience and can often be tailored to suit specific needs and themes.
Are there any age restrictions for participating in art jamming sessions?
Age restrictions can vary depending on the organizer or venue of the art-making. While some sessions are open to participants of all ages, others may have specific age requirements. It's recommended to check with the organizer or venue to confirm if there are any age restrictions in place.
Can I sell or exhibit my artwork created during an art jamming session?
The rights and ownership of artwork created during an art jamming session typically belong to the individual artists. Some art studios or organizers may provide opportunities for participants to exhibit or sell their artwork, while others may not. It's advisable to inquire with the organizer regarding any possibilities or arrangements for showcasing or selling your artwork.