Group Art Jamming Singapore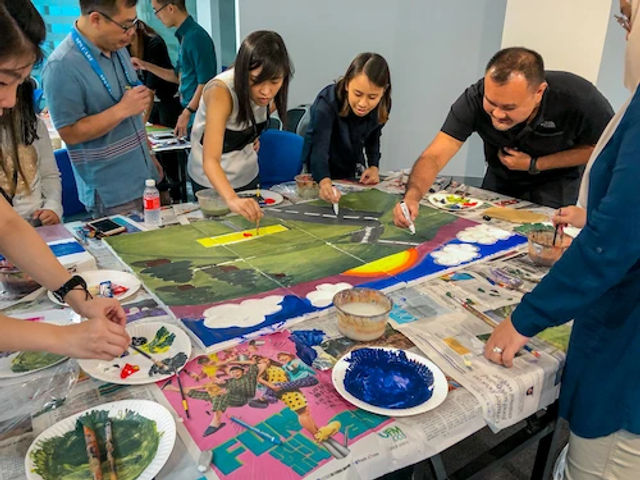 Group art jamming has become increasingly popular in Singapore as a creative and interactive activity for both locals and tourists. Engaging in art jamming allows individuals to unleash their creativity, bond with friends or colleagues, and enjoy a relaxing and enjoyable experience. Whether you're an art enthusiast or a complete novice, group art jamming in Singapore offers a unique opportunity to explore your artistic side in a fun and supportive environment.
What is Group Art Jamming?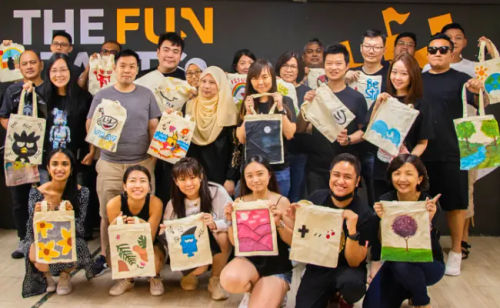 Group art jamming is a social art experience where individuals come together to create art in a collaborative and informal setting. Originating from the art communities in Europe, this concept has gained traction worldwide, and Singapore is no exception.
During a typical group art jamming session, participants are provided with art materials such as canvases, paints, brushes, and various other artistic tools. With no strict guidelines or rules, individuals are encouraged to freely express themselves, experiment with different techniques, and create their own unique artworks.
Why Choose Group Art Jamming in Singapore?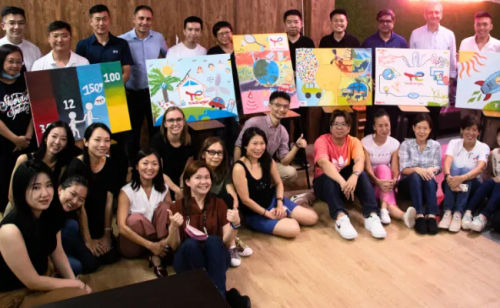 Singapore's thriving art scene and the presence of numerous professional art studios make it an excellent destination for group art jamming. The city is home to a diverse range of artistic styles and themes, catering to various interests and preferences.
Whether you prefer abstract expressionism, landscape painting, or even graffiti art, you'll find art jamming sessions in Singapore that cater to your artistic inclinations. Moreover, Singapore's art studios often provide a conducive and inspiring atmosphere, fostering creativity and allowing participants to immerse themselves in the world of art.
Planning a Group Art Jamming Session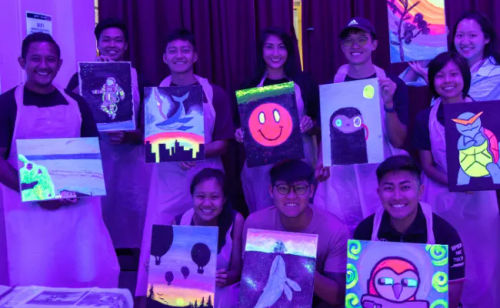 Determine the size of your group and decide whether you prefer a private session or joining an existing group.
Consider your budget and explore pricing options offered by different art studios.
Choose a conveniently located art studio or consider studios that offer mobile art jamming services.
Take into account any additional services or amenities offered, such as refreshments or customized event packages.
Check the availability of suitable time slots and make a reservation in advance to secure your preferred session.
Choosing the Right Art Jamming Session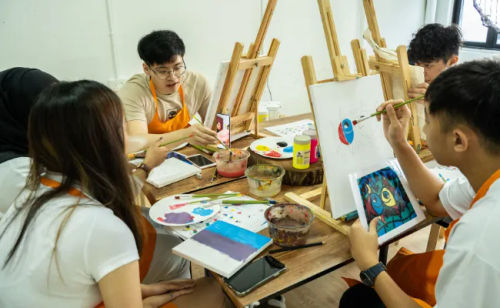 Consider the skill levels of the participants, ensuring the session caters to both beginners and experienced artists.
Discuss and agree upon the art style or theme you want to explore as a group.
Research different art studios to find those that specialize in the preferred art style or theme.
Read reviews or testimonials to gauge the quality and reputation of the art studio.
Inquire about any additional guidance or assistance provided by the studio, such as professional instructors or art materials.
Tips for a Memorable Group Art Jamming Experience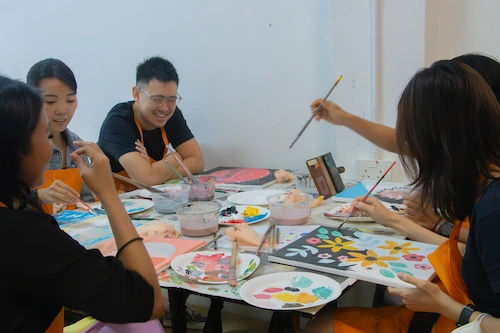 Select a theme or topic that resonates with your group, providing a common thread for everyone's artwork.
Encourage creativity by exploring different techniques, experimenting with color combinations, and embracing individual artistic styles.
Foster a supportive and inclusive environment where participants can share ideas, offer feedback, and collaborate on joint artworks.
Take breaks and engage in group discussions to reflect on the progress and share insights or experiences.
Capture the memorable moments by taking photos of the artworks and the participants in action. Consider showcasing the artwork in your workplace or organizing an art exhibition to celebrate the session's accomplishments.
Recommended Group Art Jamming Studios in Singapore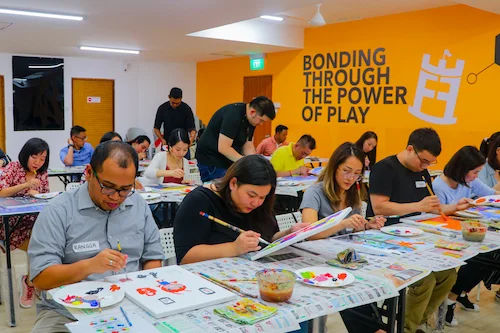 1. FunEmpire
FunEmpire is a renowned group activity provider in Singapore, offering various interactive experiences, including art jamming. Their art jamming sessions foster teamwork and creativity, allowing participants to bond over the shared joy of creating art. With professional facilitators and well-equipped studios, FunEmpire ensures an engaging and memorable art jamming experience suitable for corporate events, team building activities, or private celebrations.
2. Art Jamming Singapore
Art Jamming Singapore offers a vibrant and inclusive art jamming experience for groups of all sizes. With a wide range of art themes and styles to choose from, participants can explore their creativity while receiving guidance from experienced instructors. The studio provides high-quality art materials and a welcoming atmosphere, making it an ideal choice for team building activities, birthday parties, or simply a fun gathering with friends.
3. Team Building Singapore
Team Building Singapore not only specializes in team-building activities but also offers exceptional art jamming sessions for groups. Their art jamming workshops focus on promoting collaboration, communication, and creativity within the team. With customizable packages and flexible venues, Team Building Singapore provides a tailored experience to suit the specific needs and objectives of the group.
4. Birthday Party Singapore
Birthday Party Singapore offers an exciting and artistic twist to birthday celebrations with their art jamming experiences. Whether it's a children's birthday party or an adult gathering, their art jamming sessions provide a unique and enjoyable way to celebrate special occasions. With a lively and supportive atmosphere, Birthday Party Singapore ensures a memorable and creative experience for birthday celebrants and their guests.
5. Art Jamming Workshop Singapore
Art Jamming Workshop Singapore specializes in conducting interactive art jamming workshops for various groups and occasions. Their skilled facilitators guide participants through the creative process, encouraging self-expression and artistic exploration. With a range of workshop options, including canvas painting and mural art, Art Jamming Workshop Singapore offers an immersive and educational art jamming experience.
6. Team Building Games Singapore
Team Building Games Singapore incorporates art jamming as part of their engaging team-building activities. Participants not only enjoy the art jamming session but also benefit from the team-building elements embedded within the experience. Through collaborative art projects and interactive games, Team Building Games Singapore enhances team dynamics, communication, and problem-solving skills.
7. Fun Workshops Singapore
Fun Workshops Singapore provides an array of exciting workshops, including interactive art jamming sessions. Their art jamming experiences cater to diverse groups, offering a creative outlet for individuals to express themselves artistically. With a focus on fun and hands-on engagement, Fun Workshops Singapore ensures an enjoyable and enriching art jamming session for participants of all ages.
8. Team Building Activities Singapore
Team Building Activities Singapore combines art jamming with team-building exercises to create a unique and impactful group experience. Their art jamming sessions promote collaboration, communication, and innovation, fostering a sense of unity among participants. With a wide range of customizable activities and dedicated facilitators, Team Building Activities Singapore delivers engaging and memorable team-building art jamming sessions.
Group Art Jamming Singapore
Group art jamming in Singapore is an activity that can bring people together and foster creativity, collaboration, communication, innovation, and unity. With a wide range of studios to choose from offering specialized services for different styles or themes of art jamming sessions as well as professional guidance and assistance with materials, you're sure to find the perfect experience for your group.
Whether it's for corporate events or simply gathering friends together for some fun activities – don't miss out on the opportunity to explore new artistic techniques while enjoying each other's company! So what are you waiting for? Start planning your next group art jamming session today!
Looking for more articles? Check out our recommendations below:
Frequently Asked Questions (FAQ)
If you have any questions about group art jamming in Singapore, you can refer to the frequently asked questions (FAQ) about the best Group Art Jamming In Singapore below:
Is prior artistic experience required for group art jamming?
No, prior artistic experience is not required for group art jamming. Art jamming sessions are designed to be inclusive and suitable for individuals of all skill levels, including beginners.
How long does a typical group art jamming session last?
The duration of a group art jamming session can vary depending on the studio and package chosen. On average, sessions can last anywhere from 1 to 3 hours, providing ample time for participants to unleash their creativity.
Can children participate in group art jamming sessions?
Yes, many art studios offer group art jamming sessions specifically designed for children. These sessions provide a safe and engaging environment for children to explore their artistic abilities under the guidance of experienced instructors.
What materials are typically provided during a group art jamming session?
Group art jamming sessions usually provide basic art materials such as canvases, paints, brushes, and aprons. Some studios may offer additional materials like markers, pastels, or specialized tools depending on the package chosen.
Are there any age restrictions for participating in group art jamming?
Generally, there are no strict age restrictions for participating in group art jamming sessions. However, some studios may have age recommendations or separate sessions tailored for specific age groups.
How can I book a group art jamming session in Singapore?
Booking a group art jamming session in Singapore is typically done through the art studio's website or by contacting them directly. Check the studio's availability, package options, and preferred booking method to secure your preferred session.
Do I need to bring my own art materials for the session?
In most cases, you do not need to bring your own art materials as they are provided by the art studio. However, if you have any specific preferences or additional materials you would like to use, it's advisable to check with the studio beforehand.
Can I take my artwork home after the session?
Yes, the artwork created during the session is usually yours to take home. The studio may provide you with packaging or advice on how to transport your artwork safely.
Are refreshments or snacks provided during the art jamming session?
Some art studios may offer optional add-ons or packages that include refreshments or snacks. It's recommended to check with the studio beforehand or inquire if you can bring your own refreshments.
Is group art jamming suitable for corporate team building events?
Yes, group art jamming is often used as a team building activity for corporate events. It promotes creativity, collaboration, and communication among team members, fostering a positive and cohesive work environment.