Corporate Events Singapore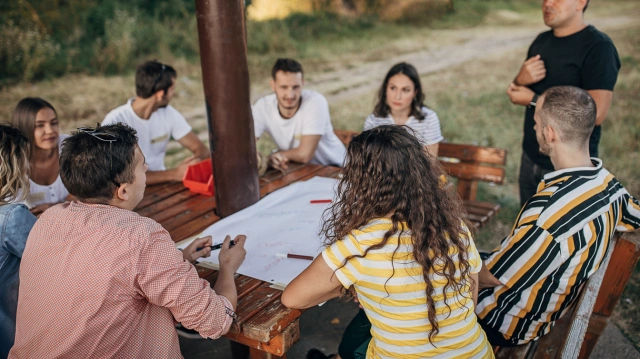 Corporate events are vital in the business world, allowing companies to demonstrate their expertise, network with industry professionals, and foster team building.
The best corporate events in Singapore are Art Jamming, SaberFit, Laser Tag, Poolball, Leather Workshop, Terrarium Workshop, Amazing Race, and Bubble Soccer.
When organizing corporate activities in Singapore, take into account various factors including the venue's location, capacity, available amenities, catering services, and nearby attractions.
FunEmpire, a top team building company in Singapore, has a remarkable track record of 50,000+ successful events and 8,000+ 5-star client reviews.
Whether you're an entrepreneur, executive, or industry enthusiast, these events provide valuable insights, networking, and the chance to stay up-to-date with industry trends.
Quick Summary
Best corporate events in Singapore are Art Jamming, SaberFit, Laser Tag, Poolball, Leather Workshop, Terrarium Workshop, Amazing Race, and Bubble Soccer.
When booking corporate events in Singapore, consider factors such as location, space size and amenities, catering services, and nearby attractions.
FunEmpire, a leading team building company in Singapore, boasts an impressive track record of over 50,000 successful events and 8,000 client reviews with a 5-star rating.
Overview of Singapore's Corporate Events Scene
Singapore's corporate activities scene has experienced remarkable growth in recent years. The city-state has become a favored destination for major conferences, trade shows, and networking events. Renowned for its world-class infrastructure, connectivity, and business-friendly environment, Singapore attracts both local and international participants. The diverse range of corporate activities hosted in Singapore reflects the city's dynamic industries, including finance, technology, healthcare, and more.
Importance of Corporate Events for Businesses
Corporate activities hold immense importance for businesses of all sizes. They provide a platform for companies to enhance their brand image, establish thought leadership, and forge valuable connections. Attending or hosting corporate activities in Singapore allows organizations to showcase their products or services, gain industry insights, and attract potential clients or investors. Additionally, these events offer a conducive environment for fostering collaboration, exploring new business opportunities, and staying ahead of market trends.
Benefits of Attending Corporate Events in Singapore
Networking opportunities with industry leaders, potential partners, and like-minded professionals.
Access to insights and knowledge sharing from industry experts and thought leaders.
Exposure to the latest trends, strategies, and technologies shaping the industry.
Potential collaborations, partnerships, and business opportunities.
Building brand visibility and thought leadership.
Professional development through workshops, training sessions, and panel discussions.
Access to product showcases and demonstrations.
Opportunities for mentorship, guidance, and career advancement.
Exposure to potential clients, customers, or investors.
Building meaningful connections and expanding professional network.
Consideration Factors When Booking Corporate Events in Singapore
Budget: Assess your financial capacity and decide on a realistic budget. This includes costs for event space, catering, activities, and any guest speakers or entertainers.
Venue: Choose a location that is easily accessible, provides the necessary amenities, and has the correct capacity for your expected attendees. The perfect venue should also reflect your company's image and the nature of the event.
Event Services: Many venues offer additional services like technical support, security, and event planning assistance. Make sure these services align with your event's needs.
Catering Options: Depending on the length and nature of your event, you may need to provide meals or refreshments for attendees. Investigate whether the venue offers in-house catering or if you'll need to hire an external caterer.
Tech Requirements: Modern corporate activities often require a range of technical equipment, such as projectors, sound systems, and reliable Wi-Fi. Ensure the venue can accommodate these needs.
Best Corporate Events Singapore
1. Tote Bag Art Jamming
Unleash your creativity and have a memorable team building experience with Tote Bag Art Jamming. Engage in a hands-on activity where participants can design and customize their own tote bags using various art materials. This event encourages collaboration, fosters creativity, and allows individuals to showcase their unique artistic expressions.
2. SaberFit
Experience an exciting and energetic workout session with SaberFit. Combining fitness with lightsaber choreography, this event offers a fun and immersive way to stay active and bond with colleagues. Participants will learn choreographed moves inspired by martial arts and the world of Star Wars, all while getting a great workout and building camaraderie.
3. Laser Tag
Immerse yourself in thrilling tactical battles with Laser Tag. Suitable for team-building or friendly competitions, participants equip themselves with laser tag gear and strategize to outwit opponents in an adrenaline-pumping arena. Laser Tag offers an interactive and engaging experience that promotes teamwork, communication, and strategic thinking.
4. Poolball
Take a unique twist on the classic game of pool with Poolball. Participants play on a life-sized pool table using their feet as cues to kick oversized billiard balls into the pockets. This entertaining and challenging activity promotes coordination, teamwork, and friendly competition while providing plenty of laughter and enjoyment.
5. Non-Stitched Leather Workshop
Discover the art of leather crafting in the Non-Stitched Leather Workshop. Participants will learn the techniques of working with leather and create their own personalized leather products such as wallets, keychains, or cardholders. This hands-on activity fosters creativity, attention to detail, and appreciation for the craftsmanship of leather goods.
6. Terrarium Workshop
Bring a piece of nature into the corporate setting with a Terrarium Workshop. Participants will learn how to design and assemble their miniature ecosystems using plants, soil, and decorative elements. This activity promotes relaxation, creativity, and a sense of mindfulness while fostering a connection with nature.
7. Clay Making Workshop
Unleash your artistic skills with a Clay Making Workshop. Participants will get their hands dirty while molding and sculpting clay into various shapes and forms. This hands-on activity encourages creativity, improves fine motor skills, and provides a therapeutic outlet for self-expression.
8. Bubble Soccer
Experience a hilarious and exciting twist on the traditional game of soccer with Bubble Soccer. Participants wear giant inflatable bubbles that cover their upper body, allowing them to bump into opponents and roll around the field. This event promotes teamwork, laughter, and friendly competition in a fun-filled environment.
9. Stitched Leather Workshop
Learn the art of leather crafting in the Stitched Leather Workshop. Participants will create their own leather products, such as wallets or key holders, using traditional stitching techniques. This hands-on activity enhances craftsmanship skills, attention to detail, and provides a unique souvenir to take home.
10. Amazing Race
Embark on an adventurous team-building experience with the Amazing Race. Modeled after the popular TV show, highly energetic teams compete in various challenges and navigate through different locations, testing their problem-solving, communication, and teamwork skills. This event fosters collaboration, friendly competition, and builds strong bonds among participants.
11. Escape Room
Engage in a thrilling and immersive puzzle-solving experience with an Escape Room. Participants are locked in a themed room and must work together to uncover clues, solve riddles, and escape before time runs out. This activity challenges participants' critical thinking, teamwork, and decision-making abilities.
12. Combat Archery Tag
Experience the exhilaration of archery combined with dodgeball in Combat Archery Tag. Participants compete in a fast-paced, action-packed game where they shoot foam-tipped arrows at opposing players while dodging incoming shots. This event promotes teamwork, agility, and strategic thinking in a safe and enjoyable environment.
13. Ninja Tag
Channel your inner ninja in the Ninja Tag event. Participants engage in a high-energy, fast-paced game that combines elements of tag, obstacle courses, and martial arts. This activity challenges participants' agility, coordination, and reflexes while encouraging teamwork and friendly competition.
14. Canvas Art Jamming
Unleash your artistic expression on canvas with a Canvas Art Jamming session. Participants can freely paint, experiment with colors, and create their own masterpiece in a relaxed and supportive atmosphere. This activity encourages creativity, self-expression, and provides a therapeutic outlet for stress relief.
15. Saber Tag
Experience epic lightsaber battles in the Saber Tag event. Participants engage in friendly duels using foam lightsabers, combining athleticism and imagination. This event promotes teamwork, creativity, and provides an opportunity to unleash your inner Jedi or Sith in a safe and enjoyable environment.
How to Make the Most of Corporate Events in Singapore
Set clear goals and objectives for attending the event.
Research the event agenda and prioritize sessions aligned with your interests.
Engage actively during presentations, ask questions, and participate in discussions.
Leverage social media and event apps to connect with fellow attendees.
Take advantage of networking sessions, workshops, and meetups to build connections.
Prepare and bring plenty of business cards to exchange contact information.
Take notes and jot down key takeaways from presentations and discussions.
Follow up with contacts made during the event to nurture relationships.
Engage with event speakers and panelists to gain additional insights.
Stay updated with event updates and announcements for optimal participation.
By following these strategies, you can maximize your experience at corporate activities in Singapore, make valuable connections, gain industry knowledge, and derive the most benefit from attending these events.
Corporate Events Singapore
Corporate activities in Singapore present unparalleled opportunities for businesses and professionals to connect, learn, and thrive. By attending these events, individuals can gain valuable insights, expand their network, and stay at the forefront of industry trends. With the list of the best corporate corporate activities in Singapore for 2023, you can mark your calendar and ensure you don't miss out on these exceptional opportunities for growth and success.
Looking for more articles? Check out our recommendations below:
Frequently Asked Questions (FAQ)
If you have any questions about corporate events in Singapore, you can refer to the frequently asked questions (FAQ) about the best Corporate Events In Singapore below:
What are some of the best corporate event venues in Singapore?
Singapore offers a variety of corporate event venues, ranging from modern conference rooms in the Central Business District to unique spaces like Gardens by the Bay or Marina Bay Sands. The choice of venue depends on the size of your cohesive team and the nature of your event.
How can I organize a fun team building event in Singapore?
Organizing a fun team building activity involves selecting engaging team bonding games and activities that cater to the interests of your team members. This could range from an exciting team building session like a city-wide scavenger hunt or an interactive game session at a local gaming center.
What are some popular team building games for corporate events?
Popular team bonding games for corporate activities include escape room challenges, laser tag, trivia quizzes, and exciting game sessions. These games can enhance performance by improving communication, problem-solving skills, and collaboration among each team member.
Can you suggest an exciting team building activity in Singapore?
One exciting team building session in Singapore is the Amazing Race-style scavenger hunt. This activity gets the whole team involved in solving clues and completing tasks around the city, making it a favourite among corporate team building activities.
How can a team bonding event benefit my team members?
A team bonding event can foster better communication, boost morale, and improve collaboration among team members. It provides a break from the usual work environment and gives employees a chance to interact on a personal level, which can positively impact performance.
What are some of the favourite team building activities in Singapore?
Among the favourite team bonding activities in Singapore are adventure sports like dragon boating, cooking classes for culinary team building, and creative workshops such as pottery or painting classes. These activities provide a great balance of fun and learning.
What makes a great team building activity?
A great team bonding activity is one that engages all team members, promotes collaboration, improves communication, and ultimately enhances team performance. It should also be enjoyable and help relieve stress.
What are the best team building activities in Singapore?
The best team building activities in Singapore include escape room challenges, culinary workshops, city-wide scavenger hunts, and adventure sports. These activities are designed to promote teamwork and improve problem-solving skills.
Can you recommend some cool team building activities for my next corporate event?
For your next corporate event, consider organizing a cooking competition, a virtual reality gaming session, or a drone racing tournament. These cool team building activities are not only fun but also encourage creativity and collaboration among team members.
How can I ensure the entire team benefits from a team building event?
To ensure the team benefits from a team building event, choose activities that cater to different interests and abilities. Incorporate elements of fun, learning, and competition. Also, provide opportunities for team members to lead and make decisions, which helps in boosting confidence and leadership skills.