Indoor Activities Singapore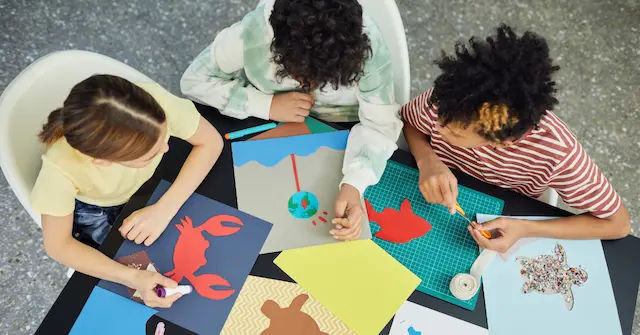 Despite the sweltering and humid climate, there are numerous thrilling indoor activities in Singapore accessible for everyone's enjoyment.
The best indoor activities in Singapore are Bubble Soccer, Poolball, Candle Making Workshops, Escape Rooms, Archery Tag, Amazing Race, Art Jamming Workshops, Laser Tag, Giant Board Games.
To ensure a well-organized and enjoyable experience for everyone, take into account factors such as age, duration, cost, and location when making reservations for indoor activities.
As a leading team building company in Singapore, FunEmpire has a remarkable track record of organizing over 50,000 successful events and receiving 8,000 glowing 5-star reviews from satisfied clients.
So grab your friends and family and start exploring these incredible places now!
Quick Summary
Best indoor activities in Singapore are Bubble Soccer, Poolball, Candle Making Workshops, Escape Rooms, Archery Tag, Amazing Race, Art Jamming Workshops, Laser Tag, Giant Board Games.
Consider age, duration, cost, and location when booking indoor activities in Singapore to ensure a well-planned and enjoyable experience for all.
FunEmpire stands out as a premier team building company in Singapore, boasting an impressive track record of over 50,000 successful events and 8,000 glowing 5-star client reviews.
Benefits of Participating in Indoor Activities
Participating in indoor activities offers numerous benefits:
Improved Physical Health: Indoor activities often involve movements that promote physical wellness. For instance, Bubble Soccer and Laser Tag provide a cardio workout, while Art Jamming workshops can enhance fine motor skills.
Enhanced Cognitive Abilities: Challenges like Escape Rooms and Giant Board Games stimulate the brain, enhancing problem-solving skills, strategic thinking, and memory.
Fostering Social Bonds: Participating in team-based activities like Archery Tag and the Amazing Race fosters camaraderie, strengthens friendships, and improves team dynamics.
Stress Relief: Engaging in fun activities is a great way to relax and unwind. Activities like Candle Making Workshops serve as creative outlets that can help reduce stress and anxiety.
All-Weather Entertainment: In a tropical climate like Singapore's, indoor activities offer a reliable form of entertainment, regardless of the weather conditions outside.
Skill Development: Indoor activities can also help improve various skills. A game of Poolball, for example, can enhance your hand-eye coordination and strategic thinking.
Accessibility: Most indoor activities in Singapore are centrally located and easily accessible, making it convenient for everyone to participate.
Safety: Indoor activities are typically held in controlled environments, ensuring a safe and secure experience for participants.
Variety: With a wide array of indoor activities available in Singapore, there's something to suit everyone's interests and preferences.
Personal Growth: Through the challenges and fun that indoor activities offer, individuals often discover new passions, overcome fears, and experience personal growth.
Consideration Factors When Choosing Indoor Activities
When selecting indoor activities in Singapore, there are several key considerations to bear in mind:
Participant Age: Consider the age of the participants. Some activities may be more suited to certain age groups than others. For instance, Art Jamming might be more suitable for adults, while Bubble Soccer could be a hit among younger participants.
Cost: Indoor activities in Singapore come at different price points. Establish your budget beforehand and choose activities that offer the best value for your money.
Availability and Timing: Check the availability and operation hours of the activity. Some indoor activities may require advanced booking, particularly during peak hours or weekends.
Group Size: The number of participants can also influence your choice of activity. Some indoor activities, such as Escape Rooms or Bubble Soccer, may cater to larger groups better than others.
Interest and Comfort Level: Lastly, consider the interests and comfort levels of the participants. Choose an activity that everyone will enjoy and feel comfortable participating in.
Best Indoor Activities Singapore
1) Canvas Art Jamming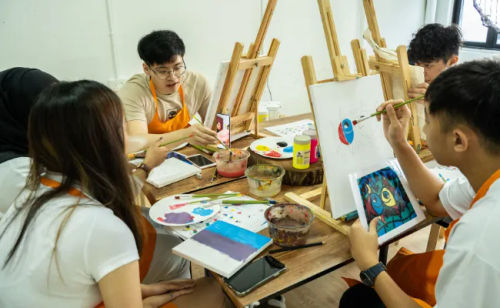 Experience a therapeutic and fulfilling activity while unleashing your inner artist in a relaxed and inspiring environment. In a canvas art jamming session, you'll have the freedom to express your creativity by using paint, brushes, and various art supplies to create your very own masterpiece. This activity caters to all levels, from beginners to experienced artists, and allows you to experiment with colors, techniques, and styles.
2) Tote Bag Art Jamming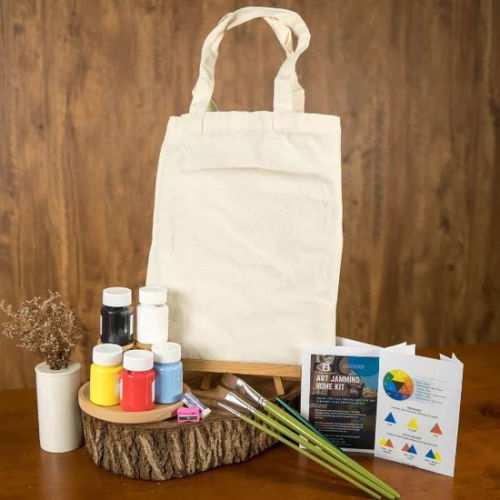 Join a tote bag art jamming session and let your artistic side shine! Skilled instructors will guide you as you use paints, stencils, and embellishments to decorate your own tote bag. You can choose between bold, vibrant designs or intricate patterns to create a functional and stylish accessory that is unique to you. So come express your individuality and get crafty!
3) Ninja Tag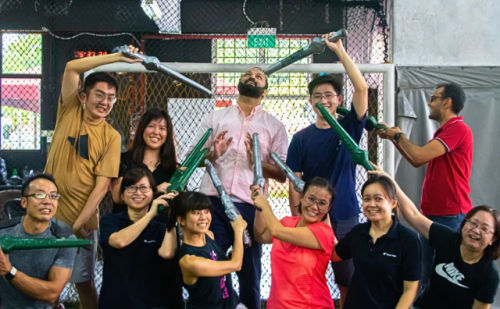 Experience the excitement of indoor obstacle courses and channel your inner ninja warrior. The course is filled with challenging obstacles that will assess your agility, balance, and problem-solving abilities. You can swing, climb, jump, and conquer your way through the physical challenges in a race against the clock or compete with your friends. Ninja Tag offers a secure and supervised space for individuals of all ages who seek adventure.
4) Saber Tag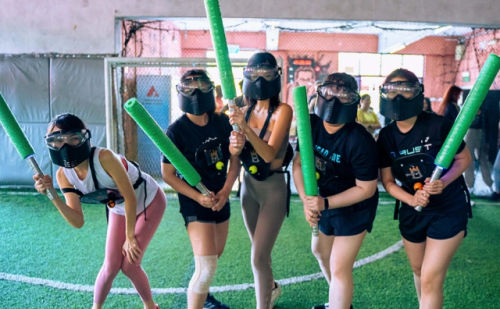 Come and try Saber Tag for a safe and thrilling lightsaber duel experience. With glowing sabers, you can improve your sword fighting abilities and embrace your inner Jedi or Sith. Play one-on-one or in team-based games and have a blast immersing yourself in the world of lightsaber combat!
5) Bullet Ball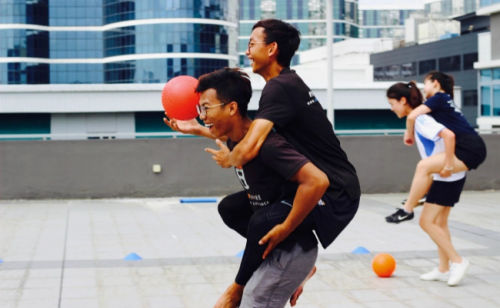 Bullet Ball is a thrilling game that combines dodgeball and table tennis. You'll need to dodge incoming balls while targeting your opponents in this fast-paced game. Bullet Ball uses soft balls and a dynamic play area, ensuring an adrenaline-filled experience that will leave you feeling exhilarated.
6) Laser Tag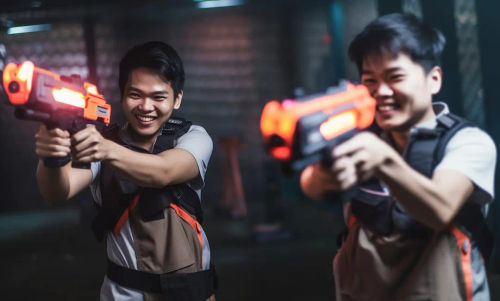 Experience a high-tech adventure in the form of laser tag – a thrilling indoor game that requires strategy and precision. You will be armed with advanced laser guns and will wear vests that detect hits. The game takes place in darkened arenas, where you will need to target opponents and avoid being tagged. Whether you prefer to work as a team or go solo, get ready to be a part of heart-pounding missions and thrilling combat scenarios. Laser tag offers an adrenaline-fuelled experience that combines competition, skill, and excitement.
7) Gel Candle Making Workshop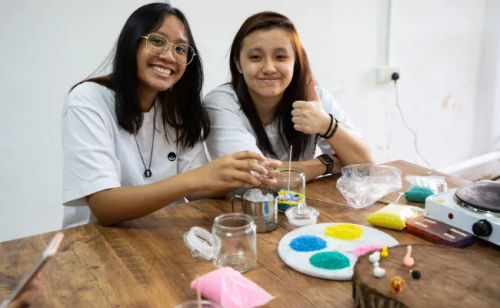 Participate in a gel candle making workshop and learn how to create exquisite gel candles in different colors, shapes, and designs. You will learn techniques of embedding decorative elements, using fragrances, and incorporating unique visual effects. By the end of the workshop, you will have personalized gel candles that will add elegance and ambiance to your living space.
8) Soy Candle Making Workshop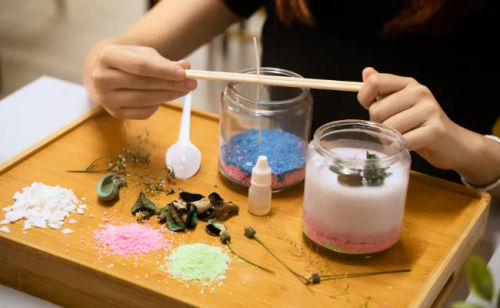 Immerse yourself in the world of eco-friendly candle making with a soy candle workshop. Explore the benefits of soy wax and learn how to create clean-burning and aromatic candles. From selecting scents and wicks to pouring and decorating containers, you'll craft your own soy candles with natural fragrances. This workshop allows you to indulge in the soothing and creative process of candle making while embracing sustainability.
9) Clay Making Workshop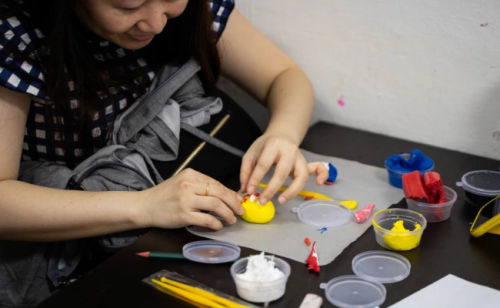 Unleash your creativity in a clay making workshop where you'll learn pottery techniques and create unique clay artworks. Whether you're interested in sculpting vases, figurines, or decorative items, this hands-on experience provides you with the opportunity to shape and mold clay into beautiful creations. Learn about clay preparation, shaping, and firing processes under the guidance of experienced instructors.
10) Cooking Class
Take a cooking class to improve your skills in the kitchen and explore different cuisines. Led by professional chefs, you'll learn techniques and recipes for local and international dishes. Cooking classes provide a hands-on experience that allows you to try new flavors, expand your culinary knowledge, and enjoy the satisfaction of making delicious meals.
Tips For Choosing the Best Indoor Activity
Finding a great indoor activity for you and your family or friends is not always easy. Here are some tips to help you find the perfect one:
Unique Experience: Look for activities that offer something unique, such as an interesting twist on traditional games or a creative way to express yourself.
Safety: Make sure that the activity is safe and all necessary precautions are taken.
Fun Factor: Choose an activity that will guarantee fun for everyone involved.
Age Appropriate: Depending on who you're with, make sure to pick activities that are suitable for their age group.
Location: Choose a convenient location so everyone can easily access the activity.
Group Size: Make sure to select an activity that can accommodate your group size.
Price Point: Look for activities that are affordable and won't break the bank.
Availability: Check if reservations are available and consider booking ahead of time to avoid disappointment.
Reviews: Read reviews online to get an idea of what to expect.
With these tips in mind, you'll be sure to find the best indoor activity for your next outing! So start planning and have fun exploring all that Singapore has to offer. Happy searching!
Indoor Activities Singapore
From virtual reality experiences to hands-on art and cooking classes, there are plenty of indoor activities in Singapore that will keep you entertained. Whether you're looking for all the fun or just something to do on a rainy weather, these best indoor activities offer unique and thrilling experiences that cater to all levels.
So grab your friends and family and start exploring the wonders of science, art, culture, cuisine – without ever having to leave the comfort of your home!
Looking for more articles? Check out our recommendations below:
Frequently Asked Questions (FAQs)
If you have any questions about the best indoor activities in Singapore, you can refer to the frequently asked questions (FAQs) about the best indoor activities in Singapore below:
What are some top-notch indoor playgrounds in Singapore?
City Square Mall is famous for its vast indoor playground that caters to children of all ages. It offers a variety of activities including themed rooms, bumper cars and obstacle courses. Another great place to explore is Canopy Park, known for its exciting interactive exhibits.
Where can I experience snow in Singapore?
Snow City is the first permanent indoor snow centre in Singapore. It provides an amazing winter wonderland experience right in the heart of the tropical city. From snow slides to snow sculptures, it's all the fun you'd expect from a snowy escapade.
What can I expect when visiting the Flower Dome?
The Flower Dome is a spectacular conservatory within Gardens by the Bay. It replicates the cool-dry climate of Mediterranean regions and showcases exotic plants from deserts all over the world. It's a unique indoor horticultural experience not to be missed.
What makes Gardens by the Bay special?
Gardens by the Bay is a massive nature park that houses the Flower Dome and Cloud Forest. It also features the HSBC Rain Vortex, the world's tallest indoor waterfall. The whole park is a fantastic blend of nature, technology and imagination.
What is unique about the Trick Eye Museum?
The Trick Eye Museum is an internationally renowned optical art museum originating from Korea. It features 2D paintings that give the illusion of being in 3D. The themed rooms allow visitors to interact with the artworks, creating memorable photographic opportunities.
What can I see at the Singapore Repertory Theatre?
The Singapore Repertory Theatre is one of the leading English language theatre producers in Asia. It offers a wide range of plays, musicals and family-friendly performances, providing an enriching theatrical experience within comfortable indoor settings.
What exhibits can I find at the National Museum of Singapore?
The National Museum of Singapore is the oldest museum in the country. It showcases the history of Singapore through several permanent and rotating exhibits. The museum offers an insightful indoor exploration of Singapore's past and present.
What are some of the best indoor activities in Singapore to explore on a rainy day?
On a rainy day in Singapore, there are several exciting indoor activities to enjoy. You can immerse yourself in the interactive and digital art installations at Future World, located in Marina Square. For those seeking some adrenaline rush, HiRoller Indoor Skating Rink offers a fun-filled skating experience. If you're looking for a full day of entertainment, Downtown East or Universal Studios Singapore offers a plethora of indoor attractions that will keep you entertained throughout the day.
Can you suggest some unique indoor activities to do in Singapore?
Certainly! Future World is a unique digital art installation that's worth exploring. Located in Marina Square, it offers a fascinating blend of art, science, magic, and metaphor through a collection of cutting-edge digital installations. Another unique activity is indoor skating at HiRoller Indoor Skating Rink. For those who love theme parks, Universal Studios Singapore offers an array of exciting indoor attractions. Additionally, Downtown East is a great place to spend the day with a variety of entertainment options.