Indoor Team Building Workshops Singapore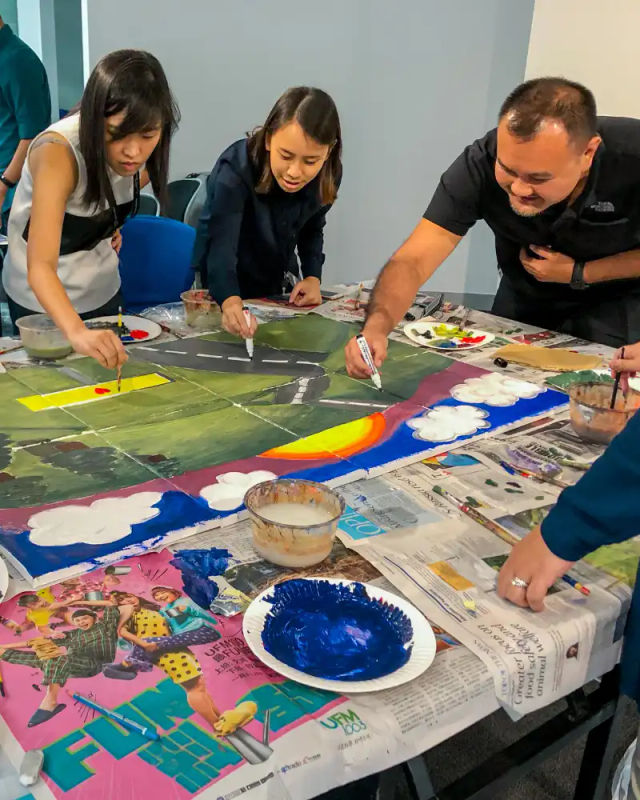 In today's competitive business landscape, fostering teamwork and collaboration within organizations is crucial for success. Indoor team building workshops have emerged as a popular solution to enhance employee engagement, communication, and problem-solving skills.
With Singapore's dynamic corporate environment, these workshops play a vital role in strengthening teams and driving productivity. In this article, we will explore the ten best indoor team building workshops in Singapore, providing you with valuable insights and options to consider for your team's development.
Overview of Indoor Team Building Workshops
Indoor team building workshops are designed to bring individuals together in a structured and interactive environment, fostering a sense of camaraderie, cooperation, and trust among team members. These workshops offer a range of activities, exercises, and simulations that challenge participants to collaborate, communicate effectively, and solve problems collectively.
Unlike outdoor team building activities that rely on nature-based challenges, indoor workshops provide a controlled setting with a focus on skill-building, strategy development, and interpersonal dynamics.
The objectives of indoor team building workshops go beyond mere entertainment or leisure. They aim to enhance various aspects of teamwork, such as improving communication channels, building stronger relationships, developing leadership qualities, fostering creativity, and nurturing a positive work culture.
By participating in these workshops, teams can gain valuable insights into their strengths and weaknesses while acquiring new tools and techniques to overcome obstacles and work harmoniously towards shared goals.
Importance of Indoor Team Building Workshops in Singapore
In Singapore's fast-paced and competitive business environment, organizations face unique challenges in terms of employee engagement, cultural diversity, and high expectations for performance. This is where indoor team building workshops can make a significant impact.
By investing in these workshops, companies demonstrate their commitment to creating a cohesive and collaborative workforce. Through carefully curated activities and experiential learning, team members can develop a deeper understanding of their roles within the organization and learn how to leverage each other's strengths.
Effective teamwork not only boosts employee morale and job satisfaction but also has a direct influence on productivity and business outcomes. When teams work well together, they can tackle complex challenges more efficiently, generate innovative ideas, and deliver exceptional results.
Indoor team building workshops provide a safe and supportive environment for employees to develop trust, respect, and open communication, leading to improved collaboration and problem-solving capabilities. Furthermore, these workshops can help break down silos between departments, fostering cross-functional cooperation and synergy.
Criteria for Selecting the Best Indoor Team Building Workshops
Here are the criteria for selecting the best indoor team building workshops in bullet form:
Expertise and experience of the workshop providers
Customization options to address specific team needs and goals
Workshop duration: Consider longer workshops for immersive experiences and shorter workshops for focused objectives
Group size: Smaller groups for individual participation, larger groups for networking and collaboration opportunities
Well-structured and engaging workshop activities
Relevance and applicability of workshop content to real-world work scenarios
Positive reviews and testimonials from previous workshop participants or clients
Use of innovative and interactive learning techniques
Facilitators who demonstrate strong communication and leadership skills
Track record of successful workshop outcomes and impact on teams
Availability of post-workshop support or resources for continued learning and development
Best Indoor Team Building Workshops Singapore
1) Canvas Art Jamming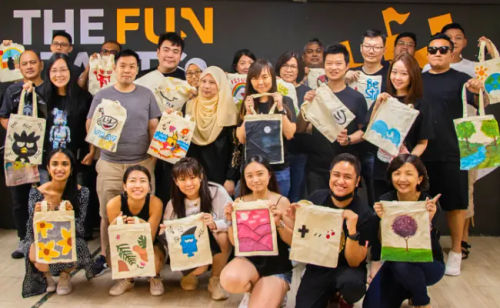 Unleash your creativity with Canvas Art Jamming! This workshop offers a fun and relaxing environment where participants can express themselves through art. Each participant is provided with a canvas, paints, brushes, and other art materials. Whether you're an experienced artist or a complete beginner, you can enjoy the process of creating your own masterpiece. Let your imagination run wild with art jamming as you paint, blend colors, and bring your vision to life on the canvas.
2) Tote Bag Art Jamming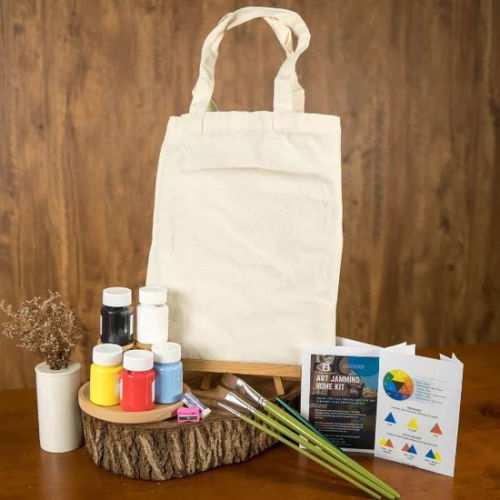 Combine fashion and creativity with Tote Bag Art Jamming! In this workshop, participants get the chance to design and personalize their own tote bags. You'll be provided with a plain tote bag and an array of fabric paints, stencils, and markers. From bold and vibrant designs to intricate patterns, you can let your artistic skills shine while customizing your very own stylish tote bag. It's a perfect workshop for those who love both art and fashion.
3) Perfume Workshop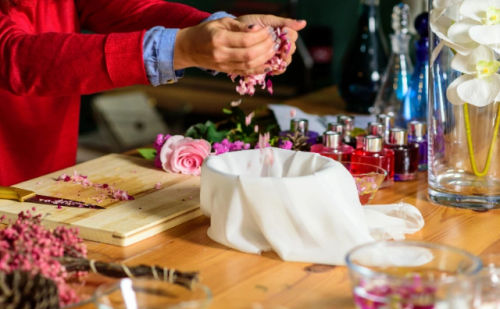 Indulge in the world of scents and create your own signature fragrance in a Perfume Workshop. Participants will learn about the art of perfumery, including the different fragrance notes and blending techniques. With guidance from experienced perfumers, you'll have the opportunity to mix and match various essential oils and aromatic compounds to create a unique scent that reflects your personality. Discover the fascinating world of perfumes and leave with a customized fragrance crafted by your own hands.
4) Terrarium Workshop
Bring a piece of nature into your home with a Terrarium Workshop. Terrariums are miniature ecosystems housed in glass containers, combining plants, soil, rocks, and other decorative elements. In this workshop, participants will learn how to design and assemble their own terrariums. You'll receive guidance on plant selection, layering techniques, and proper care to ensure your terrarium thrives. It's a wonderful opportunity to connect with nature, exercise your green thumb, and create a beautiful, low-maintenance indoor garden.
5) Stitched Leather Workshop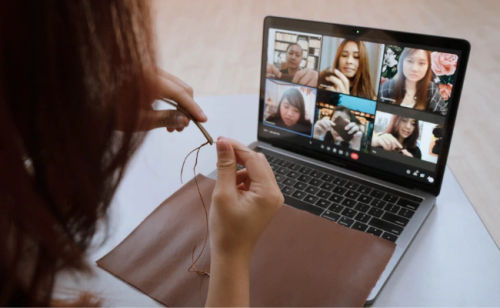 Experience the art of traditional craftsmanship in a Stitched Leather Workshop. Participants will learn the basics of leatherworking, including cutting, stitching, and finishing techniques. Guided by skilled artisans, you'll create your own leather goods, such as wallets, keychains, or bracelets. From selecting high-quality leather to adding personalized touches, you'll gain insight into the meticulous process of working with this versatile material. Discover the satisfaction of crafting a unique and durable leather item by hand.
6) Balloon Sculpting Workshop
Let your imagination soar in a Balloon Sculpting Workshop! Participants will learn the art of twisting and shaping balloons into various fun and whimsical creations. With the guidance of a professional balloon artist, you'll discover the techniques behind creating balloon animals, hats, flowers, and more. This workshop is perfect for unleashing your creativity and providing entertainment at parties or events. Learn the secrets of balloon sculpting and impress others with your newfound skills.
7) Non-Stitched Leather Workshop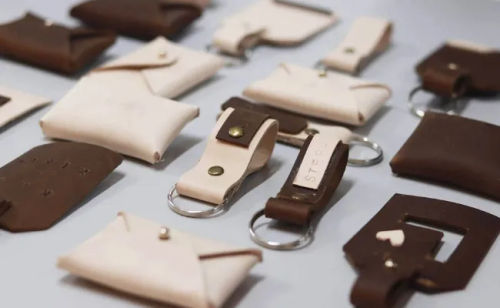 In a Non-Stitched Leather Workshop, participants can explore alternative methods of leathercraft without traditional stitching techniques. Instead, you'll learn techniques such as riveting, lacing, or knotting to create unique leather items. From accessories like bracelets or earrings to small leather pouches or coasters, you'll discover innovative ways to work with leather and experiment with different decorative elements. Unleash your creativity and leave with a one-of-a-kind leather creation.
8) Clay Making Workshop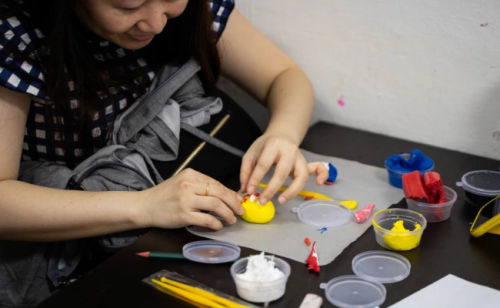 Get your hands dirty and explore the world of clay in a Clay Making Workshop. Participants will learn various techniques for shaping and molding clay to create beautiful and functional ceramic pieces. From hand-building techniques like pinch pots and coil pots to using molds and sculpting tools, you'll have the opportunity to create unique clay artworks. Discover the joy of working with clay as you explore different textures, colors, and finishes to bring your artistic visions to life.
9) Gel Candle Making Workshop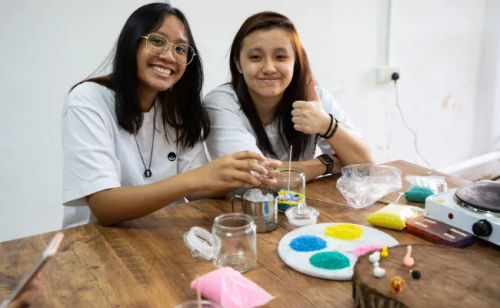 Experience the art of candle making in a Gel Candle Making Workshop. Gel candles offer a unique and translucent look, making them a popular choice for home decor or gifts. In this workshop, participants will learn the process of creating gel candles, including selecting the right wicks, adding fragrance and color, and pouring the gel into containers. With a variety of decorative elements like dried flowers or embedded objects, you can create stunning and personalized gel candles that will add a warm and inviting ambiance to any space.
10) Soy Candle Making Workshop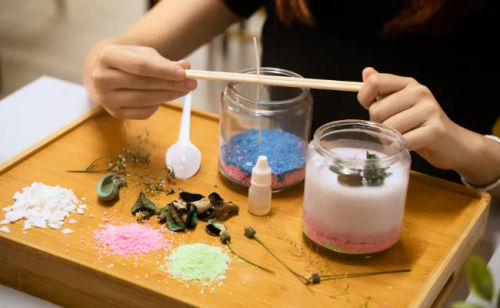 Discover the art of eco-friendly candle making in a Soy Candle Making Workshop. Soy candles are made from natural soybean wax, known for their clean burn and long-lasting fragrance. In this workshop, participants will learn how to melt, blend, and pour soy wax to create their own candles. You'll also explore different fragrance options, wick selection, and container customization. Dive into the world of soy candle making, and take home beautifully scented candles that are both environmentally friendly and luxurious.
Indoor Team Building Workshops Singapore
Indoor team building workshops in Singapore provide a great opportunity to explore creativity and collaboration. From painting masterpieces to creating unique leather goods, these activities make it easy for teams of all sizes to bond while having fun. With the help of experienced professionals, you can learn new skills or refine existing ones as you create personalized items that reflect your creative vision. Whether it's making candles from soy wax or crafting terrariums with plants and rocks, there are plenty of indoor team building workshops in Singapore that will bring out everyone's inner artist!
Looking for more articles? Check out our recommendations below:
Frequently Asked Questions (FAQs)
If you have any questions about Indoor Team Building Workshops in Singapore, you can refer to the frequently asked questions (FAQs) about the Best Indoor Team Building Workshops in Singapore below:
Are indoor team building workshops suitable for all types of organizations?
Yes, indoor team building workshops are beneficial for organizations of all sizes and industries. They can be customized to meet the specific needs and goals of each organization, fostering teamwork and collaboration regardless of the sector or structure.
What is the ideal duration for an indoor team building workshop?
The duration of an indoor team building workshop depends on various factors, such as the objectives, activities, and availability of participants. Workshops can range from a few hours to full-day sessions or even multi-day programs, allowing for comprehensive skill development and team bonding experiences.
Can indoor team building workshops be tailored to address specific challenges within our organization?
Absolutely! One of the strengths of indoor team building workshops is their flexibility and customization options. Workshop providers can work closely with organizations to understand their unique challenges and design activities that directly address those specific areas for improvement.
Do participants need any prior artistic skills or experience for art jamming workshops?
No prior artistic skills or experience are required for art jamming workshops. These workshops are designed for individuals of all skill levels, from beginners to experienced artists. The focus is on self-expression, creativity, and enjoying the process of creating art.
How long does it take to complete a terrarium in a terrarium workshop?
The time required to complete a terrarium in a workshop can vary depending on the complexity of the design and the number of participants. On average, it can take anywhere from 30 minutes to 2 hours to create a beautiful terrarium.
Are the leather workshops suitable for beginners who have no prior experience with leatherworking?
Yes, the leather workshops cater to participants of all skill levels, including beginners. The workshops are designed to introduce basic leatherworking techniques and provide step-by-step guidance throughout the process. Skilled artisans or instructors will be there to assist participants and ensure successful completion of their leather projects.
Can we choose specific fragrances in a perfume workshop?
Yes, in a perfume workshop, participants are typically provided with a selection of essential oils and aromatic compounds to choose from. This allows each participant to create a customized fragrance by blending different scents according to their preferences.
What kind of clay is used in clay making workshops?
Clay making workshops often use air-dry clay or oven-bake clay, which are easy to work with and do not require a kiln for firing. These types of clay allow participants to create their ceramic pieces without the need for specialized equipment.
Can children participate in gel candle making or soy candle making workshops?
Yes, gel candle making and soy candle making workshops can be suitable for children, depending on the workshop provider's age restrictions. These workshops provide a safe and supervised environment for children to learn about candle making and create their own candles. Parental consent and supervision may be required for younger participants.
What are the potential team benefits of participating in indoor team building workshops?
Indoor team building workshops offer numerous benefits for teams, such as improved communication, enhanced problem-solving skills, strengthened collaboration, increased trust among team members, and the development of a positive work culture. These workshops can also boost employee morale, job satisfaction, and overall team productivity.