Things To Do Singapore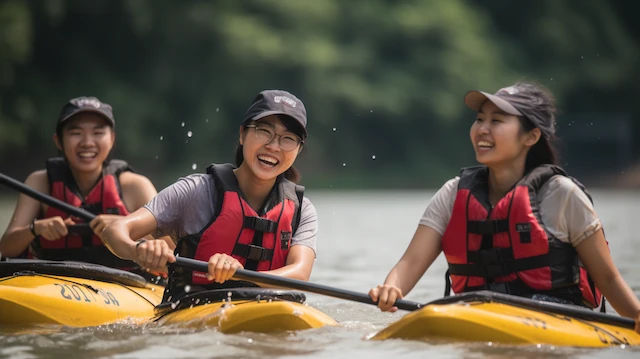 Welcome to Singapore, a vibrant city-state that never fails to captivate visitors with its unique blend of modernity, culture, and stunning attractions. Whether you're a history enthusiast, nature lover, or foodie, Singapore offers an array of experiences that will leave you mesmerized. In this article, we'll explore the best things to do in Singapore in 2023, ensuring you have an unforgettable time in this dynamic city.
Overview of Singapore
Nestled in Southeast Asia, Singapore boasts a fascinating history and a multicultural heritage. As one of the world's leading financial centers, it effortlessly combines tradition with modernity. The city-state's strategic location has made it a melting pot of cultures, resulting in a rich tapestry of traditions, cuisines, and festivals. From the towering skyscrapers of the Central Business District to the lush greenery of its parks and gardens, Singapore is a visual treat that never disappoints.
Best Things To Do Singapore
Creative Activities
1. Neon Art Jamming Workshop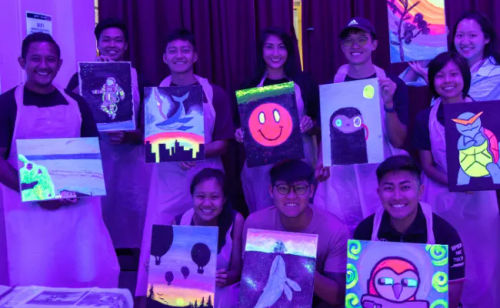 Step into a world of vibrant colors and neon lights with an art jamming workshop that focuses on creating mesmerizing neon-inspired art. Experiment with glow-in-the-dark paints and create stunning visuals that come alive under ultraviolet lights. Let your imagination run wild and unleash your creativity in this electrifying workshop.
2. Perfume Workshop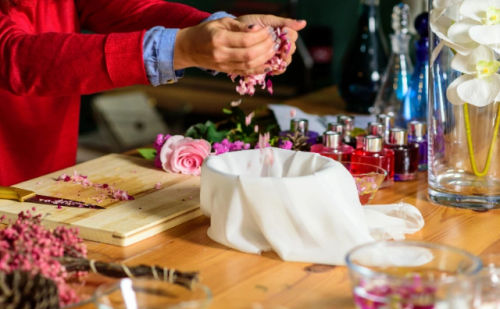 Unleash your inner perfumer and delve into the world of fragrances. In this workshop, you'll learn about different scent profiles, blending techniques, and the art of creating your signature scent. Experiment with various aromatic notes and leave with a bespoke perfume that captures your personality.
3. Tote Bag Art Jamming Workshop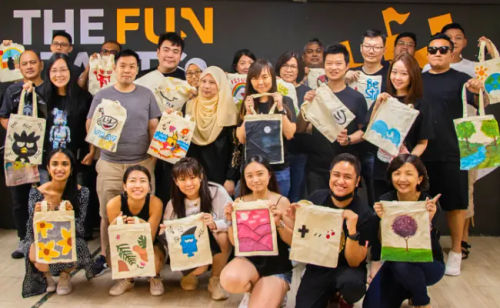 Unleash your creativity and design a unique tote bag in this art jamming workshop. Armed with an array of colorful paints, brushes, and stencils, you'll have the freedom to express your artistic vision on a blank canvas. Whether you prefer bold and vibrant patterns or intricate designs, this workshop is a perfect outlet for your artistic talents.
4. Canvas Art Jamming Workshop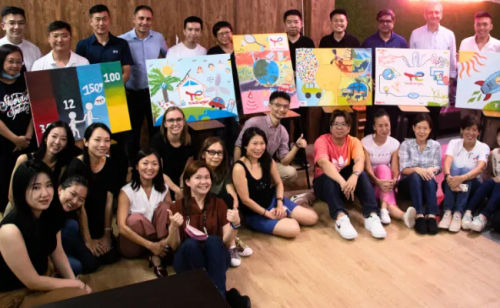 Indulge in a therapeutic art session with a canvas art jamming workshop. Express yourself through colors and brush strokes as you create your masterpiece on canvas. With no boundaries or rules, let your imagination flow and enjoy the freedom of creating a personal work of art.
5. Gel Candle Making Workshop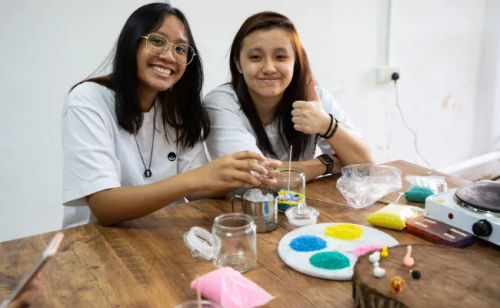 Discover the art of gel candle making and craft beautiful, translucent candles. Learn the process of selecting fragrances, arranging decorative elements, and pouring the gel to create stunning designs. These unique candles make perfect gifts or lovely additions to your home decor.
6. Soy Candle Making Workshop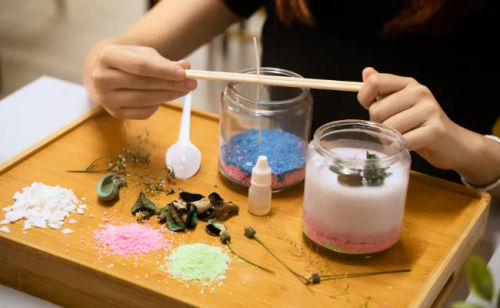 Immerse yourself in the world of natural candle making with a soy candle workshop. Discover the benefits of soy wax and essential oils as you create eco-friendly and aromatic candles. From selecting scents to customizing containers, this workshop offers a delightful experience for candle enthusiasts.
7. Non-Stitched Leather Workshop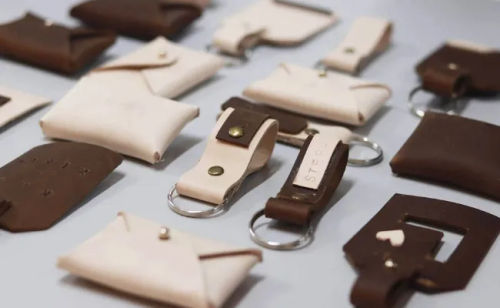 Explore the versatility of leather in this non-stitched leather workshop. Learn innovative techniques like folding, weaving, and riveting to create stylish and functional leather accessories. From bracelets to cardholders, this workshop allows you to showcase your creativity while mastering unique leather crafting methods.
8. Terrarium Workshop
Embrace the beauty of nature with a terrarium workshop. Learn the art of creating miniature ecosystems using glass containers, soil, plants, and decorative elements. Discover the calming effects of tending to your own green oasis and leave with a stunning terrarium to enhance your home or office space.
9. Cooking Class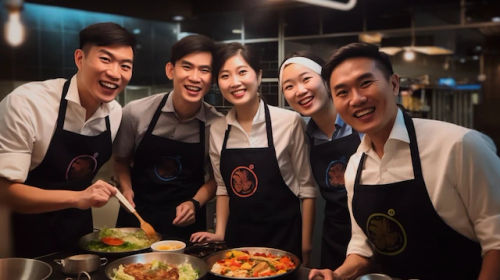 Embark on a culinary adventure and sharpen your cooking skills with a hands-on cooking class. Join professional chefs as they guide you through the preparation of authentic local dishes or international cuisines. From mastering the art of noodle pulling to perfecting the balance of flavors, this class promises a gastronomic experience.
10. Leather Workshop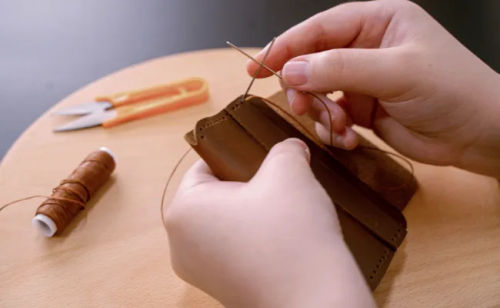 Experience the art of crafting leather goods in this hands-on workshop. Learn the techniques of cutting, stitching, and molding leather to create your own personalized wallets, keychains, or accessories. Discover the satisfaction of working with high-quality materials and leave with a unique and functional leather item.
Adventure Activities
1. Laser Tag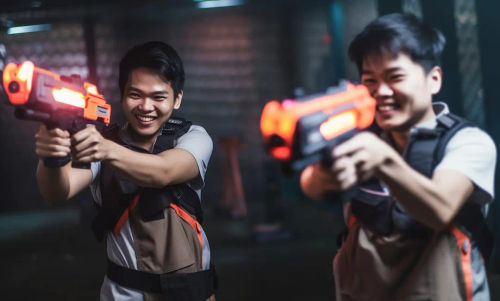 Gear up and enter an action-packed arena for an exhilarating game of laser tag. Navigate through a maze-like environment, strategize with your team, and engage in thrilling laser battles. Test your agility, reflexes, and teamwork as you aim to outsmart and outmaneuver your opponents in this adrenaline-fueled adventure.
2. Combat Archery Tag
Combine archery skills with the excitement of dodgeball in this fast-paced combat archery tag game. Armed with foam-tipped arrows and a bow, you'll engage in thrilling battles, aiming to hit targets and eliminate opponents. Experience the thrill of dodging arrows and the satisfaction of a well-aimed shot in this action-packed activity.
3. Bubble Soccer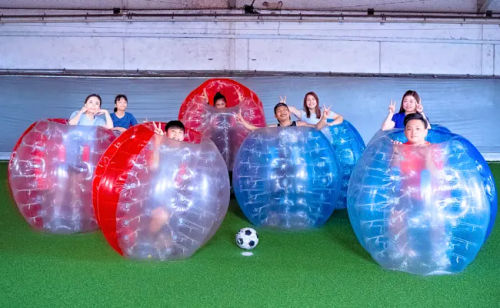 Get ready for a hilarious twist on the classic game of soccer. Strap on a giant inflatable bubble suit and bounce, roll, and collide with your opponents as you aim to score goals. Bubble soccer guarantees laughter and unforgettable moments as you engage in a fun-filled, bumpy game with friends and family.
4. Saber Tag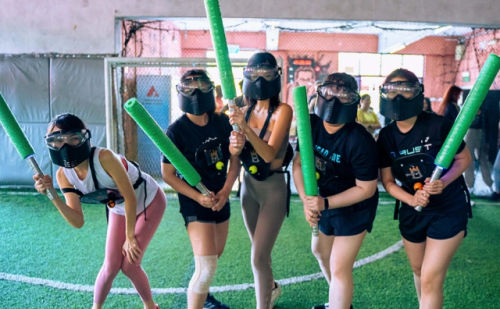 Unleash your inner Jedi and engage in epic saber battles with your friends. Equipped with foam-padded lightsabers, you'll channel your inner warrior and participate in exciting duels. Immerse yourself in the world of lightsaber combat and experience the thrill of a galactic showdown in a safe and engaging environment.
5. Giant Whack-A-Mole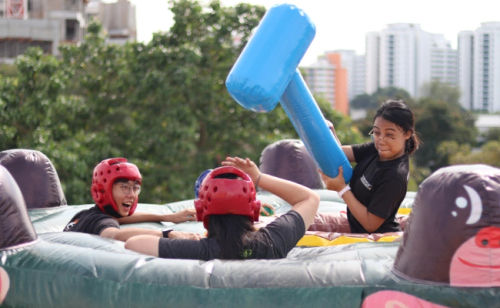 Step into a life-sized version of the classic arcade game. Armed with foam hammers, you'll aim to whack the moles that pop up from their holes. React quickly and test your hand-eye coordination in this interactive and larger-than-life version of a beloved childhood game.
6. Bullet Strike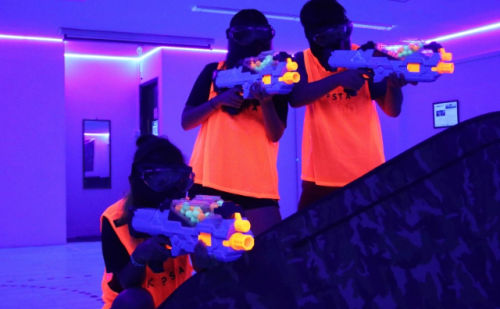 Experience the thrill of realistic first-person shooter gameplay with Bullet Strike. Equipped with state-of-the-art laser tag equipment, you'll engage in exciting team-based missions and tactical battles. Navigate through immersive scenarios, strategize with your team, and test your skills in this thrilling virtual combat experience.
7. Ninja Tag
Unleash your inner ninja and conquer challenging obstacle courses in a game of ninja tag. Navigate through various obstacles, balance on beams, swing from ropes, and demonstrate your agility and speed. Engage in friendly competition as you race against time and fellow participants in this high-energy and exciting activity.
8. Bullet Ball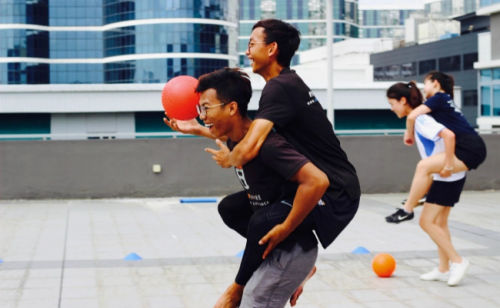 Combine elements of soccer and dodgeball in this unique and fast-paced sport. Compete in teams and aim to score goals while dodging foam balls launched by your opponents. React quickly, employ teamwork, and showcase your ball skills in this dynamic and entertaining game.
9. Poolball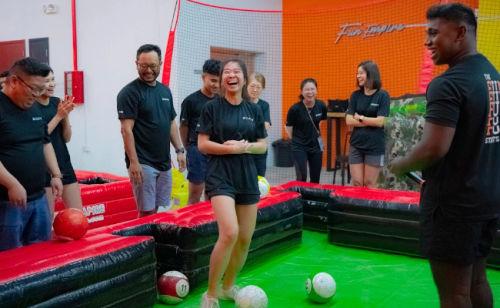 Take the game of pool to a whole new level with this life-sized version. Use your feet as the cue stick and kick soccer balls into oversized billiard table pockets. Engage in a game of skill and precision as you strategize your shots and aim for victory in this fun-filled and active twist on a classic game.
10. SaberFit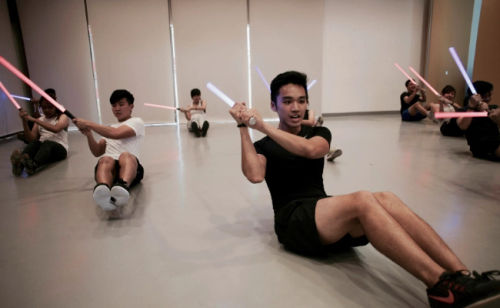 Unleash your inner Jedi and get fit with SaberFit, a high-energy fitness class inspired by lightsaber combat. Engage in a full-body workout that combines martial arts-inspired movements, cardio exercises, and lightsaber techniques. Build strength, endurance, and agility while unleashing your Star Wars fantasies in this unique and enjoyable fitness experience.
Quest Activities
1. Hybrid Amazing Race
Embark on an exhilarating adventure with the Hybrid Amazing Race. Solve clues, complete challenges, and navigate through the city as you race against time and other teams. Push your problem-solving skills to the limit and explore the hidden gems of Singapore in this thrilling and interactive quest.
2. Escape Room Puzzle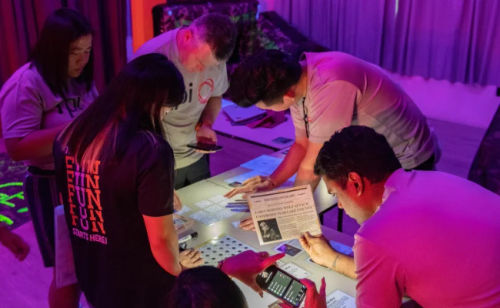 Step into a world of mystery and intrigue with an escape room puzzle experience. Locked in a themed room, you and your team must work together to solve puzzles, uncover clues, and unravel the secrets within a set time limit. Put your critical thinking, observation, and communication skills to the test in this immersive and brain-teasing challenge.
Leisure Activities
1. Neon Bowling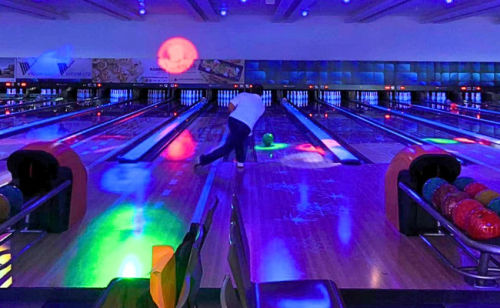 Experience the excitement of bowling in a vibrant and neon-lit environment. Engage in friendly competition as you aim for strikes and spares under the glow of neon lights. Enjoy the upbeat music, dazzling visuals, and cosmic atmosphere in this modern twist on a classic leisure activity.
2. Giant Board Games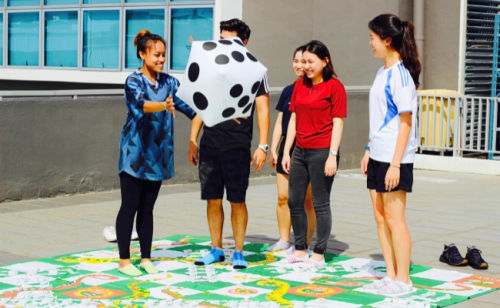 Relive your favorite childhood board games on a grand scale with giant board games. Play larger-than-life versions of games like Jenga, Chess, Connect Four, and more. Strategize, plan your moves, and enjoy the thrill of these familiar games supersized for an unforgettable and entertaining experience.
3. Yacht Rental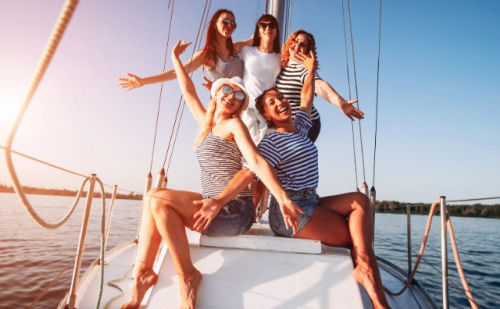 Indulge in a luxurious and relaxing experience with a yacht rental. Sail the pristine waters surrounding Singapore, taking in breathtaking views of the city skyline and coastal landscapes. Whether it's a romantic sunset cruise or a fun-filled day trip with friends, a yacht rental offers a serene and exclusive getaway on the open waters.
Insider Tips and Recommendations
For an unforgettable dining experience, head to a hawker center such as Maxwell Food Centre or Lau Pa Sat. Sample local delights like Hainanese chicken rice, chili crab, and laksa.
If you're a shopaholic, Orchard Road is a paradise with its plethora of shopping malls and designer boutiques. Don't forget to explore the vibrant street markets for unique souvenirs.
To beat the heat, spend a day at one of Singapore's beautiful beaches like East Coast Park or Palawan Beach on Sentosa Island. Relax, soak up the sun, and take a refreshing dip in the crystal-clear waters.
Things To Do Singapore
Singapore is a bustling and vibrant city, filled with exciting activities for everyone. From neon bowling to bubble soccer, there's something fun and unique around every corner. If you're looking for an unforgettable experience in Singapore, be sure to check out the incredible hawker centers, go shopping at Orchard Road or Sentosa Island's beachfront markets, take part in thrilling adventure games like Hybrid Amazing Race or Escape Room Puzzle, or just relax on one of the many beautiful beaches that line its coasts. With so much to choose from it can be hard to decide where to start – but no matter what your interests are, chances are you'll find something truly special in this amazing Asian destination!
Looking for more articles? Check out our recommendations below:
Frequently Asked Questions (FAQ)
If you have any questions about things to do in Singapore, you can refer to the frequently asked questions (FAQ) about the best Things To Do In Singapore below:
What are some unique and creative activities to do in Singapore?
Singapore offers a range of creative activities, such as leather workshops, art jamming sessions, candle making workshops, terrarium workshops, and perfume workshops, where you can unleash your artistic talents and create personalized keepsakes.
What adventure activities can I experience in Singapore?
Singapore offers thrilling adventure activities like laser tag, combat archery tag, bubble soccer, saber tag, and ninja tag. Engage in exciting battles, test your agility, and enjoy action-packed experiences with friends and family.
Are there any quests or interactive challenges to try in Singapore?
Yes, Singapore offers quests and interactive challenges like the Hybrid Amazing Race, where you solve clues and navigate the city in a race against time. You can also try escape room puzzles that require problem-solving skills to unravel mysteries and escape within a time limit.
What are some leisure activities to enjoy in Singapore?
Singapore offers leisure activities like neon bowling, giant board games, and yacht rentals. Enjoy a cosmic bowling experience, play larger-than-life board games, or indulge in a luxurious yacht trip along Singapore's picturesque coastline.
What is the best time to visit Singapore for outdoor activities?
The best time to enjoy outdoor activities in Singapore is generally during the cooler and drier months from February to April, as the weather is more pleasant and suitable for exploring parks, gardens, and engaging in outdoor adventures.
Are there any age restrictions for adventure activities in Singapore?
Age restrictions for adventure activities in Singapore may vary depending on the specific activity and its safety requirements. It's advisable to check with the respective activity providers to ensure activities are suitable for your age group.
Do I need prior experience or skills to participate in creative workshops?
No prior experience or skills are usually required for creative workshops in Singapore. These workshops are designed to accommodate beginners and provide step-by-step guidance, making them accessible to individuals with varying levels of artistic abilities.
How do I book and participate in the Hybrid Amazing Race or escape room puzzles?
To participate in the Hybrid Amazing Race or escape room puzzles, you can typically book through dedicated providers or specialized venues. Check their websites or contact them directly to make reservations and obtain more information about the booking process.
Are there options for private yacht rentals in Singapore?
Yes, private yacht rentals are available in Singapore. You can choose from a range of yacht rental companies that offer various packages, from intimate sunset cruises to full-day excursions, allowing you to enjoy a private and luxurious experience on the water.
Can I participate in neon bowling and giant board games as a group or with friends?
Yes, both neon bowling and giant board games are group-friendly activities. Gather your friends or family, and enjoy the lively atmosphere of neon bowling or engage in friendly competition with oversized versions of classic board games for a memorable group experience.