Famous Paintings Singapore
Art has long been a medium of expression that transcends borders and connects people from different cultures. In Singapore, the world of painting is vibrant and captivating, reflecting the city-state's rich cultural heritage and artistic talent.
Art in Singapore has been flourishing, thanks to the government's initiatives to support and nurture creativity and also through creative workshops in Singapore such as Art Jamming.
This article explores famous paintings housed in Singapore, showcasing the diverse range of artistic styles, themes, and the exceptional talent behind them.
The Importance of Art in Singapore
Singapore's art scene has experienced tremendous growth in recent years, with a thriving community of artists, galleries, and museums. The government recognizes the value of art in shaping cultural identity and promoting creative expression. Initiatives such as the National Arts Council and the Singapore Art Week provide platforms for artists to showcase their work and engage with audiences.
Notable art galleries like the National Gallery Singapore and the Singapore Art Museum play a pivotal role in curating exhibitions that celebrate the artistic diversity found within Singapore and beyond.
Top 10 Famous Paintings in Singapore
1. Life by the River, Liu Kang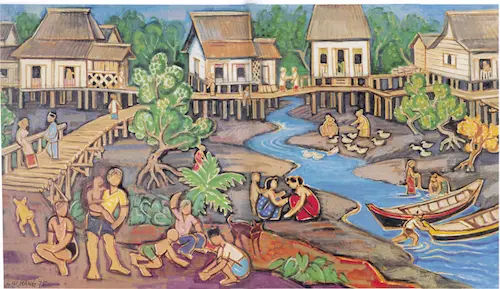 "Life by the River" by Liu Kang captures the vibrant spirit of Singapore's early days. The painting depicts scenes of bustling activity along the river, showcasing the daily lives of local communities. Liu Kang's brushwork and vibrant color palette breathe life into the artwork, evoking a sense of nostalgia and capturing the essence of Singapore's cultural heritage.
2. Self-Portrait, Georgette Chen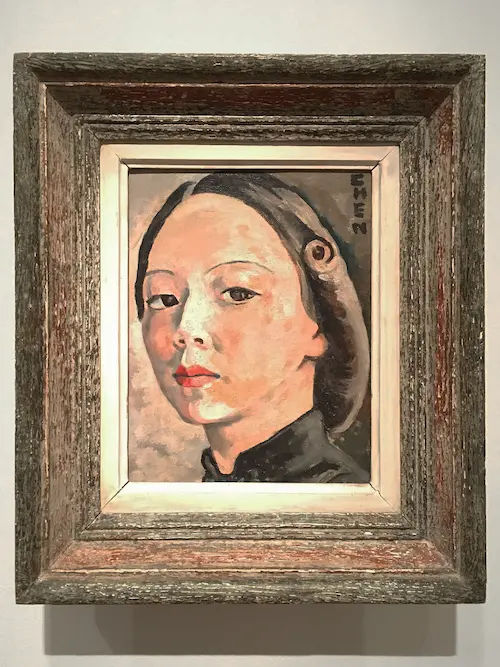 Georgette Chen's self-portrait is a captivating exploration of self-expression and identity. With her skillful brushwork and introspective gaze, Chen presents a profound reflection of her artistic journey and personal experiences. The painting showcases her ability to convey emotions through her art, offering viewers a glimpse into the artist's inner world.
3. Lotus In A Breeze, Georgette Chen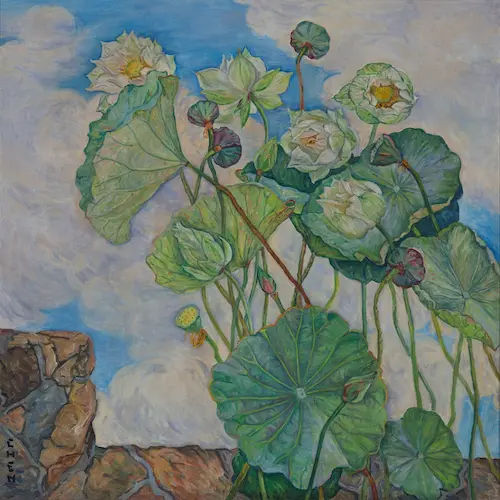 "Lotus In A Breeze" by Georgette Chen is a mesmerizing depiction of delicate lotus flowers swaying in the wind. Chen's mastery of color and texture creates a sense of movement and tranquility within the painting. Through this artwork, Chen celebrates the beauty of nature and its ability to inspire serenity and harmony.
4. National Language Class, Chua Mia Tee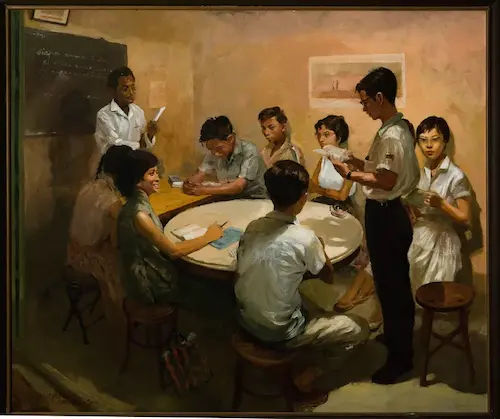 Chua Mia Tee's "National Language Class" is a powerful portrayal of Singapore's multicultural society. The painting captures a scene of students engaged in a language class, representing the nation's commitment to embracing its diverse cultural heritage. Chua's attention to detail and his ability to convey emotion through facial expressions make this artwork an iconic representation of Singapore's multicultural identity.
5. Wayang Kulit, Choo Keng Kwang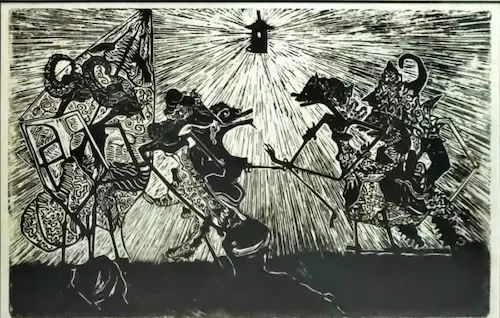 Choo Keng Kwang's "Wayang Kulit" brings to life the traditional art form of shadow puppetry. The painting captures the allure and drama of a wayang kulit performance, with intricate shadow puppets cast against a screen. Choo's meticulous attention to detail and skillful use of light and shadow create a sense of depth and enchantment within the artwork.
6. Drying Salted Fish, Cheong Soo Pieng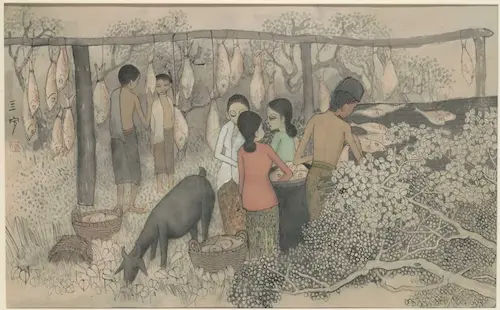 "Drying Salted Fish" by Cheong Soo Pieng depicts a vibrant scene of local fishermen in the midst of their work. The painting showcases the artist's bold use of color and dynamic brushwork, capturing the energy and livelihood associated with the fishing industry in Singapore. Cheong's ability to portray the daily lives of ordinary people in a visually striking manner makes this artwork a significant contribution to Singaporean art.
7. Fishermen, Chen Chong Swee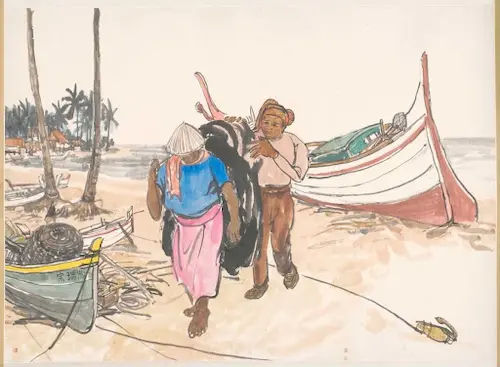 Chen Chong Swee's "Fishermen" is a captivating portrayal of the symbiotic relationship between man and nature. The painting depicts fishermen on their boats, braving the vast sea in search of their livelihood. Chen's mastery of light and shadow, combined with his ability to convey a sense of serenity and resilience, creates a poignant and timeless artwork that celebrates the strength and perseverance of the human spirit.
8. Modern Art, Chua Tiag Ming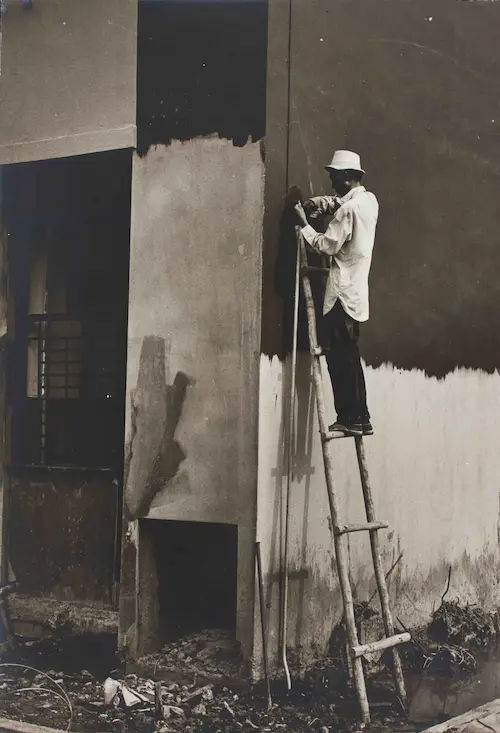 Chua Tiag Ming's "Modern Art" is a bold and abstract representation of Singapore's ever-evolving landscape. The painting showcases a harmonious blend of geometric shapes and vibrant colors, reflecting the dynamism and progressiveness of the city-state. Chua's innovative approach to depicting Singapore's urban environment has made this artwork an iconic representation of the country's contemporary art scene.
9. Untitled (Over the Balcony), Kassian Cephas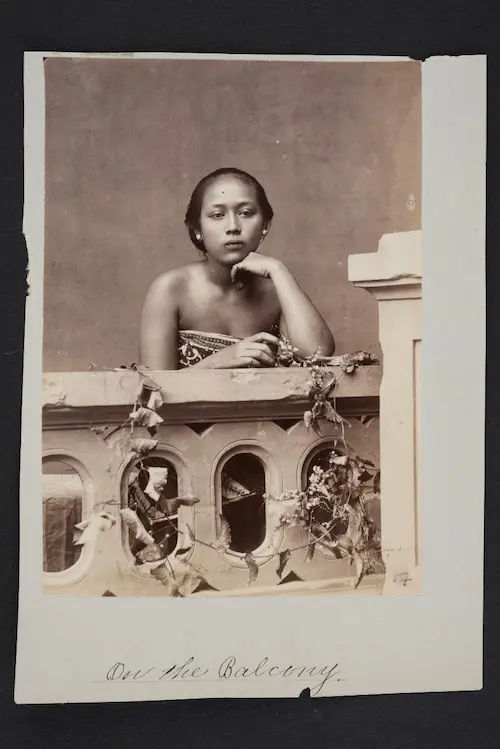 Kassian Cephas' "Untitled (Over the Balcony)" captures the charm and nostalgia of Singapore's architectural heritage. The painting portrays an intricately designed balcony adorned with decorative elements. Cephas' attention to detail and his ability to capture the essence of traditional Peranakan architecture make this artwork a cherished representation of Singapore's rich cultural history.
10. Black and White, Anthony Poon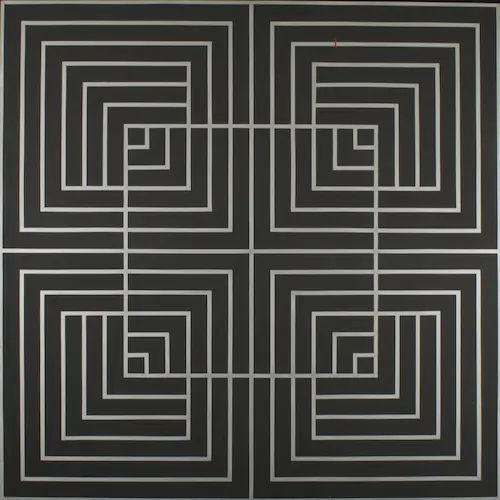 "Black and White" by Anthony Poon is a captivating exploration of form and contrast. The painting presents a juxtaposition of bold black and white shapes, creating a visually striking composition. Poon's mastery of abstract expressionism and his ability to evoke a sense of balance and tension make this artwork an intriguing representation of Singapore's contemporary art scene.
Famous Paintings Singapore
Singapore's art scene continues to flourish, and the presence of these 10 famous paintings is a testament to the city-state's thriving artistic landscape. Each painting holds its own unique story, capturing the imagination and emotions of viewers. From the skillful techniques to the thought-provoking themes, these masterpieces represent the talent and creativity of artists within Singapore and showcase the country's contribution to the global art community.
By appreciating and supporting the arts, we can foster a vibrant and inspiring environment for artists to thrive, ensuring that Singapore's art scene continues to evolve and leave a lasting impact.
Looking for more articles? Check out our recommendations below:
Frequently Asked Questions (FAQ)
If you have any questions about famous paintings in Singapore, you can refer to the frequently asked questions (FAQ) about the best Famous Paintings In Singapore below:
What is the significance of famous paintings in Singapore?
Famous paintings in Singapore hold cultural, historical, and artistic significance. They contribute to the nation's art scene, inspire creativity, and showcase Singapore's rich cultural heritage.
Where can I view these famous paintings in Singapore?
Many of these famous paintings can be viewed at renowned art galleries and museums in Singapore, such as the National Gallery Singapore, Singapore Art Museum, and private art galleries.
Are these famous paintings accessible to the public?
Yes, several of these famous paintings are accessible to the public and displayed in art galleries, museums, and public spaces. However, it's always advisable to check the specific exhibition or venue for access details.
Can I purchase reproductions or prints of these famous paintings?
Some famous paintings may have reproductions or prints available for purchase. Art galleries or online platforms specializing in art prints may offer such options. However, original artworks are typically not for sale due to their cultural and historical significance.
How do these famous paintings reflect Singapore's cultural diversity?
These famous paintings often showcase Singapore's cultural diversity through subject matter, artistic styles, and themes. They depict various aspects of Singapore's multicultural society, history, traditions, and landscapes.
Who are the artists behind these famous paintings?
The famous paintings mentioned are created by renowned artists such as Liu Kang, Georgette Chen, Chua Mia Tee, Choo Keng Kwang, Cheong Soo Pieng, Chen Chong Swee, Chua Tiag Ming, Kassian Cephas, and Anthony Poon.
Are there any guided tours or educational programs available to learn more about these famous paintings?
Yes, art galleries and museums often offer guided tours, educational programs, or exhibitions focused on famous paintings. These programs provide valuable insights into the artworks, the artists, and the historical and cultural context surrounding them.
Do these famous paintings have symbolic meanings or hidden messages?
Some famous paintings may indeed have symbolic meanings or hidden messages embedded within them. Artists often use visual elements, colors, and composition to convey deeper ideas or evoke certain emotions.
Can I learn more about the artistic techniques used in these famous paintings?
Absolutely! Art galleries, museums, and art publications often provide information about the artistic techniques employed in famous paintings. You can explore catalogs, exhibition brochures, or online resources for more in-depth information.
Are there any upcoming exhibitions or events featuring these famous paintings?
Stay updated with the exhibition schedules of art galleries, museums, and cultural institutions in Singapore to learn about upcoming exhibitions or events that may feature these famous paintings. They are periodically displayed to offer viewers the opportunity to appreciate their beauty.